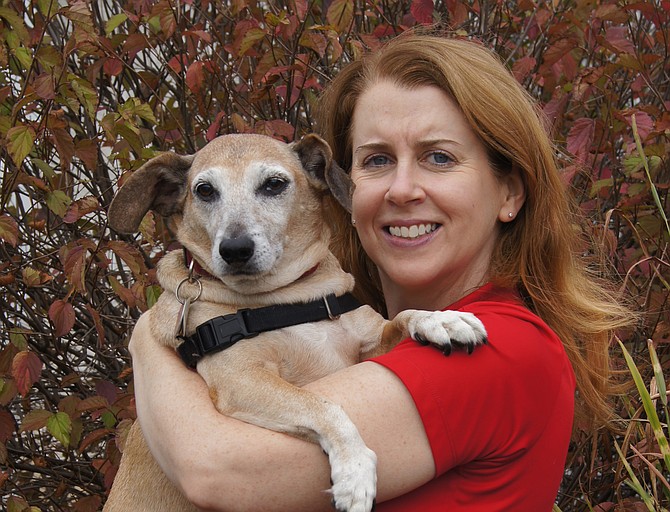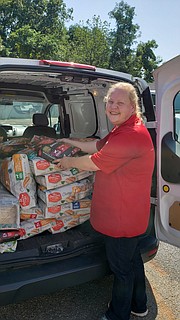 Fifteen years ago, Stella Hanly worked as a software consultant for a global corporation. She was relatively new to the United States from her native Northern Ireland, where she grew up surrounded by animals. However, at that point in her life, Hanly just couldn't see how the travel demands of her corporate job would allow her to properly care for a pet.
Everything changed when a friend – a veterinarian – made what was ultimately a life-changing request: would Hanly temporarily take in an abandoned puppy?
"It was one of my two weeks off traveling, and my friend had two dogs dumped at her clinic in rural southern Georgia – skinny puppies with mange and no hair," Hanly recalled. "Of course I agreed to foster. We had no idea what breed he was – we thought maybe a chihuahua, he was so small. Once he started eating, though, he grew like a weed. We quickly saw he was definitely not a chihuahua. I named him Rupert, and fifteen years later, Rupert's still with me. He may not be the best-behaved dog, but I love him. Thus began my journey with animal rescue."
Since adopting Rupert, Hanly left the corporate world for a career in animal welfare. Fast forward to today, and Hanly is the Executive Director of the Animal Welfare League of Alexandria (AWLA), a non-profit organization that provides shelter and other important forms of support for thousands of local animals every year.
Hanly assumed the role in November of 2019 – just before the onset of the global pandemic. So, much like her foray into animal welfare in general, Hanly's first year at the helm of the AWLA has been unexpected.
"This was definitely not the first year I anticipated or imagined," Hanly said. "And, while it hasn't been the first year I'd hoped for, we have thrived. I couldn't be more grateful for the staff and our community in Alexandria. Otherwise, I wouldn't be the Executive Director of an organization that has continued to have such an important community impact even in the face of a public health crisis."
Every year, the AWLA's work touches the lives of thousands of animals – dogs, cats, rabbits, guinea pigs, birds, and more. And, thanks to Hanly and her quick-thinking, adaptive team, 2020 has been no exception. Almost immediately following the governor's stay-at-home order in March, the AWLA team found ways to provide their full spectrum of services to the community while still adhering to COVID-related guidelines.
This meant moving a lot of processes and programming into the virtual sphere, which Hanly said has yielded some unexpected benefits in addition to keeping the AWLA up and running without pause this year.
"There were definitely bumps in the road, but thanks to our communications team, we set up an online scheduling system that has made things relatively seamless," Hanly said. "All in all, responding to COVID-related challenges has gone much better than we originally expected. There are parts of this that we won't get rid of. We will always have a virtual component."
For one, virtual pet adoptions: in March, Hanly's first task for her team was to digitalize the pet adoption process. Online adoptions have been so successful that they will continue at AWLA, even after COVID has been conquered.
"It was astonishing to me, for one, how many people took to doing it, and then also, how going virtual didn't seem to affect the quality of matches," Hanly said. "Our return rate is lower than it used to be. It turns out that, doing things virtually, the staff could get a really good feeling for the life of the adopter, and then make recommendations. It stopped being so much about how the pets looked and more about the fit."
She added that AWLA pet adoptions were up 20 percent in November.
The AWLA team also created an online avenue for coordinating pet surrenders, which seems to have taken some of the pain out of what is often an emotionally intense experience.
"It used to be that pet surrenders were all walk-ins," Hanly explained. "Now that it is appointment-based, it is better for animal care staff and for everyone involved. Those surrendering their animals submit their forms ahead of time and we do the handover outside. This also makes it much easier for the people saying good-bye to their animals as they don't have to come into the building."
The successful response to the pandemic went beyond executing logistical changes, though. For example, the AWLA also supports many pets in the community through its community Pet Pantry, a resource that far more people relied on during the pandemic for food and other supplies for their animals.
"When restaurants shut down and workers got laid off, we had an increase in requests from our pantry," Hanly said. "We had to put out a request to the community, which had already been so wonderful in responding to our need for fosters. The first thing we requested was cat litter, and when we put out a call for it, we got so much cat litter, I couldn't believe it. Every time we put out a call for help, our community responds in an extraordinary way. This is so important because being able to provide those supplies to help owned animals in the community leads to keeping animals in loving homes."
Under Hanly's leadership, the AWLA has continued to provide humane education programs, too – including two sessions of summer camp for local kids.
"We did do most things virtually, but we did do an in-person summer camp for local kids," Hanly said. "All summer long, we offered week-long programs for students of different ages, and the attendees learned about animal behavior and how to interact with animals. It was the same idea as other years, but we changed the layout to make it safer: the class sizes were smaller, we followed all CDC requirements and recommendations."
And while these days the AWLA 38-person staff is all back at work as usual (with masks, of course), Hanly said she will never forget how everyone pulled their weight, and more, in the thick of the pandemic – when it was just a "skeleton crew" every day physically at the shelter tending to the animals.
"I owe it all to my staff," she said. "Not just the animal care team who was coming in every day, but also for everyone who for weeks had to work from home away from the animals, which is just not conducive to a happy life for those of us who do this kind of work. Now, the staff is here, cheerful every day, and they haven't complained.
Hanly's staff appreciated how their Executive Director has responded to these trying times of 2020.
"Stella has worked hard to integrate the AWLA into the City of Alexandria's framework and to build relationships with and collaborate with City agencies as well as other community nonprofits," said Joanna Fortin, AWLA's Director of Community Programs. "She is very supportive of new ideas, initiatives, and collaborations aimed at helping more people and their pets and encourages staff to use creativity when solving problems or approaching new projects. This has been particularly helpful and impactful as we have worked to redesign processes and shift priorities due to COVID."
COVID or not, Hanly will always be focused on making AWLA a safe space both for animals and for people.
"We're a successful shelter in large part because we're here expressly to help," she said. "I tell people who work here, 'leave your judgment at the door.' We try so hard to be welcoming and I think people see that as soon as they come through the doors. Our staff is filled with friendly people who are passionate about offering support at every step of the way, even post-adoption. We work hard to build relationships and to be an important, contributing part of the Alexandria community."
To learn about all AWLA has to offer, check out their website at https://alexandriaanimals.org/. To donate, visit AlexandriaAnimals.org/Donate.