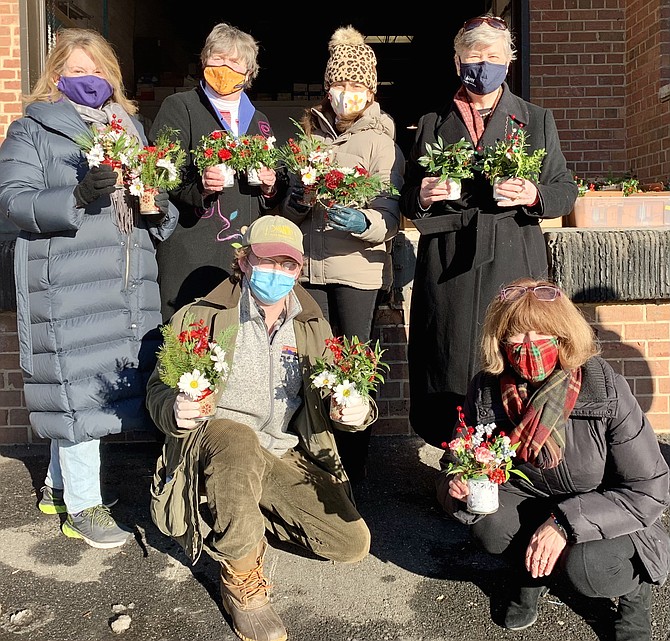 Members of the Red Hill Garden Club delivered 200 handcrafted floral arrangements to Senior Services of Alexandria Dec. 17 to be included with meals for the city's Meals On Wheels recipients during the holidays.
"Red Hill Garden Club and Senior Services of Alexandria have been partnering for many years where we provide special flower arrangements that go with the meals that are delivered by the Meals On Wheels service that Senior Services provides during the holidays," said club president Monica Murphy. "This year in particular has been very important because needed services have basically doubled if not tripled so we increased our arrangements from the usual 50 or 60 to 200."
Club members Jane Foote and Carter Flemming assisted in the delivery to Jeffrey's Catering, which provides the meals for the Meals On Wheels program. SSA executive director Mary Lee Anderson and Meals On Wheels coordinators MaryAnne Beatty and Marshal Hespe were on hand to accept the floral delivery.
"The club loves this activity and is something we feel strongly about," Murphy added. "We are huge supporters of Senior Services and feel that what they do for the community is outstanding. "Mary Lee has been a close friend and someone that we have supported. Several of our members have been on her board and many volunteered with SSA, especially the Meals On Wheels and Friendly Visitors programs."
For more information on Senior Services of Alexandria or to volunteer, visit https://seniorservicesalex.org/.