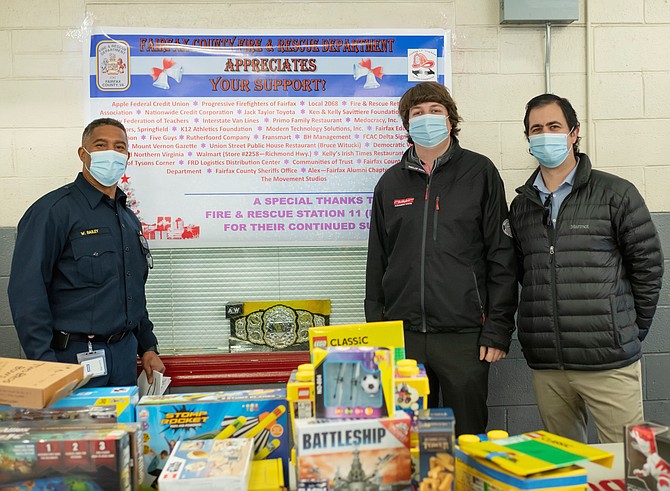 Fairfax County Fire and Rescue, in partnership with Firefighters and Friends to the Rescue, continued its annual toy drive with a scaled-down distribution day Dec. 15 at Penn Daw Fire Station 11.
More than 50 schools, shelters and nonprofits were provided with holiday gifts for families and children in need.
"This is my third event since I became the Fire Chief here in Fairfax County, and every year I am amazed at the support and generosity of our business community," said Fire Chief John Butler. "Not to mention the firefighters at Penn Daw Fire Station 11 stepping up several times a year to make this event and others a success. I am grateful to be a part of this worthy cause."
Representatives from local organizations provided information to the firefighters and picked up bags full of gifts collected by the firefighters and provided by sponsors.
"Though we are in a pandemic our sponsors were not going to let that prevent them from supporting the event this year," said Deputy Battalion Chief Willie Bailey, who began the toy drive more than 20 years ago. "We received several calls from our sponsors hoping that we would find a way to pull off the distribution. Because of those calls we decided to put on the event this year. To be safe we used less volunteers and obviously no children were allowed to attend. But those children will still be receiving their holiday gifts."
Sponsors for the toy drive include: Jack Taylor Toyota; Ken & Kelly Savittiere Foundation; Apple Federal Credit Union; Progressive Firefighters of Fairfax; Local #2068; Fire & Rescue Retirement Assoc.; Nationwide Credit Corporation; Medocracy, Inc.; Marsh & McLennan Agency, LLC; Five Guys; Fransmart; Promax Realtors (Ron Riddell); FCAC Delta Sigma Theta Sorority; Union Street Public House (Bruce Witucki); Democratic Women of Clifton & NoVa.; Walmart (Store #2258); Kelly's Irish Times; and The Movement Studio.
"I have been asked for so many years why I do this," Bailey said. "All I can say is that I learned to give not because I had much but because I know exactly how it feels to have nothing. This year especially, it is teamwork that makes the dream work."