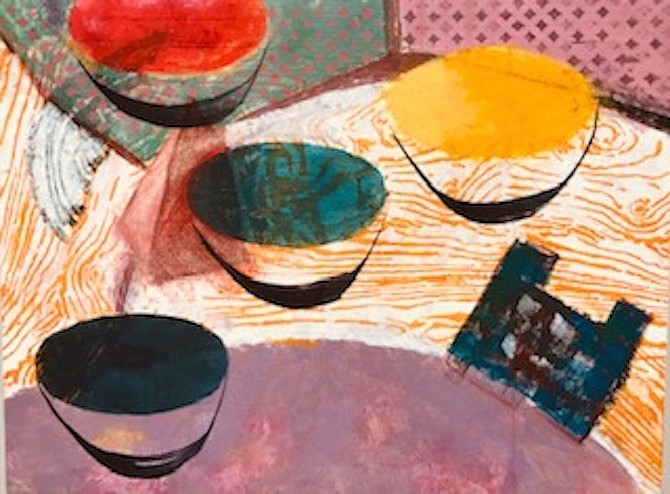 Sue Grace is a contemporary painter who lives, works and has raised her family in Arlington. Her show at Northside Social coffee house will end February 6th. When she was asked to exhibit at Northside Social, she created work that captured its energy and variety using inspiration ranging from the nearby mountains of West Virginia to domestic table scenes.
That seems to work well with the coffee house vibe. One of the reasons is her use of color. "This year I started using more color in my paintings," she said. " I have always felt that a well-built painting is one with a lively composition and strong value contrasts. When my painting is where I want it, I told myself, I will allow myself more color. But time is passing – Hey, what am I waiting for?"
It's not just color: Grace's paintings are not wallpaper: they are thoughtful, somewhat representational, somewhat abstract bursts of emotion, color, design, image and contour, almost buzzing with mystery. A local customer told Grace one day:"Your paintings really "go" with the walls here. It's become a thing for me, where I sit close to the paintings so that as I'm drinking my coffee or hanging out with friends, I can visit with the painting and let it process, once again. I never get tired of looking at it, but I'm also never quite sure what it is going to mean to me on a given day. I've gotten so used to seeing "Data Rumpus" at Northside, I will really miss it if it's not there."
Although Grace often paints a little like Matisse, or like the Russian artist, Nalatia Goncharova, she never imitates. She "owns it" as an artist. This style has come through many years of diligent studio work.
Grace holds a BA from the University of Chicago and a certificate of completion from the National Academy of Design in New York City. Grace's exhibitions include the Hillyer Art Space in Washington, D.C., Mclean Project for the Arts, the Workhouse Arts Center, Target Gallery, Crossroads Gallery, Northern Virginia Community College Library and the Florence Trust in London, England. Her website is: www.suegracefineart.com; Northside Social is located at:
3211 Wilson Blvd
Arlington, VA 22201
Exhibition runs from November 1st, 2019 – February 6, 2020
703-465-0145
http://www.northsidearlington.com