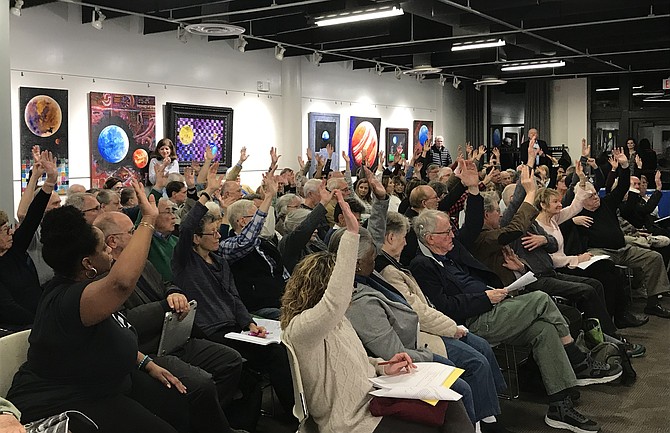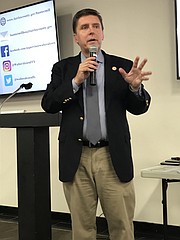 Constituents in the Hunter Mill District of Fairfax County showed up, listened up and spoke up at a Town Hall meeting hosted by Fairfax County Supervisor, Walter Alcorn (D-Hunter Mill). Held Monday evening, Feb. 3 at the Reston Community Center-Lake Anne, the date marked the thirty-fourth day of the supervisor's initial, four-year term on the Board.
Supervisor Alcorn had invited all in his district to a Town Hall meeting, meant as an alternative avenue for citizens to share their views with him before he and others on the Fairfax County Board of Supervisors considered crucial decisions. "Town Hall meetings are a great way for the public to interact with me directly, not just one-on-one, but also to hear others' concerns, have a community discussion about issues and exercise people's rights," he said.
Ed Robichaud of Reston waited for the meeting to begin. Referencing immediate past Hunter Mill Supervisor, Cathy Hudgins (D), Robichaud said,"Cathy used to do a good job summarizing board actions. Alcorn, he's a very process-oriented guy."
With the room filling up quickly, Deborah Shprentz of Reston took two seats at the edge, one for herself and one for husband, Joel. Shprentz said, "If I asked a question, it would be, what are your goals for the re-evaluation of the Fairfax County Comprehensive Plan for Reston?" Joel Shprentz's focus was the direction Supervisor Alcorn might take. "I'd ask, will you continue in the direction of Supervisor Cathy Hudgins was going or different?"
According to Mike McDermott of Reston, he was not there to ask questions. "I'm here to learn...in particular about transportation and development," he said. Like McDermott, Kathleen Maupin did not attend the Town Hall meeting to express her thoughts but to gather more information. "I'm here to listen to the overall meeting and the vision of development for the Hunter Mill District," she said.
SUPERVISOR ALCORN opened the Town Hall meeting, saying that this event would not be his only Town Hall meeting, but instead, there would also be a Budget Town Hall meeting and one on issues. His "personal, number one goal," he said, was to work for civil discourse in Reston, saying he was confident, all could move forward as a community and "tackle some of these thorny issues."
According to Alcorn, the primary reason he ran as the elected official for the Hunter Mill district was to manage growth in Reston. His first board motion authorized an amendment to the five-year-old Fairfax County Comprehensive Plan for Reston and initiated a public participation process. Alcorn said he would put together a task force, run on an open process, where people could voice their concerns. "There will be lots of meetings, every other week, for about a year," he said.
Supervisor Alcorn's first priority concerned the need to reform Fairfax County's land policies. He sought to use policies to preserve existing housing and generate more affordable housing. He would start with updating policies for converting old office parks and commercial centers.
Focusing on Plan Review, Supervisor Alcorn said they needed to first look at what properties had been rezoned. "There are 52 of them," he said. The second step in developing a Comprehensive Plan for Zoning was that the important thing to know about rezoning was, "most of the density around the Transit Station can not be undone," he said. However, most have density in the design, and that's where we can get them."
Supervisor Alcorn's second priority related to transportation, the Bicycle and Pedestrian Programs. There were several sidewalk, trail and crosswalk projects in the pipeline, but those needed to be accelerated. Also, there was a need to look at better technology to improve pedestrian safety, particularly at crosswalks and places with a clear safety risk. "We have to stop designing all our transportation for cars. They must be safe for people and cyclists," he said.
One of Supervisor Alcorn's final goals dealt with climate change, solar panels and running County fleets not on gas and diesel but electric.
Highlights of Constituents' Concerns and Alcorn's Answers
The Penny for Affordable Housing Fund
A: Fairfax County could potentially dedicate an extra penny to its affordable housing penny fund. "I'm on the record for increasing it to two cents."
Residents not told of construction on easements adjoining their properties
A: "It's a challenge…I will be happy to work with Transportation (on this)."
Price inflation for housing – the average housing inflation rate is higher than the overall inflation rate, with the prices for housing higher now versus 30-40 years ago
A: Part of the problem is our economic success; demand is there because we have a lot of jobs in the county. Development of the Transit-Oriented Core will help the dearth of affordable housing.
One week in the life of newly elected Supervisor Walter Alcorn (D-Hunter Mill)
Well, my goodness. Let me look at my schedule. I met with several dozen citizen groups about land-use, climate change concerns and affordable housing. I also met with the Reston Association representatives, representatives from Reston Citizens Association, with several industry representatives seeking approval of various development applications, and members of the Reston Planning and Zoning Committee. I also met with Fairfax County Park Foundation representatives, representatives of several transportation groups, and attended related meetings with county staff and regional officials. And that's one week.