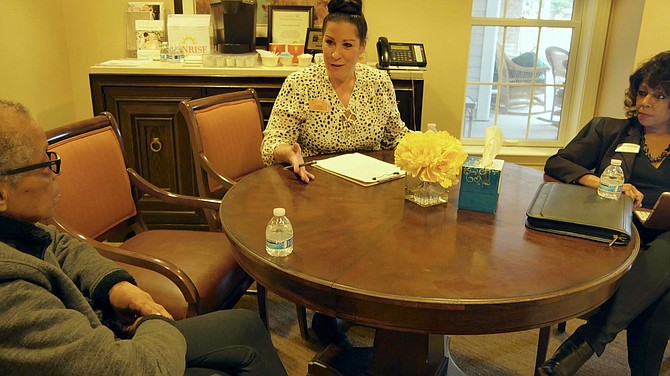 Barbara Sumner sits at a conference table at Sunrise assisted living at Mount Vernon. She has come to explore the best living arrangement for her partner of 47 years, who has been experiencing gradual worsening of dementia for the last 10 years. "It is difficult; we did so many things together. Monica is a very sweet person." Sumner adds that they love animals and had a pet-sitting business that they started when Monica got out of the military.
Robin Williams, associate director of sales at Sunrise at Mount Vernon, says "I don't know if you noticed our collie out front. And we welcome pet visits."
But Sumner started experiencing health problems of her own, which piled on top of each other, and was trying to figure out what was happening to her. In the meantime, Monica's condition worsened, and Sumner knew that she would need more assistance than their current caregivers, friends and neighbors were providing. Now she is grappling with how to make the best decision.
Williams says they are in the discovery phase today, where Sunrise accesses the level of Monica's needs, her activities of daily living. What is the most important thing to the family in finding the right community? What is most worrisome? They want to assess the level of cognitive impairment and ability to verbalize. Sumner says, "Monica is verbal, but better leave it up to her. If you ask her too many complicated questions, she will dismiss you by just getting up and leaving."
Williams says, "We want to replicate her home routine here, what is best for her." Sumner says, "Monica used to play pickleball until it got so competitive. She is so good at puzzles." Sumner wonders if they have ping pong at Sunrise.
Sumner says she found Sunrise through Robin Edwards, CSA, CarePatrol of N. Virginia, a company that assists seniors with life decisions. Edwards has arranged today's tour, and says she goes where she is needed, whether it is assisting with a hospital discharge plan, meeting with families, or finding the appropriate resources in the community.
Edwards explains, "Families know they can trust me because I come from the heart in all I say and do, in my business and my personal life."
Edwards wheels Sumner down the hall as they head to check out a studio room. Williams explains the room has space for a bed, chair, dresser and nightstand with a small fridge inside the door. She says the rooms are designed to be small because 25-50% is left as common space to encourage residents to stay active. Robin says some families feel more comfortable with a nanny cam, which allows them to keep close track of the resident from an outside location.
Robin hands Sumner a February calendar filled with a list of daily activities including social hour, balloon volleyball, word games, bread baking, craft time and performances. Sumner says Monica might participate in some activities but it would depend on how you introduce them to her. "She used to bake but I can't see that now." The most popular activity is singing. "They just love to sing…and bingo."
They pass by the dining room where lunch is being served. "Issa, who oversees the residents' care in the dementia unit, comes out with a smile. She says the residents get several meal choices. Today, sandwiches seem to be popular. Sumner comments that Monica probably couldn't choose her meal and asks if she could help with the decisions.
Williams points out that Sunrise adapts to individual needs. She says they try to promote independence. They use Fiesta ware, which is brightly colored, and sometimes mugs with two handles, multi-size spoons, as well as serving a lot of finger food. Sumner says that is very interesting and observes "Monica's use of utensils and eating habits have changed" but speculates that the spoon "would probably be too strange and unfamiliar for Monica."
Bill stops by to explain his role as life enrichment manager. He says he tries to form relationships with all of the 24 residents in memory care and 107 in assisted living. This means a one-on-one interaction with each of them 1-2 times a week. "I check to make sure everyone is ok and, if not, to work out the problem."
Sumner heads back to the conference room to ask more questions, a process that is difficult for her. And another challenge. "You know, I'm 77 and I'm hoping to get out of this wheelchair and back out on the basketball court soon."