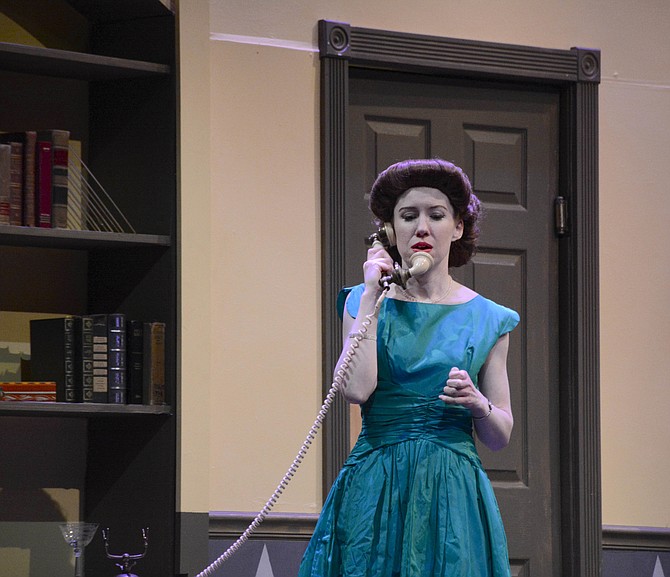 The Arlington Players (TAP) is presenting the U.S. premiere production of "A Daughter's a Daughter" by Agatha Christie from now through Feb. 16. The story follows widowed Ann and her only daughter, Sarah, through their intense relationship of jealousy, sacrifice, and resentment. When the play premiered in the U.K. in 1956, it only ran for a week. It took half a century before it finally reached London's West End in 2009, its first full-scale revival. After yet another decade, the play is finally making the leap across the Atlantic for its U.S. premiere.
"It's fitting that 'A Daughter's a Daughter' is having its U.S. premiere produced by a community theater," said TAP Board President Steven Yates. "The moving story arc is self-sacrifice for those which we love. It's a bit of a loose metaphor for TAP and our volunteers."
According to Director Ashley Amidon: "There is a real appetite in our community for shows that everyone hasn't already seen a ton, so when I found this Agatha Christie gem of a drama that has never been performed in the U.S. before, I knew I wanted to direct it. Christie has a reputation as a murder mystery writer, so I think it will be a surprise to many that she could write such a nuanced drama. It's also really exciting to see a play written about two strong women who each undergo such immense character transformations. The show seems very ahead of its time in so many ways – the way alcohol is clearly presented as a coping mechanism for example – so I hope that audiences walk away feeling that these people on stage could be their own family."
Co-Producer Nick Friedlander said first and foremost, he wanted an opportunity to work with Ashley Amidon as a director. "For those of you who may not know her, she is an extraordinarily passionate person – when she proposed I work on the show, you could see the love and care she had in bringing this show to life. Hearing her speak about her vision would excite any theater person to get involved in any capacity."
He added: "Second, I feel that this is an important piece to put on the stage. After reading the script for the first time, it was obvious that the piece tackles the deep connections that run between family members and what we are willing to do for the ones we love. I find that it's important to highlight these relationships to theater-goers, as it carries so much meaning for audience members who can see themselves in the situations laid out in this show. As such, I find it exciting to bring this piece to premier for an American audience and be a part of telling this beautifully crafted story."
Mel Gumina is playing the role of Sarah Prentice, a young woman that has just returned from serving in British armed forces in World War II, only to find that her home is not quite how she left it. "She is described as 'impulsive, affectionate, and devoted to her mother;' these characteristics inform everything she does, both good and bad," she said.
She added: "'A Daughter's a Daughter' is an emotional roller coaster. It is at times funny, at times flirty, at times awkward, and at times utterly devastating. My biggest challenge has been managing the rapid changes. At the end of the night, it can easily feel like I have a case of emotional whiplash."
Heather Benjamin is playing the role of Ann Prentice, a mother who faces challenges in adjusting her relationship to her 20-something daughter, Sarah, who comes back after three years of duty in WWII to find her childhood home changing. "Over the course of several years, Ann evolves in ways that aren't always healthy, and her relationship with Sarah becomes distant and resentful. She's interesting to play because she is such a different version of herself in each of the three acts," she said.
Bruce Rauscher is playing the role of Richard Caudlfield, a widower who has finally found his soulmate when he meets Ann Prentice. "He proposes to her and they plan their wedding. Ann's only daughter (Sarah) arrives on the scene unexpectedly before the wedding and when she meets Richard, sparks fly, but not in a positive way," he said. "Richard has a tendency to come off a bit pompous and all-knowing at times and that combined with his insecurities."
Performances of "A Daughter's a Daughter" are set for the weekend, Feb. 14-16, 2020, at the Thomas Jefferson Community Theatre, 125 S. Old Glebe Road, Arlington. Friday and Saturday performances begin at 8 p.m.; Sunday matinees begin at 2:30 p.m. Visit www.thearlingtonplayers.org.