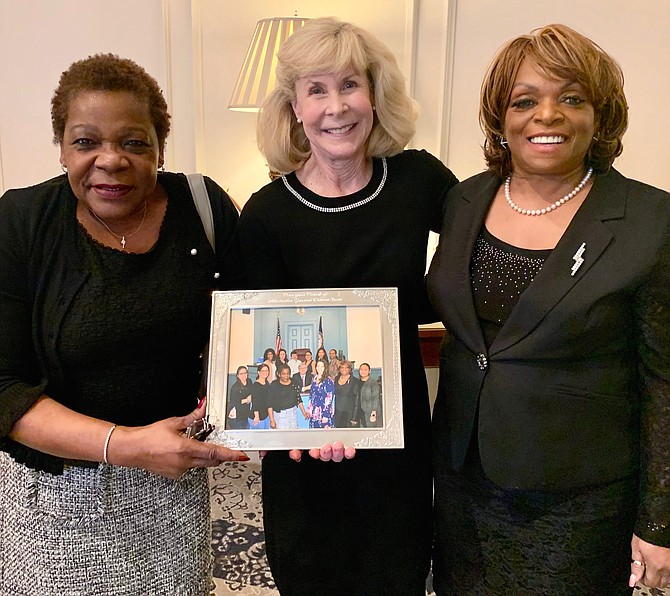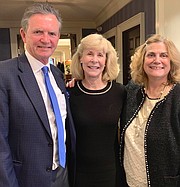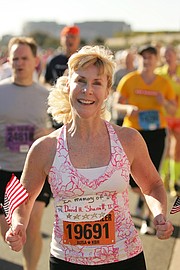 The laughs were long and loud as legal dignitaries from across the state joined local judges and attorneys in celebrating the retirement of General District Court Chief Judge Becky J. Moore, who stepped down Feb. 1 following 22 years on the bench.
Held Jan. 31 at Belle Haven Country Club, the retirement luncheon was part sentimental send-off and part comedic roast as several speakers recounted anecdotes from Moore's legal career that included tales of "fake pet debris," smashed birthday cakes and a leopard print dress.
Moore's former law partner, Drew Carroll, served as emcee and stand-up comic and was followed by several speakers who showed a similar flair for comedy, including Judge Constance Frugale, who titled her remarks "laughing all the way."
"I have never laughed harder or had more fun than with my friend Beck," said Frugale, who introduced Moore to her husband Bob Coulter and is godmother to Moore's daughters Katie and Christie. "We have been together in Alexandria as friends, as practicing attorneys then later as judges. We always helped each other in everything in life."
Other speakers included Virginia State Bar president Marni Byrum, Alexandria Commonwealth's Attorney Bryan Porter, Hon. Donald Haddock Jr., and Moore's daughter Katie Coulter.
"I can attest that mom is just as peppy at home as she is at the office," Coulter said. "Mom has had a fantastic career. She's a wonderful mother and was a wonderful judge and I am so excited for what comes next for her."
Moore's husband, Bob Coulter, was a bit more restrained in his comments.
"I'm a little worried that Becky is going to sit home and make to-do lists for me," he joked. "So I'm a little bit anxious about the whole thing."
Moore, a graduate of the University of Richmond School of Law, was the last to speak and began by thanking her team of fellow judges and clerks.
"We are lucky to live in Alexandria, where we have such great lawyers and law enforcement officials," Moore said. "We are all part of a team and I am so lucky to have worked with you."
Moore went on to thank Frugale, her best friend, who "makes even the mundane a Seinfeldian adventure," before ending on a serious note.
"I worked everyday to be fair and respectful to every person coming into the courtroom," Moore said. "I am so very grateful for the career I have had and am humbled by the lifelong friendships I have gained."