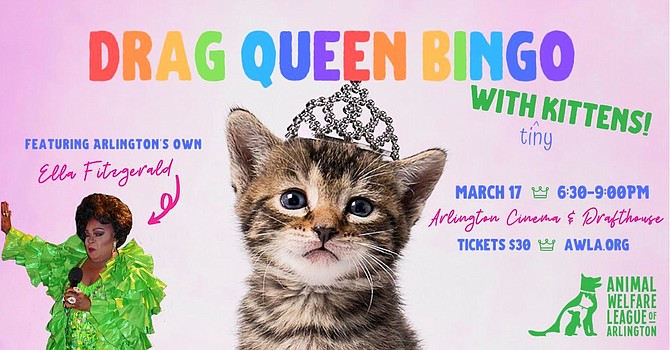 Since 1944, the Animal Welfare League of Arlington has worked to improve the lives of animals, creating a world where all companion animals find compassionate and permanent homes.
2650 S. Arlington Mill Dr., Arlington, VA 22206
703-931-9241
Mon., Wed., Thur., Fri. Noon - 7 pm • Tuesday Closed • Sat. - Sun. Noon - 4 pm
EVENT, Drag Queen Bingo with Tiny Kittens: March 17, 2020
Celebrate St. Patrick's Day with AWLA, dancing queens, and...tiny kittens! With Arlington's own Ella Fitzgerald as host, we promise an evening of sparkle, cuteness, laughs, and sass. Kittens will be waiting in the lobby to greet you and we recommend getting your snuggles in before their bedtime at 7:30pm. $30 Tickets include event entry and one bingo card. Additional bingo cards will be available for purchase for $5 each during the event (cash is preferred). Get your tickets now and get ready for a fantabulous show: https://acdh.arlingtondrafthouse.com/event.cfm?cart&id=540562
This event has been generously sponsored by Clarendon Animal Care!
Must be 21 years or older unless with a parent. Please note: Content is not appropriate for under 13.