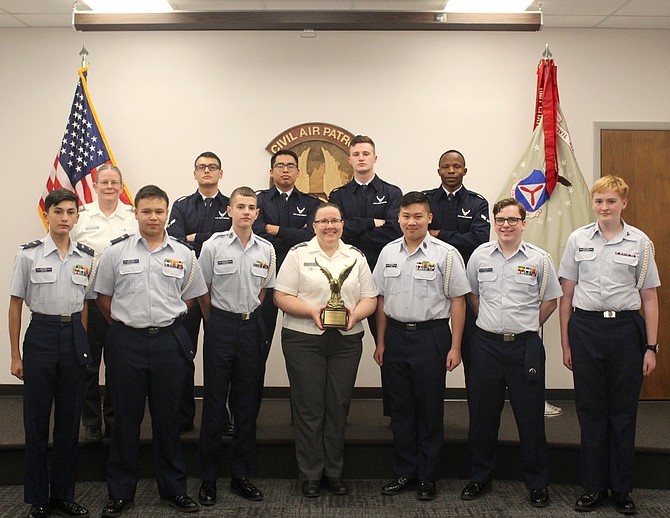 Civil Air Patrol's Burke Composite Squadron team placed first in the Virginia Wing Cadet Competition on Sunday, Feb. 16.
This year's competition was held at the Virginia Wing Civil Air Patrol Headquarters in Richmond with 5 squadrons competing to represent the state at the Mid-Atlantic Region competition in May.
Teams competed in presenting the colors (the United States and Civil Air Patrol flags) both indoors and outdoors. They also went head-to-head in physical fitness, uniform inspections, color guard drill, element drill, and finally an academic exam that encompassed leadership and aerospace current events.
The teams were judged on how well they completed the activities based on following regulations. All judging was handled by the Joint Base Langley-Eustis Honor Guard.
The Burke squadron and its nearly 60 members rank among the top-performing units in the country, and its cadet program is in the top 10 percent of all squadrons nationwide, having been recognized the last two years in a row with the Quality Cadet Unit Award.
Civil Air Patrol, the long-time all-volunteer auxiliary of the U.S. Air Force, operates six squadrons in Northern Virginia carrying out Air Force-assigned emergency and disaster relief missions as well as congressionally chartered education activities in science, education, technology and math (STEM).
Civil Air Patrol, the longtime all-volunteer U.S. Air Force auxiliary, is the newest member of the Air Force's Total Force. In this role, CAP operates a fleet of 560 aircraft, performs about 90 percent of continental U.S. inland search and rescue missions as tasked by the Air Force Rescue Coordination Center and is credited by the AFRCC with saving an average of more than 80 lives annually. CAP's more than 65,000 members also perform homeland security, disaster relief and drug interdiction missions at the request of federal, state and local agencies. In addition, CAP plays a leading role in aerospace/STEM education, and its members serve as mentors to nearly 28,000 young people participating in CAP's Cadet Programs. Visit www.GoCivilAirPatrol.com or www.CAP.news for more information.