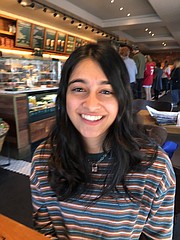 Remember middle school? A time of angst, feelings of inferiority, changing friendships?
Not so for Anya Gupta, 16. When she was in fifth grade, she got an electric guitar and has never looked back on her desire to make music.
Now an eleventh grader at Holton Arms School, Anya is a finalist in the Bethesda Arts & Entertainment's sixth annual Bernard/Ebb Songwriting Awards competition.
"I heard about the contest from my chorus teacher [Trevor Fanning]," Anya said. "He sent an email to me and two others suggesting we enter."
Anya entered her song "Heart of Gold," which she will perform at the finals March 13 at Bethesda Blues & Jazz Supper Club.
"Heart of Gold," Anya said, is a really happy song which is one of the reasons she entered it in the competition.
"It's easier to write sad songs than happy ones," she said.
Since starting with an electric guitar, Anya has switched to an acoustic guitar, began writing her own songs and, eventually, started singing. All in just seven years.
She took guitar lessons when she first started but not for long, she said.
"I decided my teacher gave me everything I needed to know," she said, so she ended her lessons knowing the rest was up to her – think practice.
In ninth grade, she said, she put out her first EP, five original songs that she published on Sound Cloud.
"It was free, and a lot of people use it," she said. "The next step was Spotify [the possibility of a larger audience, and, earning money]."
All of Anya's musical career has been self-directed and, she said, she learns as she goes.
She said she does not come from a musical family.
"No, nobody is musical," she said.
She has an older sister who played acoustic guitar for about a year, she said, but stopped after that. Her sister is in college now, pursuing a career in science, an area Anya might go into also.
"I tried to convince myself I wanted to go into science," she said. "But I didn't. I'm just as passionate about music as my sister is about science."
Although Anya is hoping to have a career as a singer songwriter, she is realistic about that fact that there are many talented musicians who never "make it." Her parents are supportive and "letting her take [music] where it goes."
"I think they are happy I found my passion," she said.
She is looking forward to performing March 13, when she will go up against two other young songwriters: Naomi Farkas of Clarksville, MD, a senior at River Hill High School, and Seger Ott-Rudolph, of Silver Spring, a seventh grader at A. Mario Loiederman Middle School for the Creative and Performing Arts. The three will compete for $2,500.
The Bernard/Ebb Songwriting Awards are named after the late Fred Ebb, an American songwriter known for Broadway hits such as Cabaret and Chicago and for iconic songs, including New York, New York. Mr. Ebb is the uncle of Cathy Bernard, the founder of the competition and a Bethesda resident.
Five adult songwriters will also perform their original songs at the concert competing for a $10,000 Grand Prize and 25 hours of complimentary recording studio time at Innovation Station Music. They are: DuPont Brass from the D.C. Metro Area with co-writers: Anthony Daniel Jr, Jared Bailey, Isaac Bell IV and Jake Grotticelli; Hayley Fahey of Derwood performing select songs co-written with Austin Bello of Bristow, VA; Genna Matthew of Charlottesville, VA; Eric Scott of North Beach, MD and Maimouna Youssef of Baltimore.
The public is invited to the competition at 7:30 p.m. Friday, March 13 at Bethesda Blues & Jazz Supper Club 7719 Wisconsin Ave., Bethesda. Tickets begin at $15 and are available at www.bethesda.org.
To listen to Anya's music, visit her YouTube channel: https://youtu.be/bCigmLfvpRI.