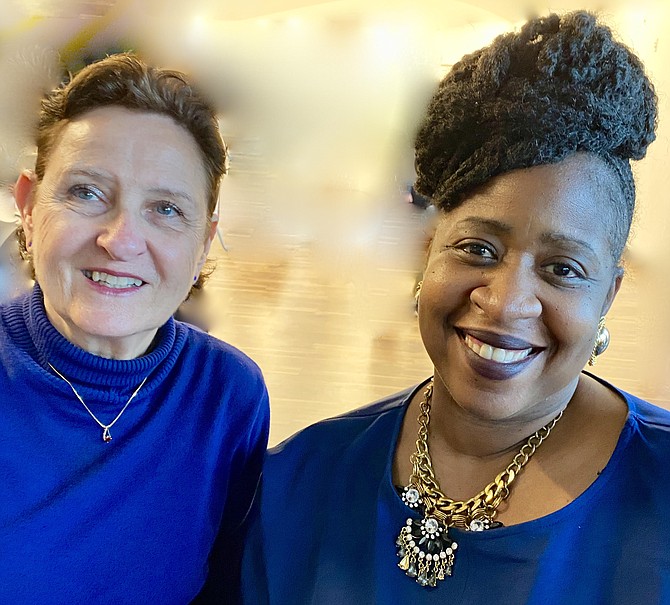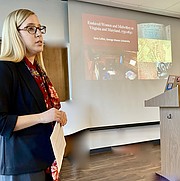 The unique circumstances of enslaved women of color, working as midwives, were revealed in Sara Collini's intriguing lecture hosted by the Burke Historical Society (BHS) at Pohick Library on Feb. 23. In the audience were two women whose ancestors were on opposite sides of area history: descendants of a plantation owner and of a slave who worked on the plantation.

Colleen Blessing's eighth grandfather was Robert King Carter, a well-known early American property owner who became one of the wealthiest men in the colonies, owning a dozen plantations, including Sabine Hall, and more than 300,000 acres. Linneall Naylor traces her ancestry through slaves at the Liberia House in Manassas, owned by the Weir family, to descendants of midwife, Suki, who was enslaved to Landon Carter, the son of Robert King Carter, at Sabine Hall in Westmoreland County.
COLLINI'S STUDY references historical documents of life in the colonial and early national periods of 1750-1820 in Virginia, Maryland and the Carolinas. During that time, many plantation owners, including founding fathers, enslaved people of color to work producing cash crops and to staff their homes. Some midwives or "grannies" received the unusual consideration of being paid for their work. Those funds could be used to purchase desired items from local stores or ordered from Europe; however, not the most sought-after acquisition: freedom.
Her interest in the topic was first sparked while Collini was volunteering at Mount Vernon as she discovered the lives of slaves at George Washington's plantation. During his second term in office, Washington wrote to his farm manager in 1794, "when I was at home an application was made by Kate to serve as granny [midwife]." Washington instructed "commit this business to her," and that she was to be paid 12–15 pounds per year.

At that time, it was not common practice for slaves to be paid, or to negotiate business arrangements with plantation owners. That these understanding came to exist must be seen as suggestive of the value plantation owners, who benefited, put on the skills of the midwives.
Midwives assisted indentured servants, free white women, and enslaved female laborers, not only in giving birth; also in postpartum recovery, and child care. Since mortality rates were high, they also assisted women at their death or the death of a child.
The earnings of Old Peg, working on Richard Tilghman's plantation in Talbot County Maryland, were listed in the farm accounts. Old Peg was paid cash of 15 shillings for ten years midwifery. Accounts show she was paid for each child delivered, more for twins due to the complications of those births; no payment if the child died. Letters also show that "Old Peg the Granny" was sometimes paid with wheat or store credit on the owners account.
Suki working at Sabine Hall was evidently a skilled midwife. Landon Carter complained in his journal that "my old granny" delivered a child when "Dr Mortinier got a fee of me," indicating the physician had not been able to deliver the child, but Suki brought on a successful birth.
Priscilla, who married a Hemmings, a slave family owned by Thomas Jefferson, worked as a midwife for white women at Monticello. When she died in 1830, her cabin held items she bought with her earnings: nutmeg, salt, pepper, blue and white China cups, a hat box, a black necktie she left for her husband and some black crepe material.
Nell, a midwife at the Gunston Hall plantation of George Mason's family, also served the Springfield estate of Martin Cockburn and traveled to Mount Vernon. Nell was a paid midwife who developed a practice, paid by three slave owners.
SADLY, despite their valued skills and earning, laws at the time prohibited them from buying their freedom. Some plantation owners professed to abhor slavery, yet continued to keep slaves. George Washington directed that his slaves be emancipated upon the death of Martha, his wife. She emancipated them while alive. Thomas Jefferson had also planned to emancipate his slaves, but indebtedness at his death resulted in the sale of slaves from his estate rather than emancipation. Robert King Carter had more success. He was known as the "great emancipator", freeing 500 slaves, the largest by a single slave owner in the United States.
The lecture topic drew many to the BHS event; those interested in the topic and those who always find the Society's presentation of interest. Lena Bowie, a woman of color, said of the topic, "Still painful for us. Not a matter of choice [to serve as midwife]". Others, like Donna Roy and June Smithson, were fascinated in hearing the family history of local descendants, Blessing and Naylor.
Collini, a PhD candidate at George Mason University will defend her theory in May. Liberia House and Sabine Hall are among the early Virginia plantation homes still standing.