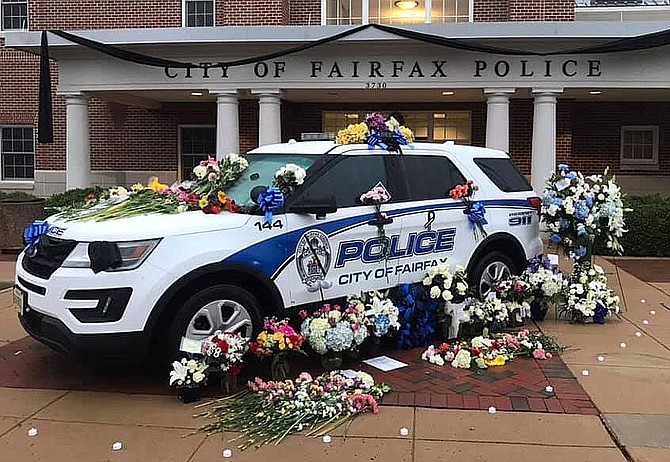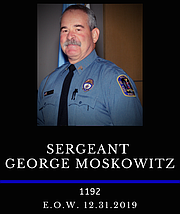 The City of Fairfax Police Department, City residents, friends and relatives are mourning the loss of Sgt. George Phillip Moskowitz, 57, who died Dec. 31 after suffering a medical emergency while on duty.
According to Police Chief Erin Schaible, one of his colleagues found him unconscious in the police station's locker room, late that afternoon, called for help and immediately started performing CPR on him. Other officers also rushed to lend a hand and used an automated external defibrillator (AED). Fire Department EMTs responded, as well, but were unable to revive Moskowitz.
THE FOLLOWING DAY, Jan. 1, the Police Department's public information officer, Sgt. Matthew Lasowitz, posted on the department's Facebook page: "It is with great sadness that we mourn the unexpected loss of Sgt. George Moskowitz, [who] suffered from a medical emergency while on duty yesterday. Sgt. Moskowitz was an eight-year vet with our department after he retired from a distinguished career with the Fairfax County Police Department.
"The outpouring of support and condolences has been amazing and comforting," continued Lasowitz. "We welcome anyone that wishes to show support or offer personal condolences to stop by our station at 3730 Old Lee Hwy. A cruiser has been placed in his honor out front."
He further noted that, "In an effort to assist Sgt. Moskowitz's family during this difficult time," the City of Fairfax Police Assn. set up a Go Fund Me account. Lasowitz, who's also the Association's treasurer, posted the link to it so anyone who wishes to donate may do so by going to https://www.gofundme.com/f/george-moskowitz-memorial. People may also leave comments there.
Moskowitz served with the Fairfax County Police Department for a quarter century, retiring as a second lieutenant. He then joined the ranks of Fairfax City's police in 2011 as a school resource officer (SRO). Moskowitz was later promoted to sergeant in 2016 and assigned to patrol. He was a patrol supervisor until his most recent assignment in the department's Community Services Division. He would have been 58 in February.
"Sgt. George Moskowitz was a dedicated law-enforcement officer who served the communities of Fairfax County and the City of Fairfax for over 30 years," said Schaible. "He was a leader, mentor and a friend. He will be deeply missed by his family, his co-workers and the community."
Last Thursday, Jan. 2, the City of Fairfax flag was lowered to half-staff at all municipal buildings in the City, out of respect for and in honor of Moskowitz. And community members and colleagues have placed bouquets of flowers around the cruiser outside the police station as a memorial to him.
Funeral services for Moskowitz will be held this Saturday, Jan. 11, at 11 a.m., at Fairfax Presbyterian Church, 10723 Main St. in Fairfax. All are welcome to attend; there will be no graveside service.
The City of Fairfax issued the following official statement in regard to his death:
"Mayor David Meyer and the members of the Fairfax City Council are deeply saddened by the passing of Sgt. Moskowitz. [His] passing is a great loss to the City, and our thoughts and prayers are with his wife, his daughters and his son. We are fortunate that he chose to continue his distinguished career in law enforcement with the City of Fairfax Police Department after working with the Fairfax County Police Department for 25 years. We share this loss with both police departments.
"We are grateful for the difference Sgt. Moskowitz made in the lives of City school children as a school resource officer, to the citizens of the City of Fairfax as a dedicated and talented police officer, and for his camaraderie with officers in our City police department and with other law-enforcement professionals throughout the Northern Virginia region."
HUNDREDS OF PEOPLE – friends, acquaintances, residents and law-enforcement personnel alike – have also posted comments on the City Police Department's Facebook page. They offered comfort and condolences to Moskowitz's family and recalled fond memories of him.
For example, Matt Joe wrote, "George was my first boss with FCPD, 17 years ago. We were a squad of know-nothing rookies on midnight shift. He was always so patient and helpful with us. We could call him up after royally screwing up some scene, and you could just about hear that glorious mustache smiling on the other end of the phone. He'd come out, get things sorted and never made us feel foolish."
Fairfax County Sheriff Stacey Kincaid wrote, "Our thoughts and prayers to his family and to our brothers and sisters at City of Fairfax PD."
And, added Michael G. Duncan Jr., "We were lucky to know and work with George. He was a wonderful police officer and friend. I feel fortunate to have known him. Rest in Peace."
Lynn Coulter called Moskowitz "a man of few words. He was always in good spirits. I remember when he first came to the department after he retired from Fairfax County PD. He wanted to work where he lived. He will be missed. Thoughts and prayers to his family."
"It was an absolute honor to have worked alongside George," wrote Lisa Gardner. "He was an incredibly kind soul. I'll never forget you, Sarge. We love you always. My deepest sympathy to his family. We are here for anything you need."
Also responding was former City Councilman Dan Drummond. "So sorry for the loss of this great guy," he wrote. "In addition to being a police officer and family man, George was also a fantastic basketball player, having played on Legends teams for a number of years. I was fortunate enough to have played with him. He will be deeply missed by many."
"Rest in peace, brother, and thank you for your service," wrote John Styles, a retired Virginia State Police officer. "Prayers for your family and friends. Heroes live forever, because blessed are the peacemakers, for they shall be called children of God."
Meanwhile, Joe Goodwin described Moskowitz as "a fair cop who always dealt straight with people. My condolences to his family, as well as [to] those who knew him." And Carol Lavery called him "such a comfort to see in our building when he served as our SRO at Fairfax High. Praying for his loved ones."
"Thoughts and prayers to the Moskowitz family," added Kathy Sutphin. "They have been my neighbors for years and I am totally shocked, hearing this news. A loving husband and a devoted father to his children. My heart is just broken."
Kristin Wood's remarks addressed both Moskowitz and others in the law-enforcement field. "I'm so very sorry for your loss; he sounds like he was a remarkable officer and man," she wrote. "All of you are heroes, serving the community regardless of the weather, the holiday or the danger. Thank you for all you do."