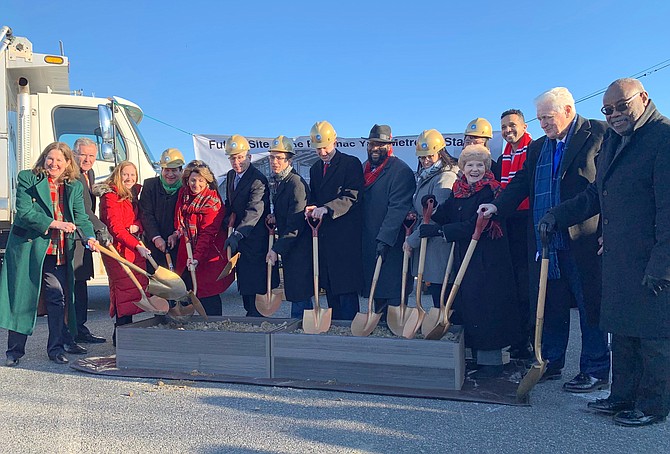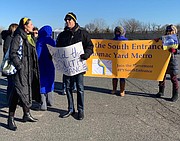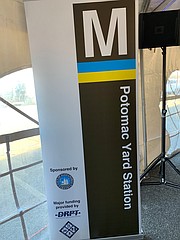 It is a project 25 years in the making, but on Dec. 19, 2019, the official groundbreaking was held for Alexandria's future Potomac Yard Metro Station with Gov. Ralph Northam (D) joining city officials at the ceremonial event.
Partial construction on the project began months ago but final environmental approvals and permits, secured in the fall of 2019, were needed before the next phases of construction could begin.
"At one point this was going to be one big football stadium used 10 times a year," said former U.S. Rep. Jim Moran (D-8). "We knew that was not an ideal use for this area. After a culmination of a lot of years of planning and thoughtfulness, what we have now is a Metro station that's truly going to serve the public's interest."
The station will be located between the Reagan National Airport and Braddock Road stations on the Blue and Yellow Lines. It is slated to open in early 2022 at an estimated cost of $320 million with an expected ridership of 12,000 passengers per day.
"Alexandria has worked closely with Metro and our federal and state partners to plan for a new Potomac Yard Metrorail Station that will improve mobility, promote economic development, and protect our environment," said Mayor Justin Wilson in a statement. "We now officially move from planning the station to constructing the station."
According to city officials, construction costs will be paid for with new tax revenue from development in Potomac Yard over the next 40 years, funding from the Northern Virginia Transportation Authority, a special tax district in North Potomac Yard, a low-interest loan from the Commonwealth Transportation Board, and developer contributions. No general fund money is being used on the project.
The groundbreaking ceremony was held near the planned location of the station's northwest entrance, near the Regal Potomac Yard movie theatre. A south entrance was previously eliminated from station plans due to cost concerns, but state funding offered with the announcements of the future Virginia Tech Innovation Campus and Amazon HQ2 developments in the area have allowed improved south entrance concepts to be reconsidered.
"This has been 25 years in the making," said former Mayor Bill Euille. "It will be a huge economic benefit to the region."
Additional Potomac Yard development includes The National Industries for the Blind headquarters, which relocated from Braddock Road to Potomac Yard in early 2019, and The Institute for Defense Analyses, which broke ground early last year.
Construction activity updates can be found on the city's Potomac Yard Metro page.
"I'm delighted we've gotten to this point," Moran added. "It is something we can all be proud of when it is finally constructed."