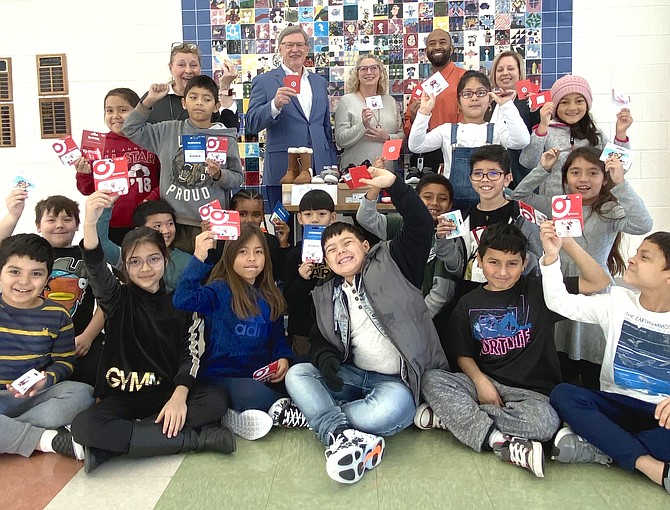 Children in need at Hutchison Elementary School in Herndon will have warm and cozy feet for the New Year, enabling them to comfortably learn, play and thrive with dignity and joy. Dranesville District Supervisor John W. Foust (D) and Arts Herndon worked in the days leading up to and over the winter holidays to support the school's shoe locker. The annual program is now in its 11th year.
According to Katie Aldridge Assistant Principal, Hutchison is a Title I federal program funded school, identified based on the percentage of students eligible for free or reduced-price meals. "We have approximately 1,100 students preschool through sixth grade in which more than 80 percent receive free or reduced-price meals," she said. With footwear being one of the most expensive items families have to purchase for their children, when parents have to decide whether precious income goes toward food, housing or shoes, children may come to school without appropriate footwear.
On Jan. 4, Foust and Joanne Ormesher, CEO and President of Arts Herndon, visited the school to present the donation. Foust said he finds this day one of the most rewarding days of his job. "The children are so appreciative of the kindness from neighbors across Herndon, McLean and Great Falls. It warms my heart to see their smiles and know they will have new shoes or clothing this winter," he said.
The contribution from the communities totaled more than $1,200 in gift cards and monetary donations, as well as a selection of new shoes and boots. "Hutchison Elementary is incredibly grateful to Supervisor Foust, Arts Herndon and the community for their continued support through generous donations of gift cards and shoes. These donations go a long way to support our students and families who are in need," said vice principals Wilson and Aldridge in a statement.
Since 2009 and every winter holiday year after, Arts Herndon, formerly called the Council for the Arts of Herndon, has joined with Foust to gather contributions for children at Hutchison. According to Ormesher, "Hutchison Elementary School is a wonderful partner with Arts Herndon. "We enjoy a great relationship – I'm looking forward, once again, to some amazing art for the Pyramid show in April, helping by providing instruments and equipment and collaborating with Supervisor Foust's Shoe Drive. I look forward to more collaborative projects."