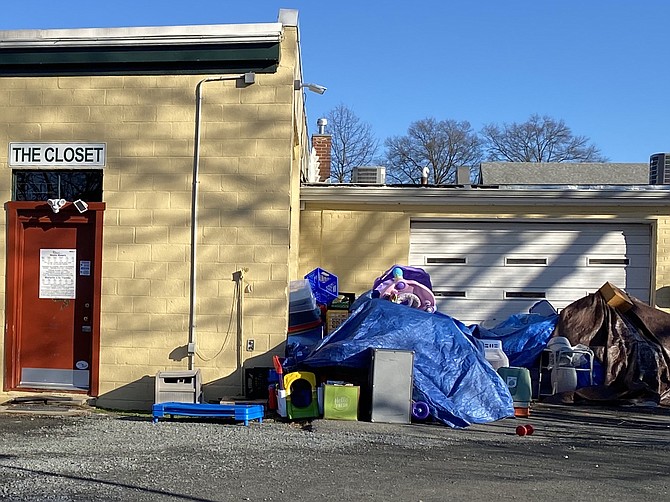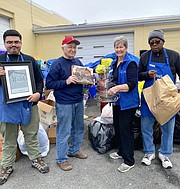 Volunteers and staff at The Closet of Greater Herndon met the news that construction for a long-awaited, climate-controlled space to accept donations was weeks away with enthusiasm and thankfulness. No more standing in the rain, snow, sleet, heat and bitter cold to accept the community's donations. "It'll mean everything to us to have the new space because of the inclement weather and because donations were being ruined," said worker Bob Mason of Reston.
On Monday, Jan. 13, Pat Rhoads, manager at The Closet of Greater Herndon, announced that HomeAid Northern Virginia and Builder Captain Richmond American Homes anticipated construction to begin Feb. 1. The new space will address the need for a climate-controlled structure where staff and volunteers can receive and sort donations essential for The Closet's mission. The team will also address rear entrance concerns by installing an ADA accessibility ramp.
These are game-changing improvements according to Rhoads. "I started working here two years ago, and ever since then, I've noticed the men and women out back…working in deplorable conditions…We don't have sufficient space inside…so we rely on our outdoor receiving area," she said.
"This is a different project than perhaps what is 'typical' for our work with HomeAid," said Jack Gallagher, division president, Mid-Atlantic region, for Richmond American Homes. "But The Closet is a partner organization in need of construction support, and their general mission is well-aligned with the same community we serve. By helping streamline their ability to improve the lives of others through our project, we're also contributing and giving back to the community at large."
According to the HomeAid website: "On paper, the project is a 600 square foot structure that will cover the facility's donation area, which is currently an uncovered, unprotected area…Richmond American will also install climate control features, such as heat and ceiling fans, for the donation area and replace a stairwell and handicapped ramp so that the retail area will be ADA compliant for the first time since its opening."
To learn more, visit HomeAid Northern Virginia's newsletter via HomeAid Northern Virginia Newsletter. For updates, visit The Closet's website and Facebook pages.