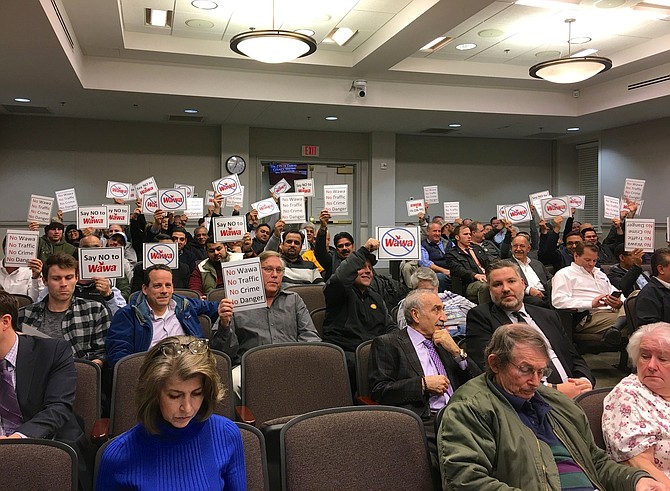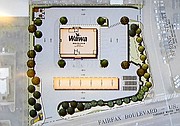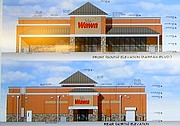 Gas station owners and employees, small businessmen and others opposed to a large WAWA gas station and grocery store coming to the City filled nearly every seat at Tuesday night's Council meeting. They also displayed signs in protest.
And although two Council members voted against the project, at the end of the evening it was approved. That paves the way for WAWA to replace the old Rodeway Inn at 9700 Fairfax Blvd. with a 6,049-square-foot grocery store and six fuel stations – 12 pumps total – under a covered canopy.
"I know there'll be impacts on other businesses," said Councilman Michael DeMarco. "But we can't deny an application because of increased competition."
The 1.8-acre site is on the west side of Spring Street and surrounded by commercial uses. And although WAWA calls its building a convenience store, the City zoning ordinance states anything over 5,000 square feet is considered a grocery store. It will offer soups, sandwiches and other food items, and it and the gas pumps will be oriented toward Fairfax Boulevard.
A special-use permit is required for fuel stations in the (CR) Commercial Retail District. Rezoning a portion of the property from (IH) Industrial Heavy to Commercial Retail is also needed because IH doesn't permit grocery stores. And City staff recommended ending the site's current split zoning and rezoning the entire site to CR.
The gas station won't do vehicle maintenance or inspections. Fuel trucks will enter from Fairfax Boulevard, and food trucks, from Spring Street. One of the current curb cuts on Fairfax Boulevard will be closed, with right turns in and out of the site to Fairfax Boulevard and full access to and from Spring Street.
About 1,280 new trips/day are expected from WAWA, and its transportation engineer, Andy Smith, said one vehicle entering and entering counts as two trips. He expects some 70 vehicles during a.m. peak hours and some 49 vehicles during p.m. peak hours. But he said less than 2 percent of the vehicles on the road won't be there because of WAWA.
TUESDAY NIGHT, attorney Bob Brant, representing WAWA, said it will provide $200,000 toward a future traffic signal at Fairfax Boulevard and Spring Street. City traffic engineer Kirk McCullough estimated its actual cost at $800,000.
"This is an exciting revitalization and economic-development opportunity for the City on Fairfax Boulevard," said Brant. "Since our initial concept plan, we've added more trees on the site and decreased the amount of impervious surface. And fuel delivery will generally not occur during peak-traffic hours."
There'll also be a 5-foot-wide green strip adjacent to the curb and a 10-foot-wide sidewalk connecting the west side of the property to the site. "On the east side, Spring Street today has no sidewalk," said Brant. "We're proposing a 6-foot-wide sidewalk there to increase pedestrian connectivity."
Brant also stressed the business's many benefits to the City, including: Contributing to its tax base, providing 40-50 full and part-time jobs and extending the Draper Drive left/U-turn lane at Fairfax Boulevard to double its capacity from two to four vehicles. Furthermore, said Brant, "WAWA will conduct a traffic-signal analysis within its first year of opening, at its own expense."
"It'll be a modern, state-of-the-art building, and we're proposing eight, electric-vehicle, charging stations there," he continued. "And this business is estimated to bring as much as $347,000 additional, net revenue to the City annually."
Still, at the outset of the Jan. 14 meeting, some of the opponents expressed their concerns. Resident Alan Casey said the station would be too close to Fairfax Circle and would cause morning and evening traffic backups. Also speaking was Chase Beaulieu, whose father owns the Jermantown Shell station.
"We're hardworking people that have always supported the City's youth clubs," said Beaulieu. "Our livelihood depends on selling gas and snacks, and WAWA will affect thousands of people who'll lose their jobs because of it. There'll be five gas stations within 500 yards of Casey's house. Is there really a need for it?"
Daniel Chahell said the traffic study should be done by an independent group. And, he told the Council, "This [project] clearly affects citizens, employees and everyone who's here, and their friends and neighbors. Think of that when making your decision."
Bobby Singh said, "Small gas stations have a connection to the people in their community that big corporations like WAWA don't." And residents Rodrigo Cruz and Vicki Fairfax both said the City already has enough gas stations.
"WAWA is bad news for the City and small businesses," said Fairfax Exxon owner Harry Singh. "This will be a bottleneck of traffic and WAWA will wipe out the competition."
However, said resident Rob Wright, "Change is good, and I like having a choice." Besides, he told the opponents, "If you're doing a good job, people will still come to you." Agreeing, Kelly O'Brien said, "Competition is healthy, and I'd love to see WAWA come in."
But Councilman Sang Yi wondered if it would really be profitable for the City, which would have to pay the other $600,000 for the traffic signal. "To fund it, the City would have to raise the tax rate by a penny," he said. "And but for WAWA, we wouldn't need this traffic signal."
COUNCILWOMAN So Lim noted that an application has also been submitted for a WAWA at Routes 50 and 123, to replace the former Rite Aid there. Brooke Hardin, director of Community Development and Planning, said it wouldn't have gas pumps and can go there by right, without needing a special-use permit.
Brant then made his final pitch, addressing several concerns that had been raised, including site design, safety and fuel trucks having difficulty entering the site. "WAWA operates over 600 fuel locations and has extensive experience making sure fuel and food-delivery trucks, and residents, can get in and out safely," he said.
Brant also noted that "It's important for the safety, security and visibility of fuel customers to locate the fuel canopy up front. Every inch of this property will be covered with lights to provide a sense of security and enhance people's visibility. We'll have video cameras everywhere, and WAWA provides complimentary coffee to law-enforcement officers to provide a police presence throughout the day and night."
He said WAWA is "significantly improving and widening the existing access point and apron by more than 50 feet. The turning radius for trucks will be 30 feet, compared to 2 feet today, and fuel trucks will only go there once or twice a day."
DeMarco then made a motion to approve the rezoning and the project, and Councilwoman Janice Miller seconded. "I go to Royal – the gas station closest to my home – even though I can get gas cheaper elsewhere," she said. "And I believe WAWA will be a good addition to this community."
"I have to think about the small businesses, so I'll be voting no," said Lim. "Do we need another gas station when we already have 14 in the City? And especially when another WAWA will be 1.6 miles away."
"I know how hard the people in small businesses work," said Yi. "I don't see this as being about competition, [but] about traffic, safety and economics. At that location, I'm worried about the public welfare and safety, so I can't support this project."
But, said Councilwoman Jennifer Passey, "It's not a vote against small business, it's a vote for opportunity, so I'll be voting for this project." Councilman Jon Stehle voted yes, too, and WAWA was approved, 4-2.
Other Gas-Station Owners Fuel Fight; Contend the New WAWA Will Decimate Smaller Businesses
During WAWA's Dec. 10 public hearing before the Fairfax City Council, Councilman Sang Yi asked about WAWA's impact on other gas stations in a community. But when Bob Brant, representing WAWA, said it doesn't put other gas stations out of business, many people in the audience laughed.
Then they had their say, starting with Charles Beaulieu, who's owned the Jermantown Shell for 28 years. "It's a shame to see a big company coming in that'll affect my business," he said. "In Loudoun County, when the WAWA went in, my business, customer base and revenue dropped."
A WAWA in Fairfax, said Beaulieu, will also impact the Sunoco, CITGO and other Shell station nearby. "Traffic at Fairfax Circle is already horrendous and will get even worse when the new Giant comes in," he said. "Reconsider this application and consider the small businessman." The audience then applauded, as it did after most of the speakers.
Another man, who's owned a fuel station on Route 1 for more than 10 years, said, "WAWA can easily destroy this growing economy. There are more than 120 small businesses in the vicinity of this new WAWA, and it will destroy them. WAWA puts its prices low, at first; and then, after the small businesses are forced out, they raise them."
Scott Brown said gas-truck drivers will arrive, all hours of the day and night, and "there'll be two a day. And their food-delivery trucks are 18-wheelers. Therefore, traffic will back up on Fairfax Boulevard. The average WAWA sells between 400,000-500,000 gallons/month, has just under 1,700 gas visitors/day, plus 2,000 store customers/day. And WAWA is a destination, so it'll attract more people than drive there now."
Mahmoud Cheladi said he's seen WAWA's effect on small businesses in Loudoun. "They cannot compete with WAWA," he said.
Agreeing, Mohamed Oud, a Fairfax City resident for 18 years, said, "Small businesses are the heart and soul of this country. We'll be out of business, and 90 percent of fuel-delivery trucks can't make that turn out of there, so traffic will back up."
THIRTY-YEAR City resident Chase Boyer said, "The fuel industry is a dying business. I've worked at a gas station my entire life, and fuel trucks will take two lanes to get back out on Route 50 [Fairfax Boulevard]. Is there even a need for a gas station here? You can find one every two blocks. With cheap gas, there'll be lines that'll back up on Route 50. And what will WAWA give back to the community? Will they support a FPYC [Fairfax Police Youth Club] team?"
Also speaking was Daniel Noura, who owns a gas station in Woodbridge. "As soon as WAWA opened, my volume dropped 50 percent and traffic was a nightmare," he said. "There are four gas stations at Fairfax Circle. One is closed down, and the other three will go out of business and will become eyesores – no one will touch those sites."
The owner of the Hampton Inn in Fairfax said WAWA will bring more traffic on Route 50. And, he added, "My guests already complain about the traffic here. If this is approved, they'll take their business somewhere else. It's getting harder for the small businessman."
Also concerned about safety and traffic issues was resident Steve Harrell. "Fuel delivery will come down Pickett Road and Fairfax Boulevard and go through the Circle," he said. "And drivers cannot navigate around that site."
David Raidman owns a Mobil station in the City and came to the meeting to support his fellow business owners. Echoing Noura's concerns, he said, "When this WAWA opens up, there'll be closed gas stations on the corner – and they'll be there for a long time."
Meanwhile, Charles Chevelle said more traffic and safety studies need to be done. "It won't be economically beneficial to the City if the small businesses close," he said. "The Council people were elected to look after the City residents, so you should think about how this would affect the small businessmen."
Joe Lothrup, who manages the 7-Eleven at Fairfax Circle, contended that the WAWA would "increase crime because it'll be another location selling single, alcoholic beverages to go. And all these folks in this room – their livelihood depends on it. You might gain 50 new jobs but lose 100."
THE LONE SPEAKER in support of the proposal was Rob Wright, who lives on Fairfax Boulevard. He said there aren't many good food choices in that area and he always buys gas wherever it's cheapest. And, he added, a WAWA "might inspire these other gas stations to adapt and diversify."
The last speaker from the audience was land-use attorney David Gill, who was asked by the small, gas-station owners to address the Council on their behalf. He requested the Council defer its decision on this matter until it had time to address all the issues.
"It's a tight site, and you're asking fuel drivers to do a hairpin turn out of that site and block traffic for 5 minutes, twice a day," said Gill. "Why do the pumps have to be up front? Why not bring them to the rear, and bring the store to the front, for a more attractive site?"
Brant said, "A lot of valid points have been raised, but the site design is fairly firm. And pushing beyond an early January Council date could put this project in jeopardy."
The Council then approved deferring its decision to Jan. 14.