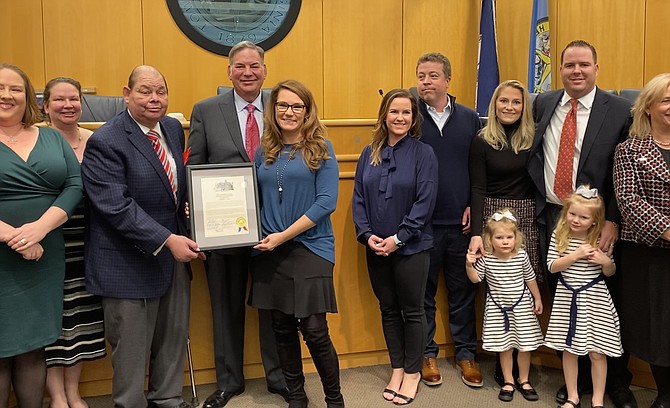 A century after Russian immigrant Julius Nachman bought an interest in a clothing store in the Town of Herndon, his descendants gathered at the Jan. 14, 2020, Town Council Public Session during which Mayor Lisa Merkel and Council proclaimed Jan. 14, 2020, Nachman Day in the Town.
Vice Mayor Sheila Olem read the Proclamation: "Throughout the past 100 years, the Nachmans have exhibited their ongoing dedication to Herndon through involvement in activities and organizations…The Nachmans have also made a profound impact on the lives of students in the Herndon community by providing musical instruments…and lessons to those who could not afford them."
Council and the public expressed their appreciation. Councilmember Signe Friedrichs said, "The Nachman Building in town gives us all a sense of history and grandeur." The 1990 Registration Form of The United States Department of the Interior National Park Service, National Register of Historic Places, described the building as "the oldest continuous commercial establishment in Herndon." Currently, the second-floor houses offices where Arthur and Howard work side-by-side and an occupied apartment. On the first floor, Green Lizard Cycling with its coffee bar occupies the space of the former Nachman's Department Store.
According to Mayor Merkel, the space has become a community gathering area. "It has ignited some energy in our downtown," Merkel said.
Councilmember Cesar del Aguila turned attention to the family. He said that while people can choose to live and invest anywhere, the Nachmans decided to do so in Herndon. That said much about them and their love for the Town. "From our hearts to yours, thank you for being here," he said. Dave Meyer, co-owner of Green Lizard Cycling, added: "What they do for the community, people don't understand or realize. It is super important."
Mayor Merkel invited Howard and Arthur forward. They thanked the Mayor and Council. Howard said, "One hundred years ago, our grandfather signed a piece of paper that would shape the history of the Nachman family and the Town of Herndon... Our grandparents taught... that in order to truly be part of a community, you must be a partner with the local government, other business people and its citizens... (Herndon) is more than just a place. It is a feeling, where everyone has the opportunity to belong. And to think, my family had a small part in helping Herndon become part of what it is today, is extremely rewarding and enormously humbling."