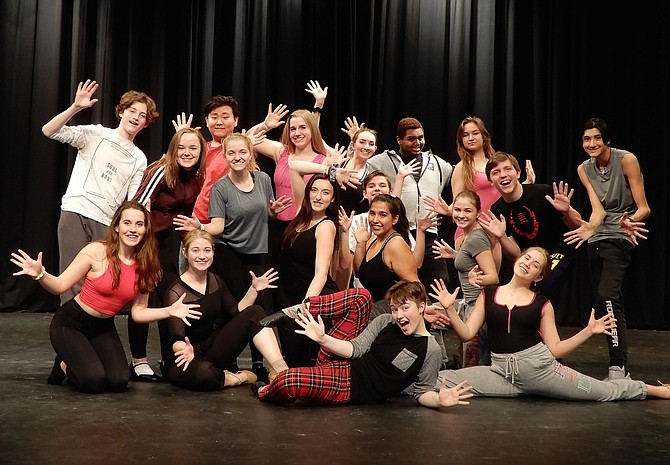 Featuring a cast and crew of 65, plus a 10-piece orchestra, The Fairfax Academy presents the musical, "A Chorus Line." Set in 1970s New York City, it's about dancers auditioning for a musical-theater production, from beginning to casting.
"It's a very funny show, and you get to know each person's life," said Woodson High senior Hannah Black. "It sheds light on what the dancers go through to get where they are, because it's harder and more stressful than most people realize. It takes people behind the scenes – which is cool, since I'm pursuing a dance career, myself."
The curtain rises Friday-Saturday, Jan. 31 and Feb. 1, at 7:30 p.m.; Sunday, Feb. 2, at 3:30 p.m.; Friday, Feb. 7, at 7:30 p.m.; and Saturday, Feb. 8, at 2 and 7:30 p.m. Tickets are $15, adults; and $10, students, via etix.com. This show is for mature audiences only; students under age 13 must be accompanied by an adult.
Black portrays dancer Kristine Urich. "She's bubbly and kind of an airhead, but sweet, and everybody loves her," said Black. "She's married to Al, who's auditioning for the same show, and they're madly in love. She's a phenomenal dancer but can't sing to save her life, so her song is hilarious. She's a hoot-and-a-half to play because she's so energetic, nice and kind to everyone."
Black's favorite song is the opening number, "I Hope I Get It." Before any cuts are made, each group of dancers auditions during this song, and they're each thinking, "I hope I get this job." Calling it "super-fun," Black said, "There are so many people onstage that you can really feel their energy."
She said the audience will appreciate "the commitment the actors have to their characters. And the whole thing is hilarious, so people will enjoy the comedy. There's never a dull moment; Mr. Replogle has done a fantastic job directing this show. Working with him is such an honor, and I feel so lucky to have done that before he retires [in June]."
Director Mike Replogle is also pleased with how this production's turning out. "I think we're going to have a hell of a show," he said. "The kids really get its spirit, and no other show is about auditioning. It tells it from the view of the people who give up everything to be in the chorus."
THE SHOW happens in real time and the audience becomes part of the audition. "And as exhausting as it is for the dancers, they often go through this, two or three times a day," said Replogle. "And this is as close as the audience may get to auditioning, themselves. I love this show because it focuses solely on the dancers. For one show, the chorus line gets to be in front – and it's all about them."
Academy Administrator Andrea Cook choreographed nine of the dances. "Our first dance rehearsal was in October, so the kids have been learning the steps since then," she said. "The toughest part was finding a balance between telling the story, making sure all the students have opportunities to be onstage and working to their own abilities. And regardless of what you give them, making sure they look strong and professional onstage."
Being in an administrative role, Cook misses interacting with the students. So, she said, "Being in this show with them and watching them grow in their confidence, storytelling, artistic ability and maturity – in a short period of time – is the most exciting and fulfilling part for me.
"For those who've seen the original production or its revival, there are little hints of choreographer Michael Bennett," she continued. "For those new to this show, it's an intimate look at what many of our students are choosing for their profession. And there's something special watching the kids explore the stories of their idols, because this is based on true stories."
Furthermore, she and Replogle always try to put their own unique spin on their shows, such as adding extra dancers to a number or portraying it in a fresh way. And, added Cook, "Since we're doing the adult version of this show, we get to perform the full-length, musical numbers."
Senior Raffi Krikorian portrays Zach, the director of "A Chorus Line" – the play for which the dancers are auditioning. "He's a shadow of his former self," said Krikorian. "He used to be a very good dancer, but not as good as others. So when his dancing days were behind him, he became a director. But he misses that time of his life when he was a dancer."
"Zach is serious and mainly business," continued Krikorian. "And he's hurt because one of the auditioning dancers is a former lover who left him. I like playing someone who's both good and bad, and I take what I've seen from other directors and incorporate it into my character."
He especially likes the finale number, "One," because "When everyone's all singing and dancing together, every single time, it gives me chills. It's really great and, at this point, it isn't even the final product."
Krikorian said attendees will love this show's dancing, singing, choreography and acting and all the effort that went into it. As they're leaving, he said, "They'll be thinking, 'Wow, this was amazing to watch.'"
PLAYING CASSIE, Zach's former love interest is senior Vivian Lemons. "She's an ambitious, talented, hardworking dancer," said Lemons. "She tried making it as an actor in California, but it didn't work out. She realizes she needs to be dancing, and 'A Chorus Line" is her last chance to make it as a dancer."
Lemons can connect with Cassie's drive and passion for performing. And, she said, "I love that she knows how good of a dancer she is. Zach knows it, as well, and she uses it to her advantage." Her favorite song is "Music in the Mirror," which she sings. "She realizes the way to convince Zach to cast her in this chorus is by showing him what she can do," said Lemons. "So at the height of her pleading, she begins to dance for him."
She said this show has something for everyone, including "a sense of humanity throughout the entire plot. And the characters are so real that everyone can connect with them, even if they, themselves, haven't auditioned for a show."
Fairfax High senior Angelina Cate portrays Diana Morales. "She's a Puerto Rican character and a strong dancer," said Cate. "But when competing against others, she becomes insecure. She's passionate about what she does and is extremely focused on her end goal. And she relies on her inner strength to get through whatever she's facing."
When this show came out in the mid-'70s, said Cate, "No one had seen anything like it or asked the dancers what they were going through. It shows how tough it is to be a performer and that, despite it all, we're here because we love it."
She especially likes the song, "Mother," a dance number telling the audience about each of the dancers. "They reflect on what their parents told them, growing up," said Cate. "And the harmonies are moving and tell the story in a beautiful way."
She said the audience will enjoy this show's "intricate dance numbers, high energy and how human and personal it is. You may not be a performer, but you can relate to the characters and their life experiences."