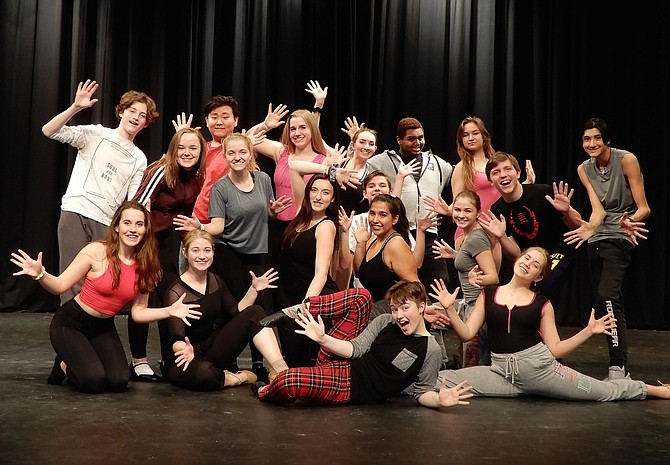 Featuring a cast and crew of 65, plus a 10-piece orchestra, The Fairfax Academy presents the musical, "A Chorus Line." Set in 1970s New York City, it's about dancers auditioning for a musical-theater production, from beginning to casting.
"It's a very funny show, and you get to know each person's life," said senior Hannah Black. "It sheds light on what the dancers go through to get where they are, because it's harder and more stressful than most people realize. It takes people behind the scenes."
The curtain rises Friday-Saturday, Jan. 31 and Feb. 1, at 7:30 p.m.; Sunday, Feb. 2, at 3:30 p.m.; Friday, Feb. 7, at 7:30 p.m.; and Saturday, Feb. 8, at 2 and 7:30 p.m. Tickets are $15, adults; and $10, students, via etix.com. This show is for mature audiences only; students under age 13 must be accompanied by an adult.
Director Mike Replogle is thrilled with how this production's turning out. "I think we're going to have a hell of a show," he said. "The kids really get its spirit, and no other show is about auditioning. It tells it from the view of the people who give up everything to be in the chorus."
The show happens in real time and the audience becomes part of the audition. "And as exhausting as it is for the dancers, they often go through this, two or three times a day," said Replogle. "And this is as close as the audience may get to auditioning, themselves. I love this show because it focuses solely on the dancers. For one show, the chorus line gets to be in front – and it's all about them."
Academy Administrator Andrea Cook choreographed nine of the dances. "Our first dance rehearsal was in October, so the kids have been learning the steps since then," she said. She and Replogle always try to put their own, unique spin on their shows, such as adding extra dancers to a number or portraying it in a fresh way. And, added Cook, "Since we're doing the adult version of this show, we get to perform the full-length, musical numbers. And it's an intimate look at what many of our students are choosing for their profession."
Westfield High senior Keeley Rogers portrays Maggie, who's passionate about dancing. "She has issues with her father, who left when she was a child, so she expresses what it was like growing up without him through her dance," she said. "That's what drove her to become a dancer, because she has fantasies about dancing with her father."
Rogers describes Maggie as "the sweetest, goofiest and most lovable character. I've seen this show, and Maggie's story affects a lot of people. I'm the most emotionally invested in her character because it's so real – I feel like she's a genuine person. I love playing her because she has this truth to her. She's open but is closed off until she has the chance. She doesn't draw attention to herself but is just authentically her."
Her favorite song is the famous and iconic "One," because it's the final number and everyone's onstage dancing together. "It's a crowd-pleaser and a big spectacle," said Rogers, who hopes to become a professional dancer, herself, someday. "I feel like it's the perfect way to wrap up the show, and it's enjoyable for both the actors and the audience."
She said "A Chorus Line" is relatable and easy to enjoy because "the audience will feel so connected to every single character and their stories. There are so many ups and downs – sad stories immediately followed by big, happy, high-energy numbers. People will want to stand up and dance along with them."