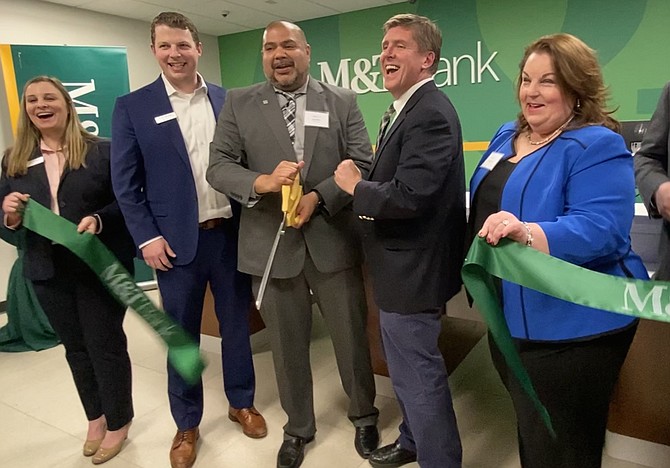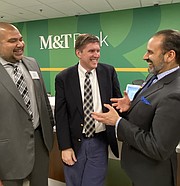 M&T Bank marked the grand opening of its newest branch in Reston with a ceremonial ribbon-cutting. More than 50 individuals attended the Jan. 22 event, including members of the bank's regional senior leadership and Greater Reston Chamber of Commerce, Supervisor Walter Alcorn (D-Hunter Mill) and other guests.
Located at 1886 Metro Center Drive, the 45,000-square-foot bank is 1 block from the current western terminus of the Washington Metro Silver Line, the Wiehle–Reston East station in the new transit-oriented, mixed-use, urban center. "What I'm excited about for our new branch in Reston is the improved location. We are very accessible to the community," said M&T Regional Manager for the Northern Virginia Region John D. Murphy Jr.
Dee Kakar is Vice President Business Banking Team Leader in Northern Virginia at M&T Bank and Chair-elect of the Greater Reston Chamber of Commerce. Building at the Metro location, Kakar said, "Was a leap of faith." And the customers, they came. According to Branch Manager Robyn Craig, M&T Bank is dedicated to helping with growth objectives, supporting communities in which it operates.

In the latest round of the annual Greenwich Excellence Awards, M&T Bank ranked among the nation's top small business lenders, according to Senior Public Relations Manager at M&T Scott Graham. The bank's Washington D.C. Small Business District ranked No.1. "M&T Bank is the number one SBA (U.S. Small Business Administration) lender in the Washington D.C. SBA District based on total number of loans – 186 loans for $33.2 million in the SBA 2019 fiscal year. (The Metro Center branch) will cater to business clients. Several business banking relationship managers will sit at the new Reston branch, which will operate as a business banking center. These professionals have a deep understanding of the Reston community," said Graham.
M&T Bank employees go beyond the financial. Murphy said, "All of our employees are given 40 hours annually from the bank to help in the community through volunteer service hours in the area of financial literacy for their clients. We are working through Volunteer Fairfax and some of our community partners such as Junior Achievement, Rebuilding Together and Women Giving Back…We are a big bank, but we are a community bank at heart."