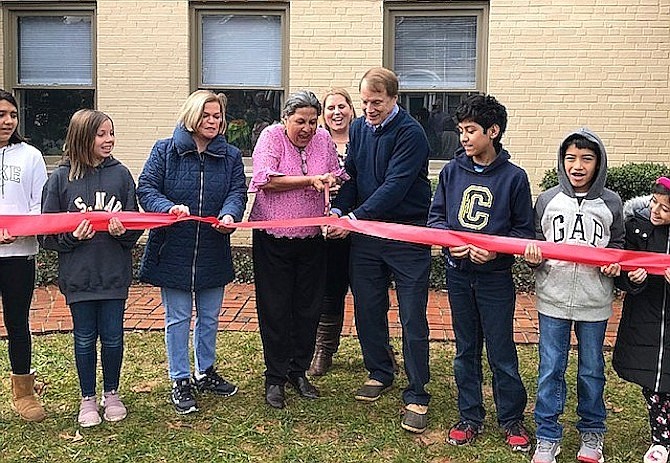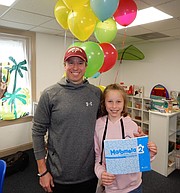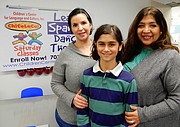 Since 2007, ChiCeLaCu! (Children's Center for Language and Culture) has offered Spanish immersion programs for children in Vienna. And on Saturday, Jan 25, it opened a new location in Fairfax City, at 10201 Main St., Suite 230 (the World Gym building).
The new space is cheerful, colorful, warm and inviting. Geared for ages 3-12, the school offers programs for preschoolers, plus afterschool and Saturday classes – and even summer camps – combining innovative strategies with traditional, classroom learning.
"When children learn Spanish earlier, it's easier," said school director and founder, Maureen Santamaria. When she and her husband bought a home in Fairfax City, two years ago, she began looking for a place to open another school here. Then she found and renovated this spot. "We feel so welcome here," she said. "This City is really special, and I appreciate its support. They really want businesses to come here."
ChiCeLaCu!'s program is also in three FCPS elementary schools. "They're long-term programs so the children can really learn the language well," said Santamaria. "It takes about four years to become really fluent."
In Fairfax City, the emphasis is on preschool and Saturday classes. Preschool is for ages 3-5, either three or five days/week. Students may attend from 9:30 a.m.-2:30 p.m., from 2:30-4:30 p.m., or all day. Saturday classes, for kindergarten through sixth grade, run from 9 a.m.-1 p.m.
But afterschool classes and summer camps are also offered; see www.childrencenterlanguage.com. Or call 571-210-0161 or 703-992-8722. And for working parents, the school is open from 7 a.m.-6 p.m.
Originally from Nicaragua, Santamaria said, "My mom always emphasized the importance of my four siblings and I going to a university and getting degrees, and we all did. This is my passion – I'm a teacher with a bachelor's in education, and I teach Spanish in the classroom.'
THE SCHOOL also has an administrative staff, plus 10 other teachers, who've all been with ChiCeLaCu! a long time. Classes are small, with 8-10 students per teacher. Five classrooms are used on Saturday, and three during the week. And since 2007, some 4,000 children have attended ChiCeLaCu!'s programs.
"You need to be dedicated, perseverant, patient and hardworking," explained Santamaria. "And if you have those qualities, then you can succeed. The students, parents and teachers here all have a special connection as a community. Our teachers are warm, caring, dedicated professionals, and the safety and wellbeing of the children is our priority."
In the preschool program, children are taught music, language arts, math, science and cursive writing – for fine motor skills and so they'll be able to write words in Spanish. In the Saturday program, they learn language arts, history, geography, some math and cursive writing. And, added Santamaria, "We also teach the children to listen to and respect each other."
The Fairfax City location opened earlier this month; and during Saturday's official grand opening, students sang a song in Spanish for the visitors, and parents, students and teachers mingled with each other and with the City officials attending the event. Among them was mom Mahtab Tehrani, whose son, Daniel, a sixth-grader, has taken classes at ChiCeLaCu! since second grade.
"He's doing very well and is fluent in speaking and writing Spanish," she said. "He started Spanish at a Montessori preschool and liked it. And because it's a popular language in the U.S., we thought it would be valuable for him to learn it. I like this school because they speak only Spanish here, so the kids speak the language the whole time they're here."
Daniel attends afterschool classes, Tuesday and Thursday, for about 90 minutes each, plus three hours on Saturday mornings. "It's a very good school, and this new location is very nice and spacious," said Tehrani. "And Miss Maureen really does a lot for the children."
Dad James Catto was there, too, with his twin daughters, Anya and Elena, 11, now in their sixth year with this school. "I speak Spanish," he said. "I was a Peace Corps volunteer in Bolivia and served in the State Department's Foreign Service in Mexico, so the girls spent three years there and learned Spanish. So when we moved back when they were 5½, we wanted to continue their Spanish-language skills."
Catto then did "tons of research" into schools, but he and his wife liked ChiCeLaCu! because "It offers a unique structure. It teaches both spoken and written fluency, with a strong emphasis on grammar. The kids use books they'd use in Spanish-speaking countries and are doing lessons as if they were native Spanish speakers. So they get a deep understanding of the language and grammar."
"It's really imprinted on them," he continued. "And besides speaking, the students write, do research and have to give presentations. Plus, there's a whole cultural component. The kids study both ancient and contemporary culture – including the foods, dances, traditions, etc., of Spanish-speaking countries – so they also learn about the region and its people."
Pleased with the school's new location, Catto said it's larger than its space in Vienna so there's more room to differentiate between the students' levels of learning. "And it's near the park," he added. "I love Fairfax, and we come here all the time, so I'm delighted that the school is here. And this larger space reflects the fact that the school is growing and doing well and shows all the hard work Maureen and the staff have put into it."
STUDENT DANIEL FRIEDMAN, 11, has attended for five or six years. "They teach you Spanish in a fun way," he said. "Instead of just lecturing, they give you lots of projects, like writing a five-page book in Spanish. It's neat because it's a common language and you could go to Mexico, Spain, Venezuela, etc., and talk to the people. I'd recommend this school to others because there's lots of hands-on learning, you learn Spanish and you get to be creative, at the same time."
One of the teachers is Santamaria's son, Braulio Mayorga Santamaria, who teaches world history and geography to first- through sixth-graders. "I love it," he said. "The students and parents like me and are all genuinely interested in the class. They participate and have fun."
"Speaking more than one language is a huge advantage in life," he explained. "And once people learn Spanish, they can communicate and use it in their everyday lives. Our parents are extremely loyal, and I've seen progress in their children, learning to be their own people and speak fluently."
Proud of what they've accomplished, Maureen Santamaria said her greatest satisfaction is seeing students who initially can't read or speak Spanish become fluent. And, she added, "They'll remember me, because you always remember a good teacher."