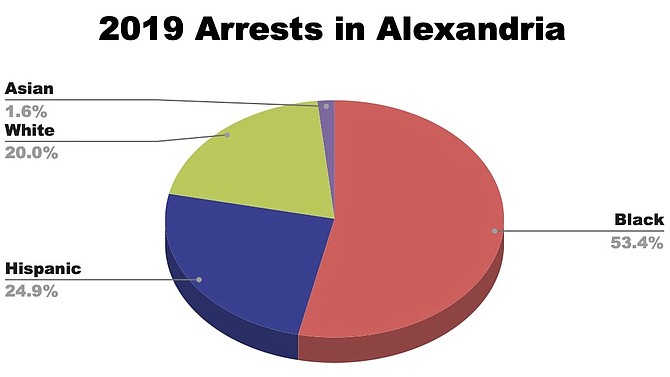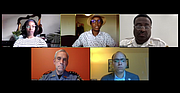 Black people are 23 percent of the population in Alexandria, and yet most arrests in the city are of African Americans. Most cases when police use force are against Black people. Most drug arrests are of Black people. And almost half of the inmates at the Alexandria jail are Black people.
For many years, the criminal justice system in this city has tilted toward exerting power and influence over African Americans, particularly Black men. Now the killing of an unarmed Black man by a white police officer in Minnesota has launched a national conversation about police brutality and systemic racism.

"Police brutality exists, and sometimes it's warranted. Sometimes it's not," said Alexandria Police Chief Michael Brown. "I want to fix this as much as anybody else because it's not fair to the next generations to come."
Earlier this week, Brown took part in a Black Lives Matter panel discussion to examine what kind of racial disparities exist in law enforcement and what the city is doing about them. When asked what has changed for him in the last month, the chief announced he is currently conducting an analysis to get a handle on what's happening in his department and whether any systemic changes were needed.
"We're looking at our data to find if there's any element of bias on our part. If so, we want to root that out," said Brown. "And if there's issues that are systemic that show up in our data, we want to make sure we address it."
DURING THE FORUM, Mayor Justin Wilson said the same inequities that existed before the murder of George Floyd are still around. But, he said, he senses a new courage in Alexandria to grapple with the thorny issue of racial inequality. The first phase was a rhetorical declaration that Black Lives Matter, a proclamation that might have seemed a bit edgy or controversial a month ago. The next phase, he said, should be dismantling inequities that have existed for hundreds of years.

"Police brutality exists, and sometimes it's warranted. Sometimes it's not."
—Alexandria Police Chief Michael Brown
"The criminal justice system, and the inequities that exist and the differing experiences that particularly Black and brown residents have in our criminal justice system are really a tip of the iceberg of systemic racism," said Wilson. "It's a hard-wired white supremacy that was woven into our founding as a country and for 350 years was legal and for the last several decades has been largely illegal but is still very much present in a lot of our institutions in this society and certainly in our city."
In the last 20 years, the city's budget for the Alexandria Police Department has more than doubled, although relative spending has remained at about 9 percent of the city's budget. Similarly, the budget for the Alexandria Sheriff's Office has also more than doubled, although relative spending there has also stayed constant at about 4 percent of the city's budget. The chief makes $180,000 a year, and the department has eight captains who have annual salaries ranging from $138,000 to $149,000. The Sheriff makes $197,000 a year, and his office has three chief deputy sheriffs who make $153,000 each.
"We expect our public safety officials to perform a variety of tasks that they are not the best equipped folks to deal with," said Wilson. "This conversation is one we need to have about what we use police for and what we should not use police for."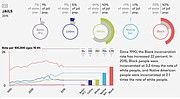 SINCE 1970, the population of inmates in Virginia's jails has increased 800 percent, according to researchers at the Vera Institute of Justice. They also calculate that the Black incarceration rate has increased 22 percent in Virginia since 1990. Currently, Black people are about 3.2 times more likely to be in jail than white people in Virginia. Here in Alexandria, 47 percent of the average daily population last year were Black inmates, according to the Alexandria Sheriff's Office.
"I go to the barbershop, and I get questions on how you can be a law-enforcement officer as an African American," said Sheriff's Chief Deputy Shelbert Williams. "It's tough to convince people that we're doing what we need to do as law enforcement officers to be fair and respectful."
The Black Lives Matter forum featured city leaders calling for change and vowing to make changes to dismantle inequities, although few specifics were part of the discussion. City Council members are considering a proposal to create a citizen oversight board, but details have yet to be worked out about whether that panel would have access to documents that police routinely shield from the public. The police chief did promise an analysis of the racial imbalance in Alexandria arrests, though, and participants expressed passionate opposition to the kind of police brutality that sparked the national conversation a month ago.
"Is there anger? Yes, there's anger, and there should be anger," said Williams. "People have to understand that there should be anger, and if there's not anger we're missing something."