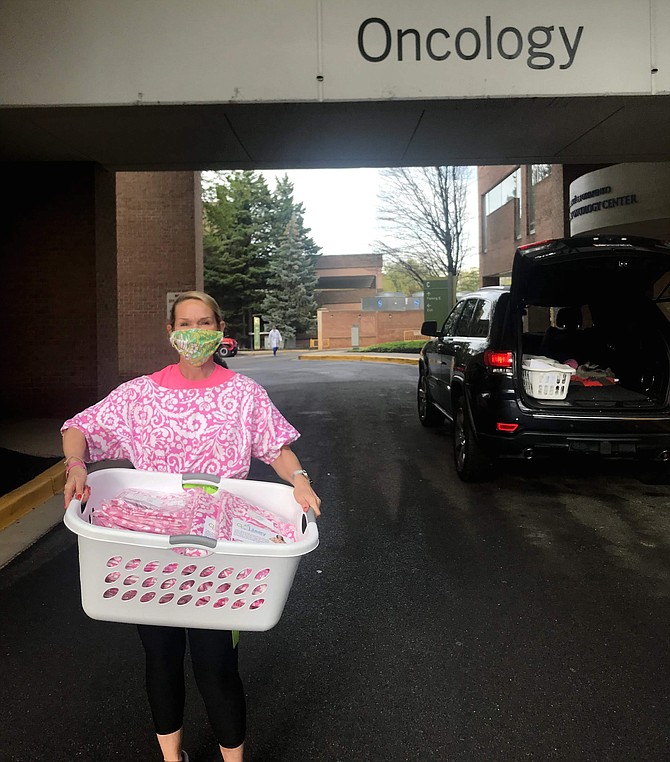 Elise Yanker Hasenei dropped off a donation of 140 hospital gowns at Virginia Hospital Center recently to bring positivity and aid during this time of need in the midst of the Covid crisis.
Elise "Lisey" Yanker Hasenei started a cancer gown company called GoLisey in 2015 after surviving breast cancer herself. GoLisey strives to uplift cancer patients going through treatment with comfortable, brightly colored Glam Gowns in vibrant patterns. She believes that joy should be brought to the treatment process in any way possible, to help inspire and brighten the attitudes and experiences of cancer patients. Anyone that knows Elise is familiar with her contagiously positive spirit, and determination to spread optimism to all. She started GoLisey out of her home in Arlington and sells her gowns online as well as at events held at local businesses including New To You and Covet.
Elise wanted to do something to help during this trying time in the healthcare industry, so she reached out to VHC to donate all of the gowns she currently had in stock, for men and women alike. She dropped four boxes of Glam Gowns to the donation center in April, which serendipitously ended up being located in the Oncology wing; an area she was of course familiar with. Being there brought back many emotions, but mainly deep appreciation and love for the workers. Workers there were grateful for the generous donation during these struggles with Covid-19.
Elise successfully donated 140 additional Glam hospital Gowns to Virginia Hospital Center earlier this month for radiology patients. She raised more than $3,000 from GoFundMe and Facebook, and all funds went toward production of the new gowns.
Upon dropping the new round of gowns off, she learned that all donations were going directly to radiology patients in need. This fulfills the exact mission of Go Lisey, to uplift the moods of people going through the cancer treatment process, and make the journey more comfortable.
Elise has also started making masks out of the Glam Gown fabrics , which she is going to include in her next round of donations.
For more, see https://www.golisey.com/