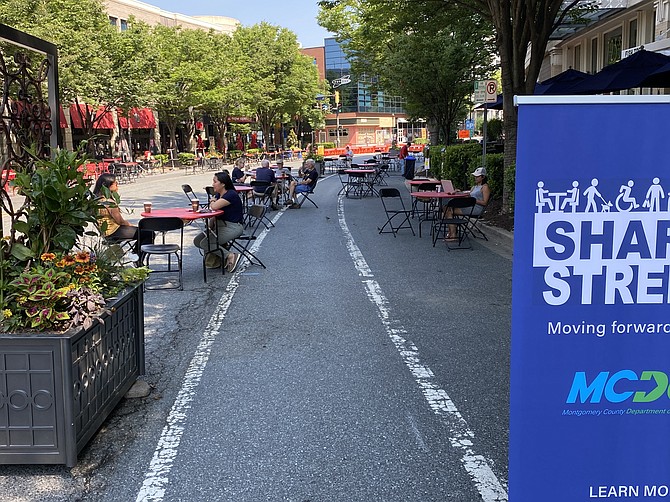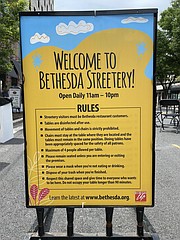 For less than a month, Montgomery County Department of Transportation (MCDOT) has had a program in place that allows residents to close their streets to through traffic, allowing neighbors to use the street for walking, biking, visiting or just wandering about free of [most] traffic concerns.
Called Shared Streets, the program, which started June 19, gives residents an easy application for a block permit, so their street has limited traffic for either four consecutive days during the week – Monday through Thursday, or three weekend days – Friday, Saturday and Sunday.
Applications cannot be for consecutive blocks of time, Hannah Henn, Acting Strategic Communications Manager and Senior Engineer for Strategic Innovation at Montgomery County Department of Transportation, said.
The new Shared Streets Block Permit program is part of a larger Shared Streets program that includes outdoor seating and curbside retail and on-street walking and biking.
MCDOT already had a block party permit [which], since March, was put on hold because of COVID-19, Henn said. "There won't be any block parties this summer."
"Safe and accessible public spaces are a critical aspect of community health and vibrancy. MCDOT understands that our public rights of way are a key resource for residents and businesses, and that the best use of those spaces may shift under changing circumstances," MCDOT Director Chris Conklin said. "In response to the COVID-19 health crisis, I have directed our planners and engineers to think creatively about how we can adjust the use of our streets, sidewalks, and parking facilities to best serve today's needs. As a result, we are implementing a new initiative—Shared Streets."
Henn explained that with things changing so quickly, the department modified the original plan.
The idea for the Block Permit, Henn said, came from a number of people.
"We launched an [appeal] for citizen feedback in May and my understanding is the idea came from multiple conversations," she said.
In preparing to launch the Block Permit program, MCDOT used the original Block Party permit and streamlined it.
"We adjusted it to current needs," she said. "The difference is nobody will be blocked from coming onto the streets. It is sort of an on-demand Greenway."
There is no cost to apply for a permit. The county will provide signage and plastic barrels at the ends of the street along with a sign explaining the Safe Streets Block Permit Program.
"Everything we are doing is in response to COVID-19," Henn said. "We realize the needs and we are trying to provide [solutions]. We're hopeful this program is helpful to people."
To apply for a Block Permit, visit https://www.montgomerycountymd.gov/DOT/sharedstreets/. Permit turn around is fast, Henn said. "we're aiming for two days," she said.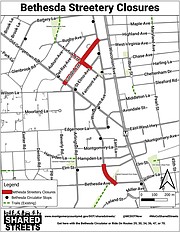 Bethesda Streetery
A dining concept to create additional restaurant seating outdoors in downtown Bethesda, the Bethesda Streetery is set up as open seating. All tables are placed at least 6 feet apart with a limit of four people permitted per table. Restaurant patrons are invited to dine within this open-air area after picking up food and beverages from a local Bethesda restaurant. Tables will be cleaned after each use.
The Bethesda Streetery is open from 11am – 10pm daily.
• Norfolk Avenue, between St. Elmo Avenue and Cordell Avenue
• Norfolk Avenue, between Cordell Avenue and Del Ray Avenue
• Woodmont Avenue, between Elm Street and Bethesda Avenue
• Veterans Park, corner of Norfolk and Woodmont Avenues
• Cordell Avenue, between the parking garage near Old Georgetown Road and Triangle Towers; On Cordell Avenue, Streetery hours are Wednesday – Sunday, 4 p.m. – 10 p.m.
View downtown Bethesda's full list of restaurants at https://www.bethesda.org/node/682
Temporary street closures make all this possible.