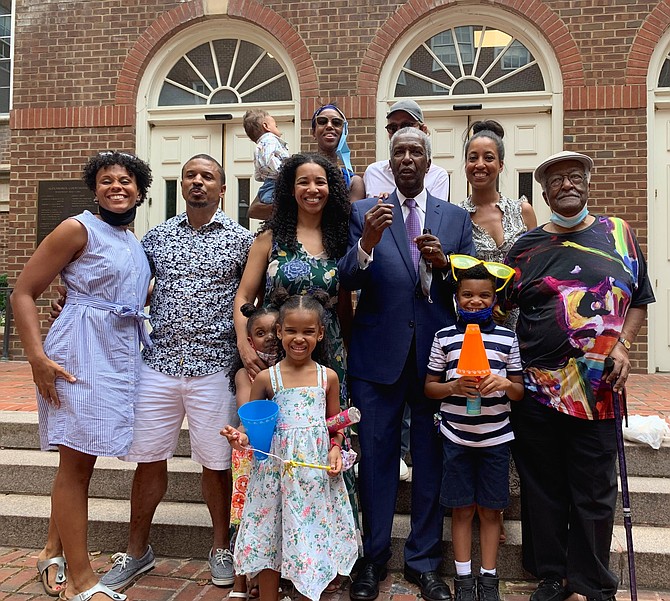 Nolan Dawkins grew up at a time when Alexandria segregated everything from water fountains to public schools. But he was determined to make a difference, becoming one of seven individuals to integrate George Washington High School in the 1960s, then distinguishing himself as an officer in Vietnam.
Last week, on June 26, the respected jurist was honored with a surprise drive-by retirement celebration 26 years after becoming Alexandria's first African American judge.
"Dad can be very stoic at times, but he is also a softie so it was nice to see him genuinely surprised," said daughter Ashley Dawkins Sorensen, who traveled from New York to attend the celebration. "Alexandria is a small city and secrets are hard to keep so I was glad to see that this worked out."
Hundreds of well-wishers greeted Dawkins as fellow Circuit Court Judges Lisa Kemler and James Clark led him out to the courtyard of the Franklin P. Backus Courthouse under the guise of taking one last photo with their colleague on the courthouse steps.
A visibly moved Dawkins wiped tears from his eyes when he saw the crowd of family, friends, courthouse employees and city officials that had gathered in the streets surrounding the courthouse. More than 70 cars participated in a drive-by parade along South Pitt Street, many decorated with balloons and signs of appreciation and thanks for the service of the trailblazing lifelong Alexandrian.
Dawkins grew up on Columbus Street in the Parker-Gray district. He attended Parker-Gray High School until 1963, then was one of seven Black students to attend George Washington High School, where he graduated in 1965. During that time, he was a standout basketball player alongside future NBA player Skeeter Swift.
He earned a ROTC scholarship in college, followed by law school at Seton Hall University. Prior to his 26 years on the bench, Dawkins practiced law in Alexandria and served as an Assistant City Attorney. He worked as an Assistant City Attorney from 1977—1981 and was in private practice from 1981—1994.
In 1989, Dawkins was appointed to serve as a substitute judge; then, from 1994 until his elevation to the Circuit Court in 2008, he presided over the Juvenile and Domestic Relations Court. He was the Chief Judge of the JDR Court from 2004—2008 and presided over the Alexandria Family Drug Treatment Court from 2001—2008.
Among those attending the celebration were Dawkins' three daughters; Kelli Smith, Kimberly Dawkins and Ashley Dawkins Sorensen; and grandchildren Lucien, Skylar and Micah Smith, and Lukas Sorensen. Due to health complications, his wife of 47 years, Lorraine, was unable to attend.
"The Alexandria Bar Association really helped pull this all together," said Dawkins Sorensen. "We would have loved to throw a traditional party for him but even under these extraordinary circumstances it was a wonderful celebration and nice to see him so happy."