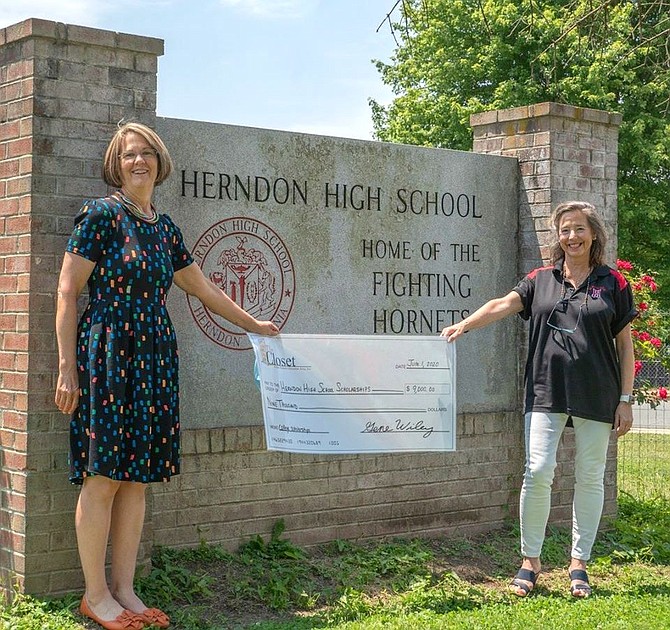 The Closet of the Greater Herndon Area, Inc. recently awarded $45,000 in college scholarships to 22 deserving high school graduates at five local high schools. Closet Board President Gene Wiley stated, "We are so proud of these youth and their families and are happy to continue supporting this important educational need in our community." The 2020 scholarship recipients are:
Herndon High School: Lucilla Antwie, Karen Ayala-Bonilla, Caleb Calderwood, Sean Frias, Maryum Khan, Judith Velasquez
Mountain View High School: Doris Alvarado, Abonesh Tadese, Tenzin Tsering
Oakton High School: Olohi Anteyi, Monica Alexandra Castellanos, Maria S. Rivera
Park View High School: Ebanneh Atabe, Charlotte Edwards, Kimberly Fuentes-Galvez, Kimberly Molina Rivas, Kaitlyn Smith, Melana Washington
South Lakes High School: Rhema Ebna Konadu, Nicol Katherin Salinas Perez, Daniel Mebratu Tolessa, Nia Jordan Winston
Since 1974, The Closet has awarded more than $500,000 in college scholarships to more than 500 students. In this same 45 year period, The Closet has distributed nearly $3 million in direct cash grants to local service groups, of which the scholarship program is an important part.
The Closet is a non-profit thrift shop founded and operated by a multiplicity of faith-based congregations. With a small dedicated staff and a very active volunteer cadre, The Closet provides shoppers low-cost, high quality used clothing, shoes, books and other household items. Donations of clothing and small household items are always needed, graciously accepted, and may be dropped off at the store Monday through Saturday from 8 a.m. to 3 p.m. Retail store hours are 10 a.m. to 5 p.m. Monday through Saturday.
The Closet welcomes new volunteers. Contact the store manager, Patricia Rhoads, at 703-437-7652 for additional information. The Closet also welcomes student volunteers fulfilling their community service requirements for school or who just want to serve their community. Go to http://www.theclosetofgreaterherndon.org for further information about The Closet. The Closet is located at 845 Station Street in Herndon.