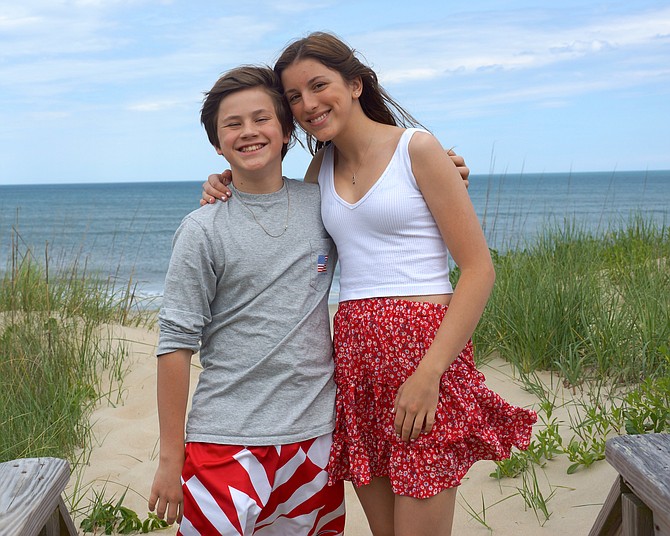 Like most teenagers, Elizabeth Rothenberger of Great Falls enjoys listening to music. Unlike most teenagers, she's releasing her own music starting with her debut song "Ricochet" and including five new songs released in thirty-day intervals. At only sixteen-years-old, Rothenberger juggles attending the Connelly School of the Holy Child and developing an aspiring music career.
Along with producer Chris Keup, Rothenberger has co-written her first professionally recorded and released songs. She talked about finding her passion for singing after auditioning for musicals in elementary and Cooper Middle School.
"I discovered how much I loved singing and I began taking voice lessons to grow and learn more about it. I brought my guitar that my parents gave me to my voice teacher on a spree and from there, I learned how to sing songs with my guitar."
Karen Rothenberger, Elizabeth's mother, recalls her singing from a young age and improving through performance.
"Elizabeth started taking voice lessons and then added guitar at Potomac Falls Music with Ashley Cash. She also did some student showcase performances at a local restaurant and played at some open mic nights at The Old Brogue."
Vocal coach Katie Talbot has been working with Rothenberger since the summer of 2019. Talbot says she aims to make singing easier so Rothenberger can focus on developing her personal style.
"My experience with Elizabeth has been nothing short of amazing. She is young but beyond wise and diligent for her age! She understands practice and is such an incredible student! Plus she has such a wonderful and natural talent with her voice as it is."
"I love bringing out thoughts or worries on my mind into the songs to make them more relatable and personal."
— Elizabeth Rothenberger, 16, of Great Falls
Not only is Rothenberger talented musically but at school, she is also a caring classmate. School music teacher Elsbeth Fager remembers first working with Rothenberger during her freshman year.
"Elizabeth is a kind, thoughtful, and compassionate young woman. She is always supportive of her classmates and respectful of her teachers. Her passion for music is infectious and it is a joy to be around her in the classroom and on stage."
Writing the EP gave Rothenberger a taste of the music production process such as combining different elements. About the debut song "Ricochet," Rothenberger said writing it was faster because it came naturally.
"When writing the EP with Chris Keup, he brought ideas for the melody of a new song and we listened to it and tried to string lyrics together to fit it. Recording the EP was very fun but it took us lots of takes to put the vocals together."
Rothenberger cites the therapeutic qualities of music as a reason for her passion. In the future, she hopes to continue developing her style and improving.
"Songwriting is all about authenticity and how the words flow to the beat of the music. I love bringing out thoughts or worries on my mind into the songs to make them more relatable and personal. I really want to discover how to become my own artist and find my unique style to put into my music."