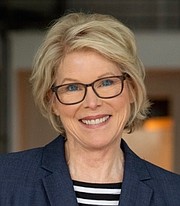 Marta Hill Gray wears one of her masks as she has her temperature taken, signs in with her own pen and walks through the door of Culpepper Garden on July 1. It is her first day as the new Executive Director of Culpepper Garden, Arlington's largest low-income senior living facility.
She came from her home business into the world of coronavirus rules and restrictions. Culpepper Garden had gone into lockdown on March 9. "When I walked into Culpepper Garden the first day, it felt very organized and systematic."
She said, "They have a good system here, even in the midst of their major renovation. I have been impressed with what they do." Gray had been working from home outside of Charlottesville on issues relating to women's health, aging, new medical treatments. Since she had been working from home, she wasn't used to wearing a mask all day. "When I took it off, there was a sort of ghosting thing, like it was still on."
This opportunity came at a good time for her. "It was at the beginning of the coronavirus epidemic, and two of my biggest clients had to put things on hold. I did a lot of events in the outside world. The other reason I came here is that this is meaningful."
Gray says she has always been interested in aging, and her grandparents raised her. She adds she is about to become a grandparent herself "so I'm turning into an aging person; these are my people." She says she will be working on business development and market expansion. "I love a good cause."
She says she wants "to tell the story of this place, to let people know a place like this exists. These people have contributed their whole lives." She says, "I am never afraid to ask for dollars if I'm going to speak on behalf of people."
Gray says one of the best ways to relate the experience of the residents of Culpepper Garden is through their stories. She recounts the recent experience of an assisted living resident who adopts senior kitties. Her recent kitty had a seizure and died. "She was beside herself." Gray says three of the staff brought the resident a new kitty. "They didn't have to do that. It was tender and moving."
Current life at Culpepper for residents has got its challenges with rules about social distancing and activities curtailed. "We want to keep it fun for them. A lot of life is about looking forward to things — going, seeing, doing." She says residents are desperate to talk. "And now the little patio out front has residents wearing their masks sitting on lovely benches with a little breeze, glad to see each other."
Culpepper Garden has both independent living subsidized in part by Federal Housing and Development (HUD) funds as well as 73 assisted living apartments. They began a major renovation in April 2018 to upgrade all apartment interiors and public spaces, replace all major systems and add six apartments. The renovation was slowed down by the coronavirus pandemic, and Gray says they have a ways to go but have made pretty good progress.
Gray says she has a wish list for expanding opportunities for the residents such as getting phones for residents and access to connectivity for those who want it. "We've got to find a way to teach them but now there are logistical challenges." And she would like to get more speakers for the resident's programs and figure out how to be more relevant for their Spanish speakers. "It is a huge opportunity."