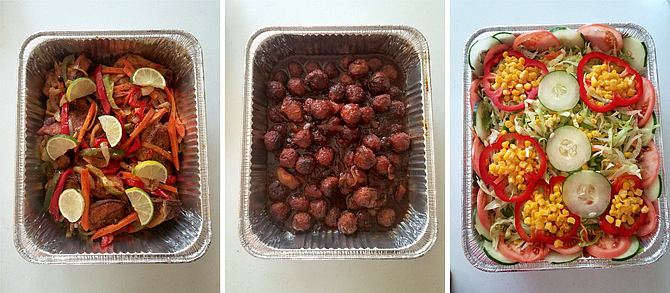 From more ways to get bagels to new restaurants opening their doors to welcoming back an old favorite, there are certainly signs of life amongst the city's eateries again.
Bagel Uprising Launches Delivery
Del Ray's local bagel shop, a stalwart of the pandemic era, is expanding its reach – not to sit-down service, but for deliveries instead.
The company posted on social media this week:
"Big news in Bagel Land: We're finally set up for delivery directly from the BU website! When you're in the shopping cart, click "change" where you currently see "pick up," and select "delivery" instead.
"Please note you can't pre-order for delivery like you can for pick up. The wheels start turning as soon as you order; we've been finding that it usually takes about an hour for delivery orders to arrive."
Hank & Mitzi's to Welcome Guests Again
The former location of Hank's Pasta Bar is almost ready to see new life, the owners of Hank & Mitzi's (as well as Hank's Oyster bar and the former pasta bar) have announced. Per their social media feeds, the restaurant aims to reopen by the end of July, with construction coming to an end. The Italian-infused pizza and pasta spot will release its new menu soon, as well.
"Stay tuned for more details…" the restaurant staff said.
Ruby's Jamaican Kitchen Opens
A taste of Jamaica is permeating the Route 1 corridor with the opening of Ruby's Jamaican Kitchen. Located at 2817 Schooley Drive, the eatery offers up all manner of Jamaican favorites, ranging from curry goat to Jamaican patties to a vast array of sides. The restaurant is currently open from 11 a.m. to 8 p.m. Tuesday through Thursday, and 10:30 a.m. to 8:30 p.m. on Friday and Saturday.
Piece Out, Del Ray Boccato Both Poised to Open
Del Ray is preparing to welcome two new cafes to the neighborhood – Piece Out, a pizzeria, and Del Ray Boccato, a spot for sweet treats such as gelato as well as savory empanadas. Piece Out will take up residence in the space formerly inhabited by Catch on the Avenue at 2419 Mount Vernon Ave.; Del Ray Boccato will open up at 2400 Mount Vernon Ave. Both aim to be open within weeks; Piece Out has already released a soft-opening menu.
Hope Nelson is the author of "Classic Restaurants of Alexandria" and owns the Kitchen Recessionista blog, located at http://www.kitchenrecessionista.com/. Email her any time at hope@kitchenrecessionista.com.