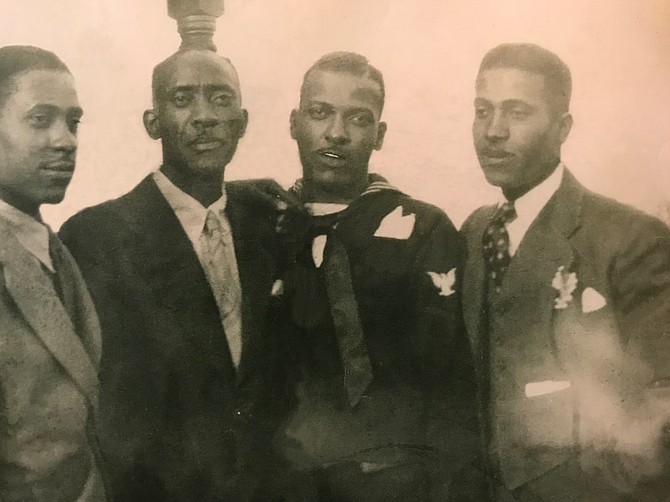 During the Civil Rights movement unrest in the 1940s and 1950s, Betty Garrett-Scott witnessed many historical moments that shaped her life. Her endurance during those turbulent years came from the love and caring she received from her grandfather, Norman Roy, Sr.
Betty's mother, Lucille Roy-Garrett Morgan was born in 1910 to Norman Roy, Sr., and Elnora Lewis Roy in the West End of Alexandria in the Seminary and Quaker Lane neighborhoods. Norman and his wife had 14 children and Lucille was their oldest child. During Betty's youth, she spent a great deal of time at her grandfather's house, which was located about a mile from Oakland Baptist Church. Her grandfather's house was near the Virginia Theological Seminary.
Betty said, "My grandfather owned a large piece of land and he had a big house. The house looked like one of those old plantation homes. The house only had three bedrooms but each of the rooms was extremely large. All the boys slept in one room and all the girls slept in the other room. Her grandparents had their own bedroom." She says her grandfather was a handy man and a painter; he worked at the Virginia Theological Seminary and later at the Theological High School. Her grandfather told her stories about his children and about her grandmother, Elnora, who died before Betty was born. Norman told Betty that her mother Lucille was working in New York when her grandmother, Elnora, became sick and died. He told Betty that Lucille dropped everything and came home to raise her siblings. The other fond memory Betty had of her grandfather's house is that there was a piano in the house. When all the grandchildren met at their grandfather's house, they would make their way to the piano.
Betty's heart-felt remembrance of her grandfather is discerned by anyone who knows her. She describes her grandfather as a warm, patient, kind and generous man. All that she knows about her Roy family comes from her grandfather. His home was where all of his children and grandchildren would come for family gatherings. The entire family was close and Norman was the glue that kept them together.
By the late 1950s, urban development came to Seminary Road and Quaker Lane. The City of Alexandria identified Norman's house and land as one of the locations slated for urban renewal. The City took his property under, "Eminent Domain." They paid Norman a small amount of money for his land and his house. Norman by this time was an old man. He was forced to leave his home and his way of life. He moved to Alexandria and rented an apartment. Gone were the days when Norman enjoyed hosting his children and grandchildren at his own property for family meals and social gatherings.
Norman died in 1984 at the age of 95. He outlived several of his children including his daughter, Lucille. He had a profound impact on Betty. Her memories of her grandfather are so vivid that it seems time has not passed away.
Betty Garrett Scott was born in 1939. She is the oldest daughter of Lucille T. Roy Garrett Morgan. Betty has one daughter, Randy, two grandchildren, Garrett and Taylor, and two sisters, Carolyn and Linda. Her memories of her grandfather are just as clear today as they were over 70 years ago.
The Roy family came to Seminary Road and Quaker Lane during the Civil War. And Mrs. Betty Garrett Scott is proud that history.
Char McCargo Bah is a published author, freelance writer, independent historian, genealogist and a Living Legend of Alexandria. She maintains two blogs, https://theotheralexandria.com/ and https://findingthingsforu.com/.