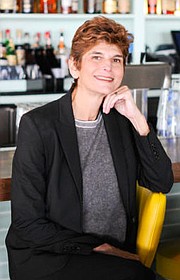 Soon, the aroma of rich Italian food will once more waft from the corner of Montgomery Street and St. Asaph Street. After a longer-than-anticipated wait, Hank and Mitzi's – formerly known as Hank's Pasta Bar – will reopen its doors near the end of the month at 600 Montgomery St.
The original Hank's, which closed in October 2019, was only supposed to be shuttered for three to four months, said owner Chef Jamie Leeds. But the world had other plans. Between the Covid-19 pandemic and the usual construction delays that pop up with a project like this, the closure has stretched to 10 months.
The reason for the closure was simple, borne out of necessity when renovating on a large scale.
"I wanted to build a rooftop bar and catering event space on the middle floor," Leeds said. "…I had gotten a feasibility test done for the roof and the city was granting me access to the roof for 80 seats and I didn't want to pass that opportunity up."
Since the restaurant would have to close for a few months anyway, Leeds thought it was a great time to rebrand the space – and include pizza when it reopened.
Enter Mitzi, aka Leeds' mother.
"My mom has always been the one that wanted me to do pizza – she's a real pizza connoisseur," Leeds laughed.
And pizza will certainly be a star of the show. While the precise menu is still being finalized, Leeds says diners can expect an array of options for pies.
"We're going to have a simple margherita, a meat choice, a vegetable choice, a make-your-own," Leeds said. But the pasta dishes that Hank's has become famous for aren't going anywhere, either.
The signature mafalde is certainly making a return, Leeds said, with a bit more refinement than before.
"Everything's going to be very simple and straightforward," she said.
And some of the other Hank's favorites are coming back, too.
"We're definitely going to have our signature grilled octopus back that people love," Leeds said. "We're just going to give it a little boost with a nice lemon vinaigrette."
In this era of coronavirus, reopening a restaurant brings with it a few more nuances than it might have before. Leeds and team are rolling with the punches – and making some options available to fit the times.
"We're starting right off the bat with family meals to go," Leeds said. Diners can choose from four entrees – including lasagna and eggplant Parmesan – as well as a Caesar salad, broccoli rabe side and optional dessert, all for carryout. The family meals, which are aimed at families of four-plus, will be priced at $69. The restaurant is also offering charcuterie boards to go.
And, naturally, those diners who opt to dine in – either in Hank & Mitzi's outdoor space or inside the dining room – can expect safety protocols that go "above and beyond," including masks and gloves for the staff, frequent cleaning of the space, frequent hand-washing and more.
Now that the reopening date is finally drawing near, does it feel like a relief for Leeds?
"Oh gosh, it really does," she said, chuckling. "I can't wait."
Hope Nelson is the author of "Classic Restaurants of Alexandria" and owns the Kitchen Recessionista blog, located at http://www.kitchenrecessionista.com/. Email her any time at hope@kitchenrecessionista.com.