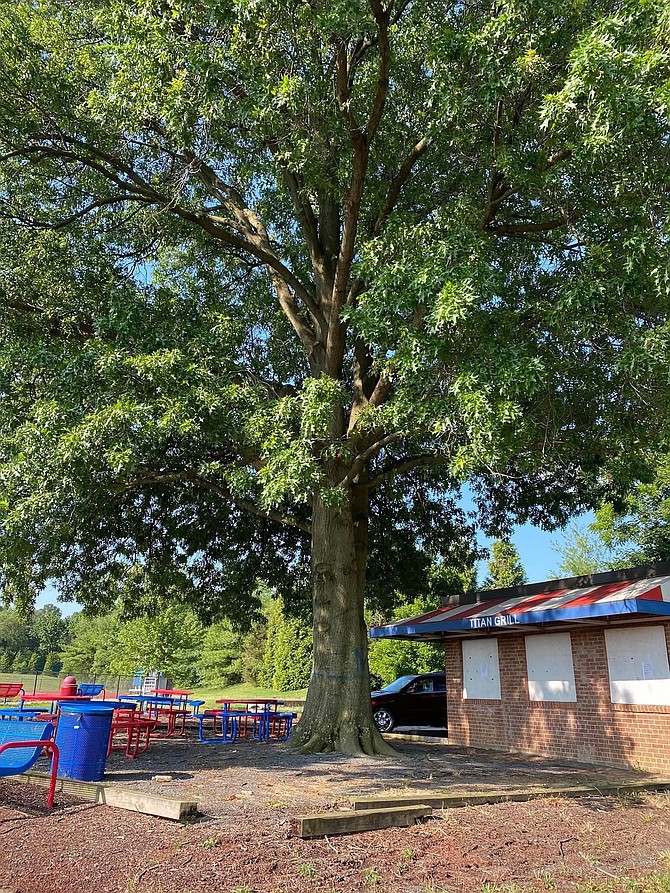 Concerned citizens and local activists gathered July 21 on the campus of T.C. Williams High School to protest the planned removal of a 150-year-old oak tree to make way for a new concession stand at the school's Parker-Gray Memorial Stadium.
"This is an amazing tree," said Boyd Walker, a TC graduate who is petitioning the city and ACPS to save the tree. "This oak has been here long before the city even stretched this far west and it has shaded every athlete and fan quenching their thirst. It also produces a few tons of oxygen a year while sucking out carbon from our atmosphere. Let's honor that tree and save it for our kids' future."
The tree is reportedly scheduled to be cut down this week and some of the residents have said they will tie themselves to the tree if necessary to halt its removal. Plans call for the tree to be replaced by a new concession stand, restrooms and storage space.
A city staff report issued in 2018 reads in part: "For the proposed new concession and restroom facilities, different options were explored in order to balance the applicant's design objective of moving structures away from property lines as far as possible, with the additional objective to create a public gathering place with good on-site circulation… Initial designs tried to save a large tree, but the resulting layout removes the tree in order to place the buildings furthest east away from property lines."
"The city arborist has already looked at the tree and reported that it is healthy and about 150 years old," Walker said. "There is also the historic tree designation in the city ordinance so the city manager can save the tree by designating it as historic. We are asking Mark Jinks to do that before it is too late."
Because the tree is on school grounds, the School Board has the authority to reverse the decision on the tree subject to approval from City Council.
"If anyone wants to help save this tree, please contact members of the school board, city council and the city manager," Walker added. "This tree is in imminent danger of being cut down. Saving the tree will not prevent a concession stand from being built. It only needs to be relocated."