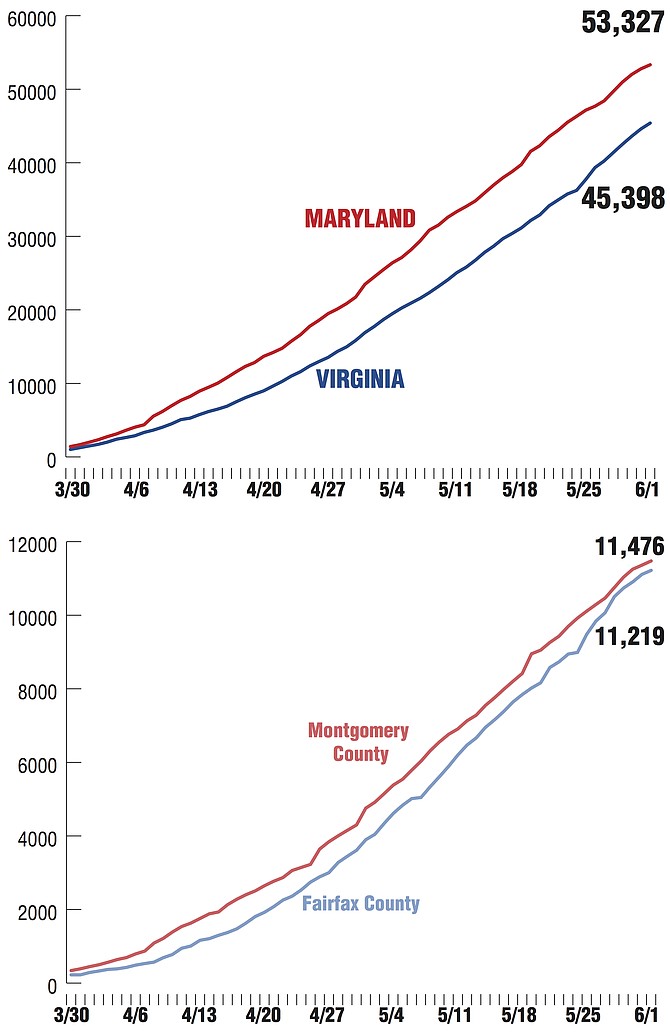 Monday, June 1
Potomac 20854 Cases: 261
Montgomery County Cases: 11,476
Maryland Cases: 53,327
United States Cases: 1,761,503
Montgomery County Deaths: 576
Maryland Deaths: 2,431
United States Deaths: 103,700
Sunday, May 31
Potomac 20854 Cases: 259
Montgomery County Cases: 11,361
Maryland Cases: 52,778
United States Cases: 1,737,950
Maryland Deaths: 2,411
Montgomery County Deaths: 572
United States Deaths: 102,785
RULES AND REGULATIONS: Montgomery County has developed reopening guidelines for businesses as we move into Phase 1 on Monday, June. 1. These guidelines are designed to foster a safe environment for businesses and their employees and customers. Only businesses referenced in the Executive Order are permitted to reopen; all others must continue to follow the "Stay-at-Home" Order.
The Reopening Montgomery web page features resources, best practices and answers to reopening questions.
POSITIVITY RATE: Maryland's COVID-19 positivity rate has dropped to 10.9%, and current total hospitalizations have fallen to their lowest level since April 15, according to Gov. Larry Hogan. Maryland has now conducted 348,773 COVID-19 tests, including 9,412 tests over the last 24 hours. The state's positivity rate peaked on April 17, when it reached 26.91%. Since then, it has dropped by 59.49%, down to 10.9% statewide.
Montgomery County and Prince George's County, while still above the rest of the state with respect to positivity, continue to see steady decreases. The positivity rate in Prince George's County has dropped by more than 59%, from a high of 41.96% to a current rate of 16.9%. Montgomery County has dropped by more than 60%, from a high of 32.64% to a current rate of 12.9%.Positivity rate data for the state and all 24 jurisdictions is available at https://coronavirus.maryland.gov/
Maryland's current total COVID-19 hospitalizations—one of the state's key recovery metrics—have dropped to 1,183, their lowest level since April 15. There are 479 ICU beds currently in use for COVID-19 patients, the lowest number since April 17, and the number of patients in acute care, 704, is at its lowest since April 14.
Nearly 100 Testing Sites in Maryland. With expanded capacity and supplies available, the state has broadened the criteria for COVID-19 testing to include those who are asymptomatic. There are now nearly 100 major testing sites in Maryland. Visit https://coronavirus.maryland.gov/ to find a location.
Saturday, May 30
Potomac 20854 Cases: 259
Montgomery County Cases: 11,251
Maryland Cases: 52,015
United States Cases: 1,719,827
Maryland Deaths: 2,390
Montgomery County Deaths: xx
United States Deaths: 101,711
UNIVERSAL GRADUATION MCPS will honor the Class of 2020 with a systemwide live Universal Graduation Celebration on Sunday, June 7, featuring Jose Andres, world-renowned chef and founder of World Central Kitchen as the commencement speaker. The event will pay tribute to more than 10,500 high school graduates. Airing at 6 p.m. on Cozi TV (broadcast over-the-air channel 4.2, Verizon Fios channel 460 and Xfinity channel 208). The ceremony will be emceed by NBC4 anchor Leon Harris. Replays of the ceremony will be available on the MCPS website and the MCPS YouTube channel after the event. Additionally, individual school virtual graduations will be held June 8-12.
Friday, May 29
Potomac 20854 Cases: 257
Montgomery County Cases: 11,035
Maryland Cases: 50,988
United States Cases: 1,698,523
United States Deaths: 100,466
ORDER: The Council met as the Board of Health and officially approved Executive Order Number 070-20 signed by County Executive Elrich on May 28 which eases some of the County's stay-at-home restrictions and begins a phased reopening of Montgomery County on June 1 at 6 .m. See details below under Thursday, May 28, the day County Executive Marc Elrich announced Monday's ease of restrictions.
SWIMMING POOLS: As Montgomery County officials begin to reopen some businesses June 1, officials urge community pools to plan and schedule pre-opening inspections now. Although a specific date has not been set, swimming pools will reopen with limitations during Phase 2 of the County's COVID-19 Recovery Plan. The County's seven public outdoor pools will follow similar guidance. When outdoor pools open there will be restrictions on the maximum number of patrons allowed, which will be determined by the size of the pool.
BUSINESS PROPERTY TAX DEADLINE SUSPENDED: An executive order suspends time requirements for the County's 2020 business personal property (BPP) tax. County Executive Elrich issued the order to assist businesses during the difficult economic times that have transpired from the COVID-19 health crisis. The deadline for paying the tax will be extended until after Maryland Governor Larry Hogan lifts the state of emergency executive order he issued on March 12 and under which all of the State currently operates.
"Businesses in Montgomery County have experienced some tough times in this pandemic," said County Executive Elrich. "Many have closed, laid off employees. They have been challenged in so many ways." BPP bills are issued each month as the State reviews and certifies each business's annual personal property tax filing. Payment of business personal property tax bills are due 30 days after the date on the bill. Businesses that have outstanding tax bills will have to pay the taxes by the end of the month that follows the month during which the emergency is lifted.
LATINO CIVIC PROJECT: "El Momento Cívico/The Civic Moment" (In Tune with the Montgomery County Council) is one component of Councilmember Navarro's Latino Civic Project that features topics related to civic engagement and understanding the various functions of County government. Navarro started the Latino Civic Project in 2012 to promote and strengthen civic participation among Latinos and immigrants. More information on Councilmember Navarro's Latino Civic Project including the program's achievements is available in English at: https://tinyurl.com/yb3mqgx9
The Montgomery County Council and Radio America have entered a partnership that provides the Latino community with key information on issues and programs each Friday on Radio America WILC 900AM at 2 p.m.
SHARED STREETS: A Montgomery County Department of Transportation (MCDOT) program to support safe, physically distanced activity looks for temporary ways to modify existing uses of County sidewalks, roads, on-street parking and parking lots to provide extra space residents and businesses could use to comply with Centers for Disease Control (CDC) spacing guidelines. See https://www.montgomerycountymd.gov/DOT/sharedstreets/
Specific suggestions or questions also can be sent by email to MCDOT.SharedStreets@montgomerycountymd.gov.
Thursday, May 28
Potomac 20854 Cases: 252
Montgomery County Cases: 10,752
Maryland Cases: 49,709
United States Cases: 1,678,843
Maryland Deaths: 2,307
Montgomery County Deaths: 542
United States Deaths: 99,031
DATE SETTLED: Phase One in Montgomery County started Monday, June 1 at 6 a.m. Montgomery County Executive Marc Elrich and County Health Officer Dr. Travis Gayles said critical benchmarks to reduce the spread of COVID-19 have been achieved.
This initial phase of reopening was based on metrics the County established with progress overall in decreasing daily numbers of new cases, increasing testing capacity, implementing a large-scale contact tracing effort with the State, decreasing hospitalizations and use of the emergency room by patients with COVID-19 related symptoms, and positive trends in the death rate and test positivity. The County plans for an incremental reopening, based on public health data.
WHICH BUSINESSES?: Phase I allows additional businesses and activities to start and/or increase modified operations under specified guidelines. They are:

Retail; curbside only
Restaurants and bars; outdoor seating (curbside pick-up still allowed)
Childcare; State-approved emergency programs open for dependents of essential employees and Phase 1 reopening employees
Personal Services; hair salons and barber shops for hair only appointments
Car washes; exterior cleaning only
Manufacturing; fully reopen with precautions and guidance
Outdoor Day Camps: following Maryland Department of Health guidelines
Outdoor Youth Sports; following Maryland Department of Health guidelines
Drive-in religious services;
"Pick-your-own" produce at farms;
Certain outdoor recreation continues to be permitted; golf courses, archery, shooting ranges, marinas, campgrounds, horseback riding facilities and tennis courts.
REMAIN CLOSED: The following businesses and services remain closed: swimming pools; (however, licensing and inspection can be requested and conducted); senior centers; fitness centers, movie theaters; shopping malls; nail salons.
REMAIN OPEN: The following outdoor recreation facilities continue to remain open: golf courses, archery ranges, shooting ranges, marinas, campgrounds, horse boarding and riding centers and tennis courts.
PROTECTIVE MEASURES: Measures being required of businesses that are in this initial phase of recovery.
"This is an important first step," said County Executive Elrich. "This first phase can be successful if all of us do our part and follow the guidelines."
"While we are trending in the right direction, clearly the virus is still here in the community so we must remain focused on maintaining our habits of physical distancing, and wearing a face covering when out in public," said Dr. Gayles.
County Council President Sydney Katz: "Our residents have masked up, practiced social distancing, repetitively washed their hands and followed the overall guidance of our public health experts."
While moving to the first phase of recovery, County officials urge residents to continue to: wear face coverings always in public indoor spaces and when physical distancing cannot be maintained outdoors; continue physical distancing; limit indoor and outdoor gatherings to 10 people or fewer; telework whenever possible
DON'T FORGET: County Council President Sydney Katz's statement:
"Getting to this point has been extremely difficult because the virus has taken a heavy toll. We mourn the loss of the more than 542 residents who have died from Covid-19 and who were grandparents, parents, siblings, coworkers and friends.
"In addition, since the start of the pandemic, nearly 10,800 community members have tested positive for the virus. Local leaders recognize that the measures needed to protect public health have resulted in unbelievable personal and financial sacrifices to get us to this point; however, our residents are resilient and remain ready to work with us to rebuild the County's economy.
"Reopening will be slow, incremental and steady to allow our public health experts to continue working with our business and community leaders to monitor how these changes impact public health. At the same time, we will continue ramping up our testing and contact tracing to help contain further outbreaks. Increasing testing capacity will provide the data needed to guide our future decisions on how to safely expand more economic and social activities.
"Montgomery County leaders know how difficult it has been for families and residents across our community to deal with this unprecedented health and financial challenge, and we have provided more than $50 million in assistance for local small businesses, health and human service needs and medical services. We will continue to do all that we can to help our residents get through this challenging time, while laying the foundation for our collective economic recovery."
DASHBOARD THURSDAY: The County's data dashboard has shown the number of cases is decreasing at the same time that testing has increased. According to the Maryland Department of Health, the positivity rate has decreased from 32.64 percent on April 7 to 15.84 percent on May 27. With enhanced testing capabilities, more than 8,000 residents are now being tested weekly and by June 8, there should be capacity to test 20,000 people weekly. Contact tracing is done within 48 hours for every resident with a confirmed case so that individuals can isolate themselves and stop further spread of the virus.
TRACKING DATA: Montgomery County officials are tracking public health data to determine when and how to relax "restrictions and move toward reopening businesses and public amenities in the county." The county developed the COVID-19 Dashboard to track numerous metrics and updates the information daily by 2 p.m.
The metrics tracked by the county include the number of cases, deaths, hospitalizations, emergency room visits, and ICU hospitalizations. Also, the county tracks the utilization rate of acute care beds, intensive care beds, and ventilators. The final two metrics include the percentage of positive tests and the capacity to test five percent of residents monthly.
As of Thursday, the three-day average number of new cases increased from 182 Wednesday to 214 Thursday, deaths increased from four to five, hospitalizations increased from 341 to 347, emergency room visits dropped from 15 to 10, patients in intensive care beds increased from 120 to 122, the utilization rate of acute care beds increased from 73% to 74%, intensive care bed utilization rate increased from 64% to 65%, use of ventilators rose from 54% to 57%, percentage of positive tests dropped from 16% to 14%, and the three day average for tests increased from 1,099 to 1,222.
As of Thursday, the Maryland Department of Health reports 10,752 confirmed cases and 542 deaths due to COVID-19.
The target for two metrics — 14 days of ICU bed utilization less than 80% and 14 days of ventilator use less than 70% — has been met.
The utilization rate for acute care beds in the county has only fallen below the 70% threshold once of the past 14 days.
Wednesday, May 27
Potomac 20854 Cases: 250
Montgomery County Cases: 10,467
Maryland Cases: 48,423
United States Cases: 1,662,414
Maryland Deaths: 2270
Montgomery County Deaths: 535
United States Deaths: 98,261
NURSING HOMES: Nursing home cases in Maryland and Montgomery County were updated. In Montgomery County, 1,476 resident and 725 staff cases were reported; 346 residents and 7 staff people have died. In Maryland, 6,394 resident and 2,921 staff cases were reported; 1,276 residents and 14 staff people have died.
UP TO FIVE: Montgomery County will accept applications to its Microenterprise Stabilization Program (MSP) beginning Wednesday, June 10 through Tuesday, June 16. The MSP initiative is designed to help for-profit businesses with five or fewer employees, including sole proprietors and independent contractors. Eligible businesses must be physically located in Montgomery County or the owner must reside in the County and at least 51 percent of business revenue must be generated in Montgomery County.
See https://www.montgomerycountymd.gov/biz-resources/msp/
The County will host webinars to answer questions and further explain the MSP program starting at 9 a.m. Monday, June 1, through Saturday, June 13 (excluding Sunday, June 7). Webinar links and instructions will be available Friday, May 29 at https://www.montgomerycountymd.gov/biz-resources/msp/
300,000 TESTS: Maryland has reached the goal of conducting 10,000 tests in a day, and has completed more than 300,000 COVID-19 tests statewide. With the state's expanded testing and tracing capacity, Maryland now has the ability to take a closer and more accurate look at positivity rates, according to Gov. Larry Hogan. Building on Maryland's data-driven approach, positivity rate data for the state showed that Maryland's statewide positivity rate peaked at 26.91% on April 7. Since then, it has dropped down to 12.8%.
Tuesday, May 26
Potomac 20854 Cases: 245
Montgomery County Cases: 10,291
Maryland Cases: 47,687
United States Cases: 1,622,114
Maryland Deaths: 2,217
United States Deaths: 97,669
RENTAL ASSISTANCE: The COVID-19 Rental Assistance Program will provide partial rent support to low-income County households that have experienced income loss due to the COVID-19 health crisis. Approved households may receive a maximum of $500 per month for three months, paid to their landlord. The Housing Opportunities Commission of Montgomery County (HOC) will accept applications and supporting documents from 10 a.m. on Monday, June 1, through 2 p.m. on Friday, June 5. Applicants are strongly encouraged to submit their application online at https://www.hocmc.org/extra/878-covid-rental-assistance-program.html.
Residents who have questions or require assistance with the COVID-19 Rental Assistance, contact HOC by calling 240-627-9606 or 240-627-9680 or sending email to CDBG_RAP@hocmc.org. Alternatively, specialists at the HOC Call Center are available to answer basic program questions at 240-627-9400.
New to Zoom? Classes for Seniors
Senior Planet Montgomery, a technology training program designed for County learners 60 and older, offers free online classes that focus on how to thrive at home. Classes, which are offered live via video conference, enhance a wide variety of life skills. Classes June 1-5 will focus on How to Spot Fake News, Job Searching in the Digital Age and Online Shopping. In addition to classes in English, two classes during June 1-5 will be delivered in Spanish. A variety of exercise classes also will be offered.
Classes change on a weekly basis. A home internet connection and a device (such as a smartphone, tablet, or computer) are all that is required to participate.
Classes to be offered June 1-5 will include:
How to Spot Fake News: Monday, June 1, 2:30-3:30 p.m. Lecture will provide a helpful explanation for the increase in the use of the term "fake news," as well as offer tools to evaluate news sources. Popular fact-checking sites will be reviewed.
Sending and Receiving Money with Zelle®: Tuesday, June 2, 10:30-11:30 a.m.
All Things Zoom: Tuesday, June 2, 1:30-2:30 p.m.
Online Shopping: Wednesday, June 3, 10-11 a.m.
Job Searching in the Digital Age: Thursday, June 4, 11 a.m.-noon.
How to Initiate a Zoom Meeting: Thursday, June 4, 1:30-2:30 p.m.