With summer coming and the coronavirus pandemic disrupting lives across the country, virtual summer camps on the computer may work in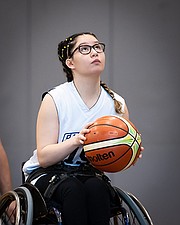 some situations, but for wheelchair basketball camp, the computer will take some imagination. This is nothing new for Marissa Flores, Class of 2020 at Mount Vernon High School.
Flores has made the best of challenging situations in her life, so this spring, she is featured on the Fairfax County Public Schools "senior spotlight."
Her wheelchair basketball took some perseverance, and Flores took it to a new level, joining a local team called the Fairfax Falcons and helping out coaching with the girls' junior varsity team at Mount Vernon.
"I also loved that even though I have a disability called Cerebral Palsy, my teachers always believed that I could accomplish anything, even if it had to be completed in a different manner," she said.
In March, Flores was planning on playing in the National Wheelchair Basketball tournament in Kansas with her team, the Fairfax Falcons, but that was canceled due to Covid 19. Then she planned to cross the stage on graduation night with the other students at Mount Vernon, and then attend two summer wheelchair basketball camps at the University of Texas, Arlington. "My plans for the coming summer have sadly been canceled," Flores said.
The Falcons are a Paralympic Sports Team that provides a variety of adapted sports experiences to youth with physical disabilities in the Northern Virginia area. Through adaptive sports, athletes improve physical fitness, communication skills, self-esteem, and build life-long friendships, their website stated. The Falcons ended the season as the first place Eastern Conference Champions and ranked 9th in the Nation, so they qualified to attend the NWBA Nationals Tournament in Kansas in March, but the coronavirus got in the way, so they cancelled the tournament. Flores has been with the Falcons for three years, but concludes her time as a player this year because she graduated high school.
One of her greatest experiences of the past school year was managing the girl's junior varsity basketball team and helping out with preschool children in a special program.
"Also, my other favorite thing about Mount Vernon was my Early Childhood Careers class because I had the opportunity to work with preschoolers, and I love working with kids," she said.
The 2020 Senior Spotlight was a planned social media campaign initiated by the Office of Communications and Community Relations to pay tribute to and recognize the Class of 2020. With the graduation ceremonies cancelled due to the coronavirus, it's a way to celebrate the student achievements and bring light to the graduation.
"We are excited about the interesting, talented, diverse individual student profiles we received and have been highlighting them since early May," said Lucy Caldwell, Director News and Information at Fairfax County Public Schools.
Summer Plans
With everyone facing uncertainty this summer, Flores' plans are still up in the air, but she wants to participate in competitive sports so she plans on attending online virtual summer camps and workout sessions with different teams around the nation. She has her sights on possible virtual workouts with DPI Adaptive Fitness such as boxing and other sessions when available, she said.
She plans to study at Northern Virginia Community College before going on to a four-year school with a wheelchair basketball program.
She hopes to continue support for the Falcons. "I will continue to support the Fairfax Falcons by becoming a manager and helping out the prep and varsity team with practice, fundraisers and supporting them at their games," she said.
Flores has dreams to open a recreation center for children with disabilities and spread more awareness for people with disabilities. It all started with the positive experience at Mount Vernon High School. "I am most proud that I was able to be the manager for the girls JV basketball team as well as for the teachers believing in me despite my obstacles," Flores said.