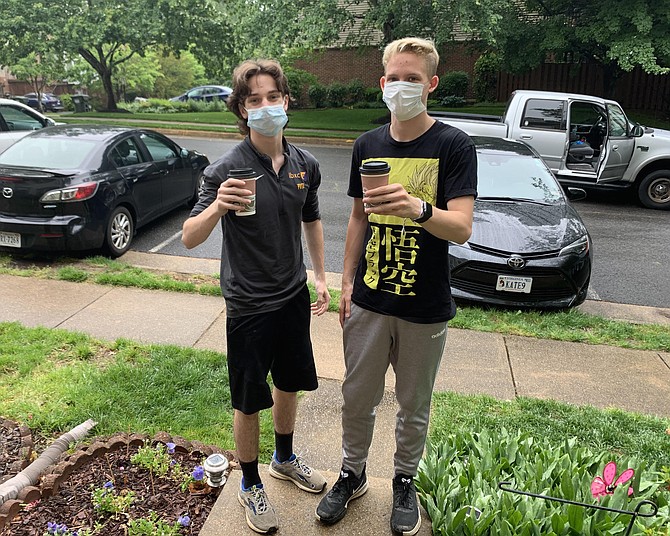 With many coffee shops closed or their business hours shortened during the COVID-19 pandemic, two high schoolers have fulfilled locals' coffee cravings. DMV Drinks, a coffee business founded by Lars Griffin and Josh Putz, creates and delivers coffee and frappes to Burke and Springfield residents.
"We realized with this quarantine that it would be a lot harder for people to get their daily coffee, and we saw an opportunity in a doorstep coffee delivery service," said Putz of Springfield, a junior at Lake Braddock Secondary School.
People can order by messaging them on their Instagram or Facebook, and they deliver every day from 6 a.m. to 10 p.m.
"We average about one order per day so far, but usually orders are two or three drinks. We get about seven to nine orders per week with about 24 drinks per week," said Griffin, a West Springfield High School junior and Springfield resident. "We're hoping for those numbers to go up once our website is functional."
According to Griffin, most of their customers are high schoolers, but a few adults have ordered as well. Many who have ordered from them have been happy with the quality of the drinks and delivery.
"The drinks are really good and Lars is a really nice, fun, friendly guy who will adjust to you. He made a special drink for me with no caffeine and called it the 'Cooper Special,'" said Washington Irving Middle School eighth grader Cooper Metz, a Springfield resident. He's ordered from them ten times.
"They are efficient with delivery and quick to answer when you order. The drinks are outstanding! I don't enjoy coffee all that much but they have an option without coffee, so that's nice," said Abi Dorey, a junior at West Springfield High School from Springfield.
"They have quality drinks for small prices, and they're fine delivering even if it's a far drive," said Lake Braddock Secondary School's Cali Dudek, a Springfield resident. Her favorite drink is their caramel frappe.
They came up with the idea for DMV Drinks in April, when they heard people complaining about coffee shops closing.
"What originally was just mindless chatter turned into a real idea that we took to," said Griffin. "We started to look into creating coffee recipes that would rival those of big coffee brands. My mother used to work as a barista in Starbucks a long time ago, so she helped us with developing the recipes. Josh's mother works with supplying coffee to corporations like Pete's Coffee all throughout the DMV, so she helped us find the best coffee to use and gave us insight to how the whole industry was run. I am the one who prepares the drinks and I usually am in charge of buying the supplies, while Josh usually runs deliveries. We both equally work on our social media presence."
"We decided to start with making iced drinks and played around with a couple recipes. It took a couple days for us to get the right ingredients down, but in about a week's time we had our first frappes ready to sell," said Putz.
Griffin and Putz are waiting for verification for their new website, DMVDrinks.org. They estimate the website will be functional by June 5.
"Right now we're waiting for the IRS to verify our EIN, which allows us to function as a business online," said Griffin.
Griffin and Putz are enjoying learning how to run a small business, and they hope to expand their menu in the future.
"Personally I've really enjoyed doing delivery since I take care of the majority of that aspect. To me it's another adventure into a new area that I've never been to before," said Putz.
"There's so many small things you have to keep track of if you want to succeed. The experience is definitely fun and will be beneficial in the future no matter what," said Griffin.