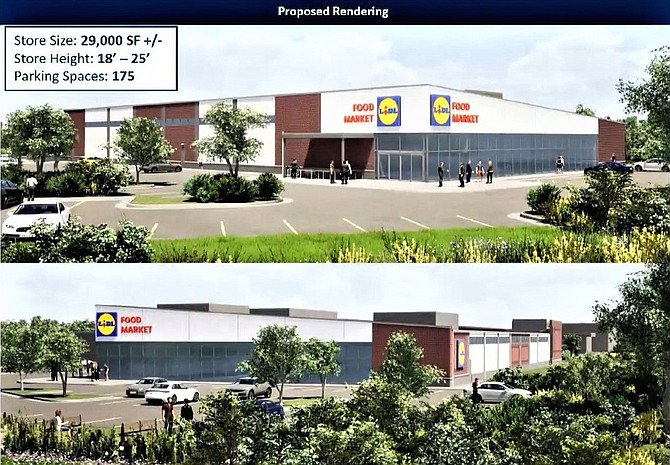 More than 50 Great Falls residents participated in a virtual town hall meeting on Wednesday, June 3, 2020. Hosted by Great Falls Citizens Association, the meeting focused on plans by LIDL USA to build a 29,000 sq. ft. supermarket with a 175-car parking lot at Springvale Road and Leesburg Pike (Route 7). The nearly 6 acre, residentially-zoned site has been occupied by Meadows Farms Nursery since the 1980s under a special exception. This meeting followed LIDL's initial unveiling of its proposal in November 2019 to the GFCA Land Use and Zoning Committee.
At the GFCA meeting, two LIDL representatives and their attorney made a presentation that included concepts of what the store and its parking lot might look like. They said that Great Falls residents have few grocery shopping options, and that they investigated other nearby sites but found that there is a scarcity of available, commercially zoned real estate in the area.

LIDL had commissioned a survey of 14,000 nearby residents along the Route 7 corridor within a 2.5-mile radius of the proposed store. Of the 900 responses, 46 percent reportedly favored a new LIDL store; the LIDL representatives did not discuss the views of the other 54 percent of respondents.
While LIDL's survey focused on consumer preferences for a particular grocery chain, a survey conducted by the GFCA Land Use and Zoning Committee (LUZ) reported that a separate survey of GFCA members found that 91 percent opposed the zoning change. Several questions arose among the virtual townhall participants.
DO GREAT FALLS RESIDENTS NEED another grocery store? What would be the store's impact on noise, traffic, and safety along Springvale Road? The only access to a new store will be an entry point on Springvale Road. Lidl said they had only begun to look at possible traffic impacts. Nearby residents from Springvale Woods HOA expressed concern that their children, who board county school buses in areas adjacent to the store, may be jeopardized with the introduction of much more traffic in and out of the Lidl store. Jennifer Falcone, LUZ Chair, expressed doubts about locating a major retail operation at this busy intersection and said it would most likely aggravate traffic conditions and contribute to gridlock, even with the new Route 7 widening.
Neighbors also noted that the noise, stormwater and litter from a large paved parking lot are likely to rise; Meadows Farm is not open at night as this store would be, and noise from daily overnight deliveries and garbage pickups would mar this section of Great Falls. LUZ has been monitoring storm water issues for other county-approved developments and has found that even with the use of "Best Management Practices", significant failures still occur.
How would it affect the Fairfax County Comprehensive Plan? Residents noted that the comprehensive plan does not permit the commercialization of Route 7 from the Loudoun County line to Tysons. Allowing changes such as those proposed by Lidl could convert this stretch into a series of strip malls like those in Sterling. Other residents pointed out that if the Lidl store were to fail, no one knows what type of store, if any, would replace it. Another resident said that the precedent this zoning exception presents is unfavorable for the type of community Great Falls residents have been trying to preserve. Others mentioned that there are vacant retail spaces in the area and urged LIDL to consider those.
NOT ALL PARTICIPANTS opposed a LIDL store. One resident said a Great Falls location would mitigate lengthy drives to Lidl stores further west. A local architect and Great Falls resident also offered supporting comments, noting that any rezoning should include criterion of traffic volumes and patterns, light and sound transmission, and appropriate visual and sound screens.
Lynne Strobel, LIDL's attorney, noted that an evaluation of the property is still being conducted and the company continues its current outreach to the community. Should LIDL proceed with the project, Lidl would seek an amendment to the Comprehensive Plan, and then a rezoning.
GFCA Position
On May 21, GFCA sent a formal expression of opposition to Dranesville Supervisor John Foust and Fairfax County Planning Commissioner John Ulfelder. GFCA's position is that redevelopment along the Route 7 corridor would create substantial adverse impact on adjacent residential communities and would change the character of the road. leading to the erosion of its natural appearances. Action by Supervisor Foust on the proposal would be the first step in the process of amending the County's Comprehensive Plan. That action could redefine the stretch of the Route 7 Corridor between the Tysons area and the Loudoun County Line.