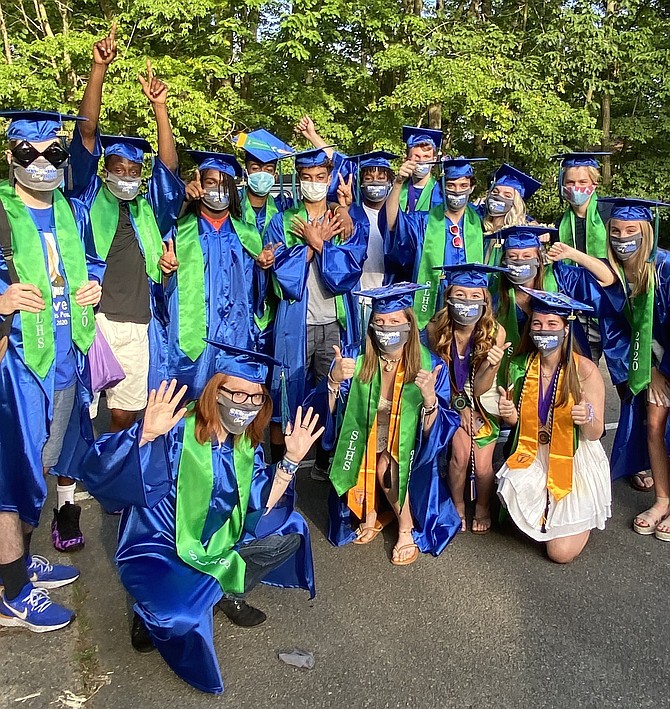 On what would have been Graduation Day, June 3, 2020, at Eagles Bank Arena, seniors at South Lake High School pulled up to the front of their school for a drive-thru pick up. Each reached their hand out an open window of their vehicle and received a green bag with a cap, gown, recognition accessories and their much-valued diploma. Principal Kim Retzer, administrators, faculty and others, masked and keeping a social distance waved and cheered. Futures stood ready to unfold.
"Congratulations to the Class of 2020. You have faced many challenges during your time in high school, but you have persevered," wrote 'Proud Principal, Ms. Retzer, Class of '89.' "I am confident that this class is prepared to go out into the world being #SeahawkStrong and will continue to make us proud. It has been an honor to be your principal, and I welcome you into the SLHS alumni family."
Later that evening, 338 new alumni donned their COVID masks, blue caps and gowns. They assembled along South Lakes Drive in Reston, a safe social distance 8 feet apart per the designated taped Xs on the sidewalk and in front of their name sign. Parent Tracy Waller said that it took 30 parents and community members to coordinate and set up the drive-by parade route to honor the graduates.
Wendy Delmolino of Vienna, graduate Frankie's mother, stopped by. Asked how she felt on what would have been the school's graduation night 2020 at Eagle Center Arena, Delmolino said, "I'm focusing on Frankie's accomplishment… I couldn't be more proud. I can't wait to see her future." Nearby, Dipasis Bhadra of Reston placed a large glitter-wrapped arch behind where his graduate daughter Sara would be on the sidewalk. On it, he put a photo of Sara and her mother, his departed wife, Laura, who passed in 2016. Bhadra said he wanted Sara to know this: "Keep up the resilience. Dad loves you."
Graduate Hassen Kurtu gathered with fellow grads, Mustafa Ali and Joseph Dagbe. "Hard times bring us closer together," Kurtu said. Hurrying up South Lakes Drive toward his location, graduate Sam Barbaro of Reston paused a moment when asked what he wanted to share on graduation night. "I thank my parents for having my back, through thick and thin. I love you," he said.