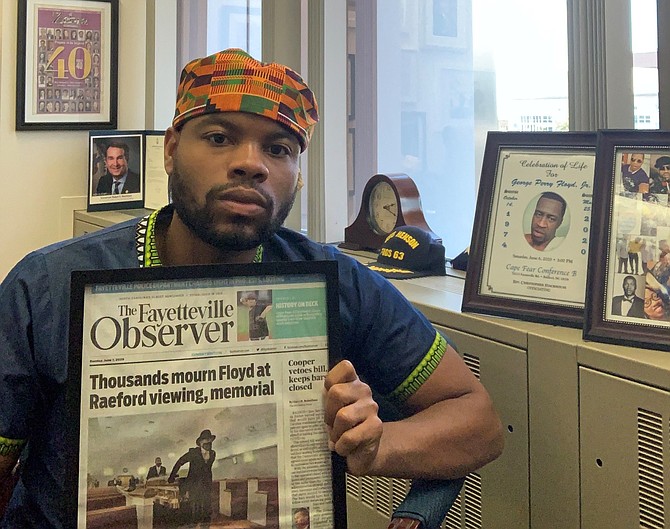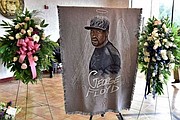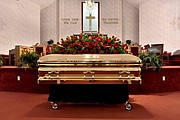 "Not again" is the first thing that went through the mind of Tavares Floyd, a local Civil Rights attorney, when an aunt called him with the news of the death of his cousin George while in police custody in Minneapolis on May 25. The incident has sparked nationwide protests and calls for social justice and police reform.
"This pain is all too familiar for many," said Floyd, who attended the private family memorial held June 6 in Raeford, N.C. "I've been heartbroken and frustrated since, but attending the funeral gave me a new energy."
The two cousins are related through their great-grandfathers and attended many family reunions together over the years.
"Our family is scattered but originates out of the South, namely Tennessee, North Carolina and Georgia," said Floyd, who originally hails from Memphis but is now a resident of Del Ray. "I've attended reunions all over the country annually since I was a little boy. My parents always valued family and embracing our culture and what you see on TV and in the media is very indicative of the love and compassion that our family has always shown."
Floyd is currently the vice president of the Departmental Progressive Club. He serves on the boards of seven other local nonprofits and is a dedicated community advocate.
"This moment is critically important to me," Floyd said. "I have been on the forefront of race relations for years. I've never shied away because I've never had the luxury to shy away. We must advance policies and programs that make a difference in the lives of every person of color. That's where the real change happens."
The Floyd family ancestors began as slaves and sharecroppers. Today, many are executives of Fortune 500s, judges, attorneys, doctors, presidents of HBCUs and predominantly white institutions, and elected officials.
"This moment is critically important to me. We must advance policies and programs that make a difference in the lives of every person of color."
— Tavares Floyd, cousin of George Floyd
"As a black man in America, the work for change never ends," Floyd said. "Alexandria is no exception. Our country has to become what many of us have been taught and believed it was — a nation of liberty and justice for all."
When asked how he feels about the movement to defund police departments, Floyd replied with candor.
"I understand defunding police departments to be a rallying cry," he said. "I get it. To me it's more than gutting and doing away with budgets. It's about addressing systemic problems in policing and analyzing and looking at how we can best utilize resources in this country for things like education and housing. I think people want to reorganize our priorities in this country. I want us to re-envision safety and how we can move forward together."
Floyd said that he moved to the area to escape some of the racism inherent in the South, but has still experienced "blatant racism" in Alexandria on multiple occasions.
"America is in trouble and has been, and most of it has to do with race," Floyd said. "If we look at this country for what it was founded on and the ideals that so many have prioritized, we have a nation full of suffering that we can't wrap our hands around. Everywhere we turn, there's destruction, discord and division. My hope is that this will really be a moment of reasoning and the real change African Americans have been hoping for will come."
Despite the family's loss, Floyd hopes that his cousin's death will not be in vain. He will continue to fight for equal pay and opportunities for African Americans.
"Now is the time to fight for the equality that my forefathers gave their lives to achieve," Floyd said. "I'm calling on the white community to stop pleading ignorance and ignoring the suffering that African Americans go through on an everyday basis. I want to thank those who have joined my family in shining a light on an unjust system that many of us have suffered under for a long time. I hear them all, and I stand with them. Let's stop the violence towards African Americans, and end both the implicit and explicit racial injustice that permeates our society."