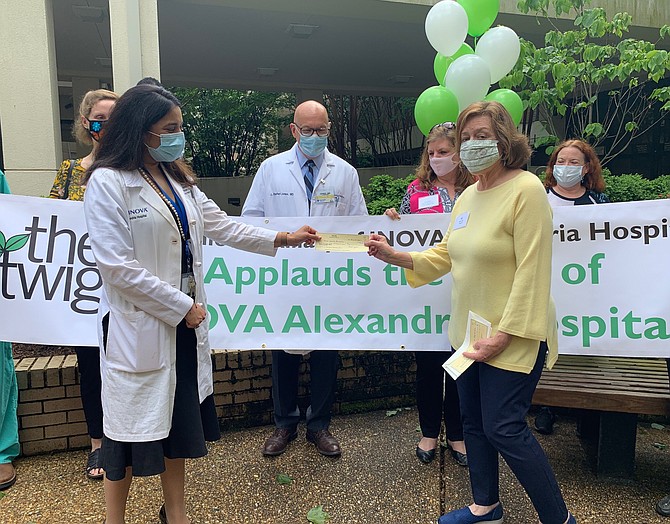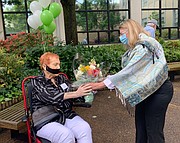 The Twig Junior Auxiliary of Inova Alexandria Hospital presented a check for $100,000 to Dr. Rina Bansal for the Inova COVID-19 Emergency Preparedness Fund during a May 22 ceremony held outside the hospital's entrance.
"We are grateful for what The Twig has brought to Alexandria against this new disease," said Dr. Stephen Jones, President and Chief Executive Officer at Inova Health Systems. "Our fight against COVID-19 here will match the best care of anywhere in the country."
The Twig's contribution, to be used exclusively at Inova Alexandria, was raised through its thrift shop sales and annual Historic Homes tour, among other fundraising efforts by Twig members. The resources will help the hospital meet the escalating needs of COVID-19 patients by providing for additional staffing, personal protection equipment for front line workers, specialized equipment needs of COVID-19 patients, increased services for homebound families and other necessary resources.

Bansal, President and Chief Medical Officer of Inova Alexandria, accepted the donation from Twig treasurer Carol Lyons on behalf of the hospital.
Founded in 1933, The Twig has donated over $4 million dollars to the hospital for a variety of projects and provides an annual Nursing Scholarship to a member of the nursing staff to advance their nursing career. This year's scholarship recipient is Emily Hagedorn, who was awarded her scholarship during the May 22 ceremony. Hagedorn will pursue a Masters of Science and Nursing at Johns Hopkins University.
The Twig, a 501 (c)(3) nonprofit, operates a Thrift Shop in Old Town and contributes to other areas in the community with a voucher program providing clothing to the Lazarus Program at Christ Church and St. Paul's Episcopal Church, the Carpenter's Shelter, Vietnam Veterans and Central Union Mission. Additionally, Twig provides blankets and linens to the Animal Welfare League of Alexandria for animal bedding.
The Historic Homes Tour is held annually in September but has been canceled for 2020 due to the COVID-19 pandemic.
"I give thanks to every Twig member for making this donation possible," said Twig president Rosemarie Bush. "We came together to get this to the hospital at a speedy time."