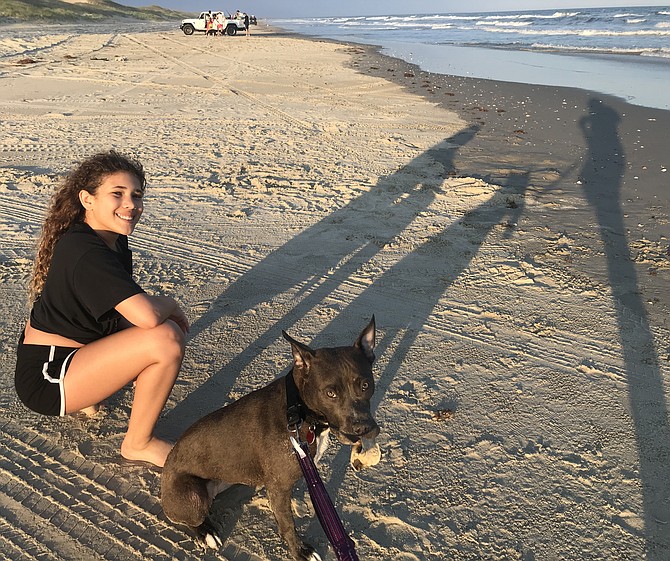 "Tigger, Tigger," 13-year-old Allayna said over and over, as a year-old pit bull terrier she had never met leaped in her lap and licked her face. "As soon as I saw her, I thought of Tigger from 'Winnie-the-Pooh,'" Allayna recalled. "She was just so loving and protective."
It seemed like the proverbial love at first sight for Allayna and her mother, Cassandra Eichner. But the encounter outside the Animal Welfare League of Alexandria (AWLA) shelter wasn't actually their first sight of the dog. Eichner and her daughter had chosen Tigger, then known as Beanie, by viewing adoptable dogs on the AWLA's website as part of a new virtual adoption process, brought about by the COVID-19 pandemic. The next step was a virtual meet-and-greet with Beanie and two AWLA staff members. Eichner and Allayna watched from home as Beanie played lovingly with the staffers. "I could almost feel her presence through the screen by seeing how joyful she was," Cassandra Eichner recalled. "Other dogs might be shy or scared or growl with their toys, but I didn't see any of that."
During phone consultations with the staff, Eichner and her daughter asked lots of questions, including about the dog's medical history, and then, after a conversation between mother and daughter about the responsibility of owning a dog, agreed that Beanie was the one. After purchasing the necessary supplies, they went to the Vola Lawson Animal Shelter to pick her up. Eichner said she was nervous about that first meeting, but after discussing next steps with the staff in the parking lot from a safe physical distance, Beanie came right out to them on a leash, ready for a walk. "As soon as we finished the walk, she hopped right into the car," Eichner said. "I can't believe how trusting and loving she was."
"Tigger" has turned out to be a very curious dog who wants to sniff and see everything. And there has been plenty to see and smell — she has hiked in the Smoky Mountains and romped on the beach in the Outer Banks. Sleeping at night with Allayna might be her favorite activity. "She is the perfect dog for our family," Eichner said.
The AWLA's virtual adoption process is just one of the many ways the shelter has reached out to the community during the pandemic. A virtual humane education program for kids of all ages called Junior PAWS offers weekly lessons on topics ranging from animal-themed crafts to pet training. Many of the shelter's youth programs, including Pawsitive Action Club (PAC), scout badge programs and youth shelter tours, are also available in a virtual format; more information can be found at https://alexandriaanimals.org/Youth/.
Six-year-old Rylee Lawrence made some new friends when she participated in AWLA's "Crafts With Carly," a weekly Zoom-based class for kids. When her school in St. Mary's County, Md., closed in March because of the pandemic, Rylee began studying kindergarten language arts, reading and math through the online platform offered by the school, with assistance from her mother, Lisa Lawrence, who's a special education teacher. But Rylee deeply missed her teachers and peers, her mother says.
As part of Crafts With Carly, students create crafts in real time, smiling and laughing together as AWLA staffer Carly Mercer provides guidance and encouragement. One of Rylee's favorite projects was creating the animal of choice — Rylee's was a cat — out of colored paper that students cut to fan out, accordion style. Mercer instructed the kids to paint and draw each whisker or other feature in accurate detail.
"Each kid would hold up their project for the others to see, so Rylee held hers up, and Carly and the others said it looked great," Lawrence said. "To see the smile on her face was fabulous."
Dozens of AWLA volunteers have been dedicating their time and services from home since March, writing short bios of adoptable animals, sewing curtains for kennels and face masks for employees; some are also undergoing continued training that will help them when they return to the shelter. Volunteer Cathee Lee decided the pandemic work-at-home climate was right for teaching her senior dog, "Leroy Jenkins," some tricks. Lee enrolled him in the shelter's Polite Pups virtual training class for volunteers, intended to teach skills at home that can be used later with dogs at the AWLA. "I was so excited when they offered the class because Leroy's so reactive to other animals that there's no way we could have trained him at the shelter," Lee said. "He's the perfect candidate for virtual learning."
Every Saturday from 1 to 2 p.m., Lee and Leroy sat in front of the computer to watch and listen to AWLA Volunteer Program Coordinator Brenda Maier demonstrate clicker training to the dogs — and humans — who had gathered. Clicker training uses positive reinforcement like treats to reward desirable behaviors. Lee says Leroy is a smart dog who enjoyed the mental stimulation of the class, and she shared the lessons on positive reinforcement with her husband to try out with Leroy.
The class has redirected Leroy not to react to other dogs while walking on a leash, Lee said. "He now knows that when another dog goes by, he should look up at me and will receive a treat," she said. "He sits and makes eye contact instead of giving me the side eye or jumping at the other dog."
To get into position for class, Leroy would climb into his large, comfy dog bed in Lee's Alexandria home. Through the Polite Pups sessions, Leroy learned to play dead and spin in a circle and to recognize the word "touch," which would lead to actions like a high five. "He loved the class, and it was a really cool bonding experience for us," Lee said. "The only thing is, when we discussed concepts, he would fall asleep."