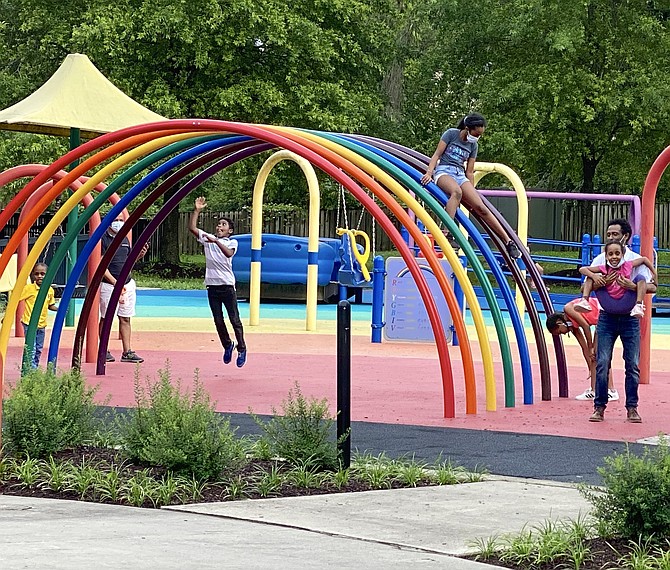 As of June 12, McLean parks have opened under Phase Two COVID-19 Guidelines. According to the Fairfax County Park Authority, Clemyjontri Park and Central Park are open for "responsible recreation." That entails gatherings of no more than 50 people, with all parties socially distancing. The safety of kids and families at these parks is completely up to the people that decide to visit. There are no special cleaning procedures for the parks, and anybody with sanitary concerns is encouraged to bring their own cleaning supplies. Masks are recommended but not mandatory.
This past weekend both parks had low attendance compared to normal pre-COVID times. Normally Clemyjontri is mobbed with kids, so much so that cars have to park down the block in the extra lot. However, on Saturday there was a total of about five cars in either parking lot. Additionally, the carousel that is normally flooded with kids has been shut down for safety purposes. The usual comradery of kids running around and making new friends has also been halted as families are encouraged to maintain distance from other visitors of the park.
Similarly, Central Park was completely abandoned aside from a group that had reserved the gazebo. The playground that is normally full of kids was completely abandoned. This could have been for a number of reasons. The most obvious reason is COVID-19 and all of the safety concerns present in the community. Another factor was the poor weather for the past week. It has been raining for a majority of this past week. Additionally, a sign located at Central Park stated that the park was still closed to "prevent the spread of COVID-19".
With better weather in the upcoming weeks, families and children will start visiting the parks again. The atmosphere will be different due to the number limit and social distancing, but at least children will have the opportunity to be outside and play on playgrounds once again.