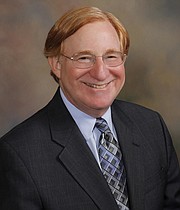 Jay B. Myerson of Reston is the Virginia State Bar (VSB) president-elect for 2020-2021 and will serve as president for 2021-2022. Myerson, who assumes his VSB president-elect position July 1, will be the first attorney whose law firm is based in Reston to serve in this statewide capacity.
Myerson will succeed current president Brian L. Buniva of Richmond, who was sworn in as VSB president June 30. The state bar president leads a state agency that regulates and supports more than 50,000 Virginia lawyers. The VSB is an administrative agency of the Supreme Court of Virginia.
A graduate of Georgetown University and Georgetown University Law Center, he founded The Myerson Law Group, P.C. and supervises a six-attorney domestic, criminal and civil litigation practice in Fairfax County.
"It will be a privilege to work with the many talented attorneys across the Commonwealth," Myerson said. "I'm especially looking forward to working with the wonderful VSB staff, the Chief Justice and other justices on Virginia's Supreme Court."
Myerson's many community and legal community activities include serving as a past president of the Fairfax Bar Association (FBA). He is a five-time recipient of the FBA's President's Award and was the 2018 recipient of the Local Bar Leader of the Year Award from the VSB's Conference of Local and Specialty Bars.
Myerson and his wife Barbara are longtime Reston residents. They are the parents of three grown children – Josh, Jennifer Samuelson (Patrick) and Matthew (Annie Savage) — and have a young granddaughter.