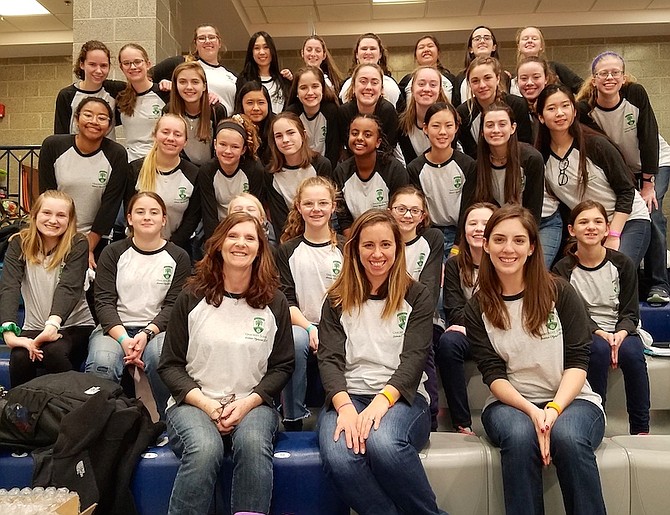 Oakcrest School earned a spot in the Virginia Science Olympiad high school state tournament by finishing in fifth place at the regional competition held at the University of Mary Washington on Saturday, Feb. 8.
Oakcrest was the only all-girls school among the eleven in the high school competition, which included Thomas Jefferson High School for Science and Technology, Fairfax High School and McLean High School. With two teams in the high school division, Oakcrest took first place among the eleven high schools in the Anatomy and Physiology competition, and fourth in the coding-intensive Detector Building category.
Oakcrest was also the only all-girls school among the thirteen middle schools that competed in the regional tournament. With one team in the middle school division, Oakcrest placed tenth out of twenty teams.
Notable high school student achievements included:
● Mackenzie M. ('20): First place, Anatomy & Physiology
● Rachel F. ('22) and Faven K. ('23): Second place, Gravity Vehicle
● Sofia J. ('21) and Hannah L. ('21): Fourth place, Detector Building
● Rachel F. ('22) and Grace C. ('22): Sixth place, Fossils
Notable middle school student achievements included:
● Vivian K. ('25) and Ashleigh Y. ('25): Fourth place, Heredity
● Megan B. ('25) and Maddie M. ('26): Sixth place, Density Lab
"It was a wonderful team effort across the board. The girls represented Oakcrest very well!" said Science Olympiad coach and Oakcrest science teacher Dr. Kat Hussmann.
This will be the second year in a row that Oakcrest sends students to the Virginia Science Olympiad State Tournament. In 2019, Oakcrest was the first ever all-girls team to compete in the state tournament and Dr. Hussmann received the Virginia Science Olympiad Coach of the Year award. States will take place on March 28 at the University of Virginia.