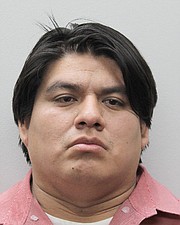 Thanks to a plea agreement between the prosecutor and defense attorney, Abelardo Daniel Medianero Salazar was sentenced for perpetrating two misdemeanors against a minor, instead of the felonies with which he was originally charged. The victim and her family went along with it – but it wasn't easy for them.
During his sentencing, last Thursday, March 5, in Fairfax County Juvenile & Domestic Relations Court, the victim's mother read a statement her daughter wrote to him. "I trusted you," she said. "I no longer feel like I can trust anyone again because you took advantage of me. What happened left me angry, frustrated, confused, disgusted and outraged."
Police arrested Medianero Salazar, 32, of Falls Church, on May 23, 2019, charging him with several sex crimes. Detectives from the Major Crimes Bureau's Sex Crimes Squad had received a complaint of a sex offense involving a juvenile. They then charged Medianero Salazar with three counts of solicitation of a minor using a communication device and two counts of indecent liberties with a minor.
However, in court last week, the solicitation charges were dropped. And the indecent-liberties offenses – both Class 6 felonies punishable by as much as five years in prison – were amended to Class 1 misdemeanors of contributing to the delinquency of a minor, punishable by no more than a year behind bars.
THE OFFICIAL WORDING of these misdemeanors was: "Willfully contributing to any act rendering [the victim] delinquent, in need of services, supervision, or abused and neglected." Assistant Commonwealth's Attorney Kathryn Humphrey said the first such offense happened between Nov. 1 and Dec. 31, 2018, and the second one transpired from Jan. 1 until May 14, 2019.
Medianero Salazar pleaded guilty to both charges, and then Humphrey explained what the prosecution's case would have been had it gone to trial. "Both he and the victim worked at the Chick-fil-A at Fair Oaks Mall," she said. "He was her manager and she was 16 and, later, 17, when these incidents occurred."
"He asked her to go to his house for sex or send him pictures of her body," continued Humphrey. She then described in graphic detail how Medianero Salazar sexually assaulted the teen and the pleasure he derived from it.
Afterward, Humphrey said the terms of the plea agreement were that Medianero Salazar would be sentenced to 360 days in jail on each charge, with the sentences running consecutively – but that all this time would be suspended. He is also to serve two years of active probation, undergo a psychosexual evaluation – and obtain any recommended, follow-up treatment – and have no contact with the victim for two years.
It was then that the victim's mother read her daughter's statement about the impact Medianero Salazar's actions have had upon her life. "I don't know what made me a target," she wrote. "Was it because I was young and vulnerable? I felt guilt, but I know that what you did wasn't right. You ruined my life. I forgive you – but I will never forget."
Judge Thomas Sotelo then asked if the plea was a recommendation or an agreement, and Humphrey said it was an agreement. But it was obvious that Sotelo was disgusted by the defendant's behavior.
He noted that Medianero Salazar was almost twice the teen's age "when he engaged in these acts. And he was in a custodial position as her manager." Therefore, the judge remarked, if the victim had refused him, she ran the risk of getting fired. And, said Sotelo, "If she's not working, she's not getting money."
Humphrey said that, by Medianero Salazar pleading guilty to the two misdemeanors, the victim was spared the ordeal of having to testify about such intimate details in open court. And, she added, "He gets two convictions and has to have a psychosexual evaluation, plus no contact with her for two years."
THE VICTIM and her parents were sitting in the courtroom's front row. And at that point, her father – who was also not happy with the outcome – spoke up to the judge. "My daughter's been through a whole lot, and a trial would make it a lot worse," he said. "But this also affected her education; she used to be an honor student, and now she's struggling – and he's not paying for it."
Sotelo said he'd accept the plea agreement and then addressed Medianero Salazar directly. "No one has the right to take advantage of another person," he said. "And I'm pretty sure you wouldn't want someone to take advantage of you."
Then, raising his voice, Sotelo asked the defendant, "So what makes it acceptable for you to do this to someone almost half your age, whose brain isn't yet fully developed? And in a supervisory role that has, as its worst outcome, a loss of income? How dare you?"
Finally, the judge gave Medianero Salazar a warning. "I remember all my cases and their facts and heartburn," he said. "And I guarantee you this: If you come back to me, you are going to receive jail time."