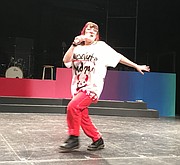 Students at Winston Churchill High School in Potomac were ready to entertain the community with their 31st annual BLAST – Spectrum for the next two weekends, when schools were suddenly closed and gatherings of large groups of people banned because of the coronavirus pandemic.
On Friday, the last day of school, the cast and crew planned to run though their numbers, polishing their acts before next week's dress rehearsals with lights, live music and costumes.
That was not to be.
Instead they collected BLAST notices from the neighborhood, took down spotlights from the theater, and discussed the future of the show they have been rehearsing since December.
"The plan was to run next weekend and the next," music teacher Matthew Albright said. "Now we don't know. Its postponed, until when, we have no idea."
Sophomore Roya Zafar said the delay was sad for her.
"I had a feeling it would be postponed, but it was still hard to hear," she said.
BLAST is student-run, though Albright and two other adults, former parent Veronica Espinoza and media services technician Ben Schnapp, offer guidance.
Albright has been involved with BLAST for seven years and loves doing it.
"I started with BLAST 25," he said. "When you put a great deal of work into it, you feel a great deal of pride. The students feel the same way."
Tryouts for the show began in November. Adults and students decide together on a theme for the show — this year it is Spectrum, drawing ideas from the colors of the rainbow — and select the music.
"It's like a cabaret. It's a fantastic show with music, vocals and dance," Albright said.
All together there are about 250 students involved in the production, more than the upper limit of 10 people for gatherings suggested by federal officials earlier this week.
The students working on the show Friday morning were mostly optimistic that the show would go on.
Luca Greenspan, student band director for BLAST this year, said he is confident the show would run at some point, though, he added, "It's out of our control."
Sasha Alekseyeva, who sings a lead in one of the 36 acts in the show, said the delay seems like a lot of time will be lost when they could have practiced.
"But I hope it will rally us together to make it even better," she said.
Check wchsarts.com for updates on BLAST.