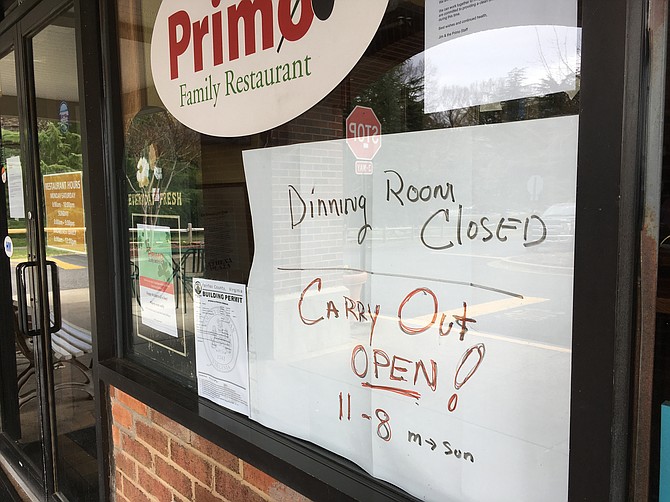 A sign on the door at Primo's Family Restaurant says order out only, similar to most of the restaurants in the Mount Vernon area, but starting the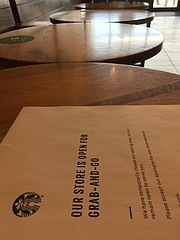 day after St. Patrick's Day, Primo's started offering delivery as well. It was new ground for this well-known eatery in the Belle View Shopping Center, but desperate times require desperate measures.
They didn't go out and hire any extras, management just assigned to of the wait staff who had some free time, since no one was coming in to dine anymore.
A few doors down at The Virginia Florist, the delivery procedure was a little different. Flowers will be left at the door to minimize contact, and thwart the spread of the coronavirus, and there are three florists on duty instead of their usual four. "It's been slower but we're still open," said Charlotte Simmons, who has become a pro at making her own hand sanitizer too. She mixes it 91 percent rubbing alcohol and nine percent aloe vera, according to a recipe she found online. "It's real easy," she said.
On a day when the Fairfax County Board of Supervisors voted to enact a "declaration of a local state of emergency in response to coronavirus (COVID-19)," life is very different around the county. The declaration "outlines the action we take," said Chairman Jeff McKay (D) during the special session the morning of March 17. "This sets an emergency operation plan in motion," added Elizabeth Teare, county attorney.
One item the Board of Supervisors pointed out that was available to everyone was the Community Emergency Response Guide that is full of all kinds of precautions.
In the guide, there is a section on "sheltering in place." Reason number three for sheltering in place is for "chemical, biological, or radiological contaminants released accidentally or intentionally into the environment," and it says to "follow your emergency plan," but does not mention getting food.
Ordering Out Is In
Jennifer Perine is a resident of Belle View that is a fan of take out foods, so the fact that all the restaurants around her changed their policies was not a big deal for her. The apartment complex she lives in did post recommendations for the residents. "I go out much less," she said.
Down the street from Belle View at River Bend Bistro, they've changed their operations too. It's take-out only, and if a customer needs the food brought out to the car, they'll do that too. "We'll pop out to the parking lot if they need it," said bartender Chris Shelton.
Gov. Ralph Northam (D-Va.) declared a state of emergency for the commonwealth a few days earlier, but fell short of closing restaurants. The restaurant owners in Mount Vernon are keeping an eye on the announcements that come out periodically.
"Governor Northam is also urging localities and nonprofits to limit large public events, effective immediately. Localities should make these decisions in coordination with their local health departments and the Virginia Department of Health," the declaration stated.
On March 17, Northam tweaked his initial plan with rulings to restrict public gatherings to 10 people or fewer, including at restaurants, protecting high-risk Virginians, increased support for affected employers and employees, closing DMV offices, delaying court rulings on evictions and suspending utility service disconnections for 60 days.
As far as the food service industry, Northam also encouraged restaurants to continue carryout and takeaway options only, his document stated.
More like this story