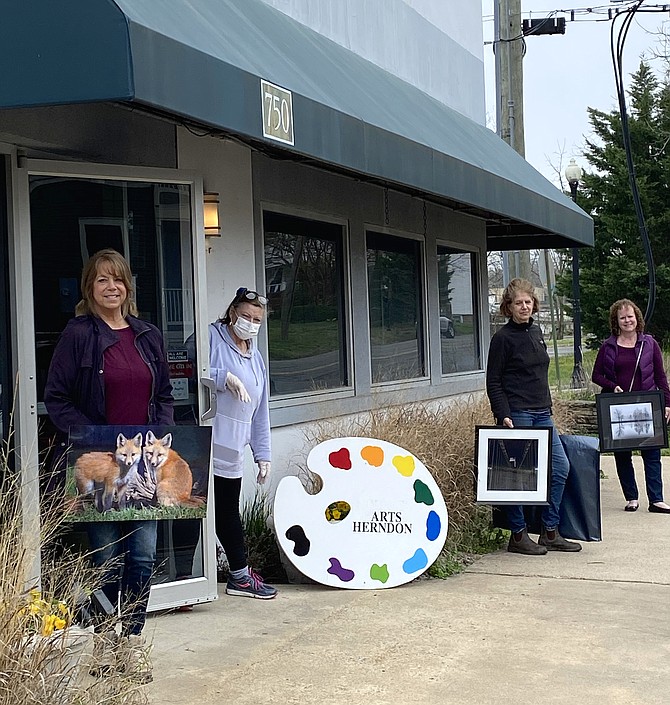 By the end of Week Three, Arts Herndon, the nonprofit operator of ArtSpace Herndon, was ready for rainbows in any art form: visual, performing and literary. It didn't matter. The gallery and performance center located in the heart of the Town of Herndon historic district shuttered due to the coronavirus pandemic, but that didn't mean art, which empowers the hearts of people, stopped. And it certainly didn't mean staff at the center was not working, according to Jo Ormesher of Clifton. She is President & CEO of Arts Herndon and is from Wales in the U.K.
Ormesher said, "My sister lives in Devon, Wales. She saw a rainbow, a child's simple drawing of hope, chalked on a sidewalk, and told me about it, just as the pandemic impacts the country. It inspired me." According to Ormesher, Arts Herndon staff and others collaborated. They decided to bring the idea across the pond and expand it. Ormesher set her sights to release a Call for Original Rainbow Art – online photos showing any medium or art form of rainbows: drawings, paintings, 3-D works, haikus and lyrics, 15-second video clips of rainbow songs, mini-performances, whatever. According to Ormesher, the plan was to create a Rainbow of Hope page on the Arts Herndon website, a gallery of photos and video clips meant to bring hope.
Ormesher said the Call for Art is open to both children and adults with no entry fee. Adults can send photos of their or their children's visual rainbow art or 15-second videos of rainbow performances to jormesher@artsherndon.com. Include per image/video, the artist's: name, age if under 18, and the mailing address - city and state only. This means, the entry could be a photo of the words of a rainbow haiku, a photo of a rainbow drawing, sculpture or quilt, a video of an original rainbow dance or lines said in a mini-play.
According to Ormesher, pending future directives per the pandemic, Arts Herndon seeks, when the time is right, to host The 2020 Rainbow Celebration and make the works available for viewing possibly on a larger platform. Arts Herndon plans, Ormesher said, for proceeds from the celebration to benefit Cornerstones, a local nonprofit organization in Reston that promotes self-sufficiency by providing support and advocacy for those in need of food, shelter, affordable housing, quality childcare and other human services.
Fine Art Photography Exhibit and Reception canceled
Annually more than 15,000 patrons from across Northern Virginia and beyond visit the gallery, studio and performance space, ArtSpace featuring artists, exhibits with works for sale, performers, musicians, writers and more. On Sunday, March 15, Arts Herndon had planned to present its Awards Reception for the 11th Annual Fine Art Photography Exhibit featuring works by finalists from Virginia, Maryland and Pennsylvania in its annual Fine Art Photography Competition. Instead, due to the coronavirus pandemic, the center shuttered. On Sunday, March 29, photographers removed their works. The walls of the gallery emptied.
"The Arts are essential to our well-being, to our existence and our soul. Without Art in our lives, we become mundane...Art is all around us – and was portrayed in the photographs...Judge, Mary Louise Ravese had a hugely difficult task of more than 90 entrants from around the Metro D.C. region, to be finalized to 40 and ended with seven winners," said Ormesher.
Winners
1st Place - Intertwined by Sarah Salomon of Bethesda
2nd Place - Simplicity by Jim Fenton of Reston
3rd Place - Waterlily Reflected by Carla Steckley of Herndon
Honorable Mention - Surfing the Storm 2 by Michael Mannix of Great Falls
Honorable Mention - Paint Drops by Erica Everhart of Vienna
Honorable Mention - Tornado by Peter Ditchett of Springfield
Honorable Mention - Stairs to more Sand by Wayne Guenther of Springfield
All artwork is available for purchase through Arts Herndon. Email Ormesher at jormesher@artsherndon.com to learn more.