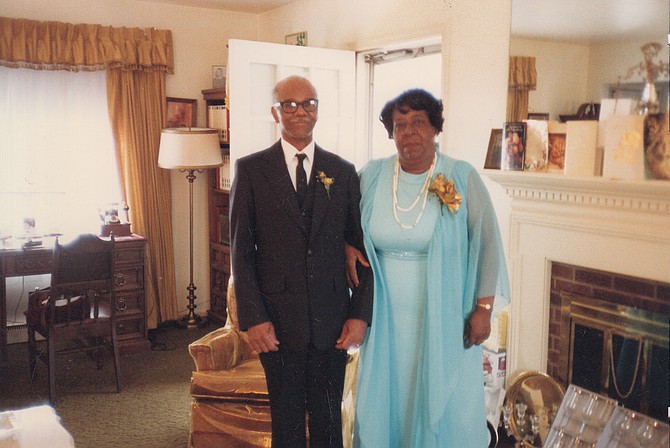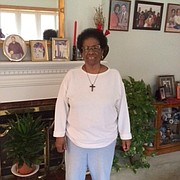 Back in the 1940s, there were no computers and no social media to entertain oneself. However, people like Frances Colbert Clements Terrell, who grew up in the West End of Alexandria, had a wonderful childhood without today's electronics and gadgets.
Frances' father, Delaney Clement Colbert, was a first generation Alexandrian who was born at home at 512 Gibbon Street. On the other hand, her mother, Mary Agnes Johnson, grew up in the West End in the Seminary area that was once part of Falls Church in Fairfax, Virginia.

Mary Agnes was the great-grandchild of Wallace Wanzer, who came to Alexandria, Virginia prior to the Civil War from Fauquier County, Virginia. This was the backdrop to Frances growing up in the Seminary area.
Frances was the fourth child and last child born to her parents. Her siblings were Delaney Clement Jr., Delores and Frederick. The Colbert children grew up in the Seminary area where relatives had been for more than eighty years. Many of their relatives had intermarried with others in the neighborhood making all of them related to one another through blood or marriage. Because of those family relationships, the family extended to Seminary, King Street, Braddock Road and Quaker Lane.
When Frances was growing up, her family and her cousins enjoyed the safety of their neighborhood. They would walk to the Virginia Theological Seminary and hangout by sitting on the wall that was in front of the Seminary campus. This was a regular hangout for the neighborhood children. Other social events were going to Arlington, Virginia for games and going down to the City of Alexandria. However, Church played an important role in their lives. Both of her parents were Deacons at Oakland Baptist Church, and she and her siblings participated in Church activities. Frances sang in the Church Choir and her sister, Delores, played the piano. The Church formed a choir called the Jewelite Gospel Singers. Frances said, "We got up early on Sunday to prepare to go to Church. Once we got to Church, we had Sunday school, services and our choir sang. Then we would leave Church to go to another Church where we would also sing. From early Sunday morning, we did not return home until late in the evening on Sunday. We had a good time."
She also enjoyed visiting friends, hanging out at the Donaldson Store and ice sliding with friends and family at the Virginia Theological Seminary. She enjoyed riding the bus with her family and friends to school. The West End children attended elementary school at Lyles Crouch Elementary School and Parker-Gray High School in Alexandria.
Frances contributes her childhood to having great parents, a good neighborhood, lots of relatives and devotion to her Church.
Frances Colbert Clements Terrell was born in 1943 to Delaney C. Colbert and Mary Agnes Johnson. She had one son, Louis Eric Clements who is deceased. She has six grandchildren.
Today, West End has gone through many changes. Frances, her brother Frederick Maurice Colbert and her Haskins' cousins are the only family members left that made up a huge community that once roamed the entire West End area. Other relatives have left the neighborhood by going to Alexandria, Washington, D.C. and Maryland. However, Oakland Baptist Church still stands as a testimony to what life was like when the Jewelites sang at Oakland Baptist Church and when Delores Colbert played the piano.
She had a wonderful busy, simple and loving life. Frances said, "I would not have changed anything in my childhood."
Char McCargo Bah is a published author, freelance writer, independent historian, genealogist and a Living Legend of Alexandria. She maintains two blogs: https://theotheralexandria.com and https://findingthingsforu.com.