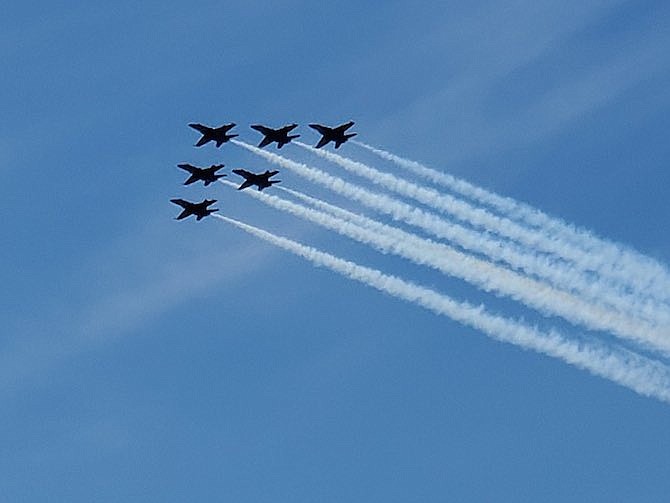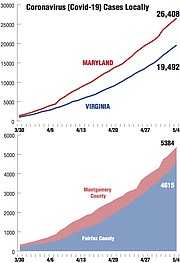 "I encourage all community members to recognize our healthcare heroes today and every day. Thank you for being a shining light in this dark time of uncertainty." — Sidney Katz, Montgomery County Council president
Monday, May 4
United States Covid-19 Cases: 1,122,486
United States Deaths: 65,735
Potomac 20854 Cases: 150
Montgomery County: 5,384
Maryland Cases: 26,408
Montgomery County Deaths: 274
FOOD ACCESS GRANTS Non-profit organizations can ask for up to $75,000 from the county's Food Access Grant program. The program will provide food assistance to hard-to-reach communities in Montgomery County during the response to and recovery from the COVID-19 pandemic. Applications for the grants are due by noon on Friday, May 8, and funds will be distributed beginning Tuesday, May 12. The $1.2 million in funding for the program was appropriated by the Montgomery County Council to increase food access to county residents during the COVID-19 pandemic, including funding for partnerships with ethnic grocers to increase availability of culturally appropriate food assistance. See https://www.grantinterface.com/Home/Logon?urlkey=healthcareinitiative
Sunday, May 3
Potomac 20854 Cases: 140
Montgomery County: 5,150
Maryland Cases: 25,462
Montgomery County Deaths: 268
Healthcare Heroes Day: The honoring of doctors, nurses, medical workers, and first responders in Maryland included a flyover of the Navy's Blue Angels and the Air Force's Thunderbirds, and buildings across the state were lit blue. Signs marked the day at some nursing homes, hospitals and other health facilities.
Saturday, May 2
Potomac 20854 Cases: 130
Montgomery County: 4,754
Maryland Cases: 22,472
Montgomery County Deaths: 236
Council President Sidney Katz: "My colleagues and I at the Montgomery County Council want to express our gratitude to the critical front-line personnel, medical professionals, social service providers and the many healthcare workers who are rallying to meet the needs of our community members during this incredibly challenging time.
Friday, May 1
Potomac 20854 Cases: 130
Montgomery County: 4,754
Maryland Cases: 23,472
Montgomery county Deaths: 236
Thursday, April 30
Potomac 20854 Cases: 120
Montgomery County: 4,300
Maryland Cases: 21,742
Montgomery County Deaths: 229
THE MARYLAND State Flag was lowered to half-staff at noon for victims of the COVID-19 pandemic and will remain at half-staff through Fallen Heroes Day on May 1 and Healthcare Heroes Day on May 2.
"Today, our state marks a solemn milestone—more than 1,000 Marylanders have lost their lives to COVID-19,"said Gov. Hogan. "This weekend, please join me in keeping our heroes and our fallen in your hearts, and let us continue to pray for each other, for our state, and for our nation as we face this crisis together."
9,187 BEDS in NURSING HOMES: In Montgomery County, there are 303 long-term care facilities, which includes nursing homes, large assisted living facilities and large group homes for the elderly. The total number of beds in these facilities is 9,187. This week, the Maryland Department of Health began posting nursing homes cases throughout Maryland on the COVID-19 website. As of today, the dashboard shows 1,099 confirmed COVID-19 cases in long term care facilities in the County. This number includes 382 staff and 717 residents. The State's dashboard also reports 148 deaths among residents and 1 employee death due to the virus.
$5 MILLION: A special appropriation of $5 million to provide additional direct financial assistance to low-income County residents was unanimously approved by the County Council. This week, the program began to distribute funds to households identified through current Department of Health and Human Services programs. These funds should be received early next week. The County is working with non-profit partners on the future distribution of funds. "Every day this crisis continues, more and more people are feeling the impact of unemployment and the many closures throughout our community," said count executive Marc Elrich. "The more we do to assist residents now, the better positioned we are for our recovery."
The Council is creating the Telework Assistance Program to reimburse businesses and non-profit organizations for expenses incurred to implement a teleworking policy due to the Covid-19 health crisis. A $250,000 special appropriation will provide grants to businesses and non-profit organizations that incurred teleworking costs in order to retain employees and stay in business. Each eligible business and non-profit may be awarded a grant up to $2,500 for verified teleworking equipment and software. The grant will be based on actual expenditures for each business and non-profit organization. Councilmember Andrew Friedson, who is a member of the Planning Housing and Economic Development Committee, spearheaded this appropriation which was sponsored by the entire Council.
NO SPEAKERS testified on the County Council's Recommended Operating Budget at the Council's public hearing on April 21, so the Council will continue to accept public testimony as it begins deliberations. The Montgomery County Council will hold a work session on the Fiscal Year 2021 Recommended Operating Budget on transportation fees, charges, and fares this Thursday, April 30.
VIRTUAL MEETING The Council will meet virtually on Thursday, April 30 at 9:30 a.m. Council staff reports and additional information on items scheduled for Council review can be viewed at: https://www.montgomerycountymd.gov/COUNCIL/ondemand/index.html. On Thursday at 11:30 a.m. the Council will review the County's efforts to maintain public health and safety related to the Covid-19 pandemic. At this meeting, the Council will receive updates on the status of cases in Montgomery County and ongoing coordination and collaboration with federal, state and local agencies and healthcare providers. Those expected to provide information include Dr. Travis Gayles, county health officer and chief of the Department of Health and Human Services' (DHHS) Public Health Services; Dr. Earl Stoddard, director, Office of Emergency management and Homeland Security; and Dr. Raymond Crowel, director, DHHS.
The Council will receive an update on the County's new family violence awareness and prevention campaign, which was launched on April 23, 2020. Multiple County agencies collaborated on this campaign, including the Office of the County Executive, the Montgomery County State's Attorney's Office, the Montgomery County Police Department, the Montgomery County Sheriff's Office, and the Montgomery County Commission for Women.
Wednesday, April 29
Potomac 20854 Cases: 118
Montgomery County: 4,152
Maryland Cases: 20,849
Montgomery County Deaths: 218
COVID OFFENSIVE IN NURSING HOMES: Outbreaks at Maryland nursing homes currently account for 19 percent of the state's total positive cases and 46 percent of the state's COVID-19 deaths. Governor Hogan and the Maryland Department of Health (MDH) issued new directives to protect residents and staff at nursing homes, including: universal testing of all residents and staff at all Maryland nursing homes, regardless of whether they are symptomatic; mandatory compliance and cooperation with state strike teams; daily evaluation of residents by a physician, nurse practitioner, physician's assistant, or registered nurse; regular informational updates for residents, resident representatives, and staff regarding COVID-19 infections; and the development of surge staffing plans to ensure continuity of care in the event of an outbreak. To aid in this effort, the state is supplementing strike teams with new bridge teams, which will provide emergency clinical staffing to nursing homes that are experiencing a staffing crisis. Each bridge team is composed of a registered nurse and 5-7 aides, sufficient to care for up to 100 skilled nursing home residents per shift, according to the state.
6,757 BUSINESSES APPLIED: Montgomery County's Public Health Emergency Grant (PHEG) program approved 352 grants and began distributing $3.35 million in initial payments. Grants will continue to be distributed on a daily basis as they are approved. The program received applications from a total of 6,757 businesses, with approximately 75 percent from businesses with 10 or fewer employees. The $25 million program is designed to help for-profit and nonprofit businesses with 100 or fewer employees that have demonstrated significant financial losses due to the current COVID-19 health crisis. See https://www.montgomerycountymd.gov/biz-resources/pheg/. Questions about the program should be directed to BizinfoCovid19@montgomerycountymd.gov.
32,000 UNEMPLOYMENT FILINGS: Montgomery County Council sent a letter requesting that the Maryland Department of Labor post additional metrics on the Division of Unemployment Insurance's website regarding how long unemployment claims are taking to be processed. More than 32,000 new unemployment insurance claims have been filed in Montgomery County in the past three weeks.
"At this time when many of our residents, including residents who were already vulnerable before the Covid-19 public health crisis began, face great economic uncertainty, we need to take the extra steps to ensure that unemployment claims are being serviced efficiently," said Councilmember Jawando.
UTILITY COMPANIES, including electric, gas, sewage disposal, telegraph, telephone, water, or cable television company, or internet service provider, are disallowed from terminating the service of a customer for a late payment that becomes due until the termination of the state of emergency and the proclamation of the catastrophic health emergency has been rescinded.
Tuesday, April 28
Potomac 20854 Cases: 117
Montgomery County: 4003
Maryland Cases:20113
Montgomery county Deaths: 201
NURSING HOME DATA: The state's coronavirus resource page, coronavirus.maryland.gov, began displaying available data for individual nursing homes, assisted living and other facilities, including cases and fatalities.
Hogan directed the Maryland Department of Health (MDH) on Monday, April 27 to take the necessary steps to publish data related to COVID-19 cases and fatalities associated with facilities providing congregate living for residents.
"As we plan our recovery, we are taking additional steps to protect our most vulnerable citizens, including older Maryanders," said Hogan. "Keeping Marylanders informed and being transparent with the facts continues to be at the heart of our response to COVID-19. We are grateful to the staff in our nursing homes working around the clock to save lives."
RENT DUE: County Council unanimously approved a special appropriation of two million dollars to be used for emergency eviction prevention and housing stabilization programs. Funds will be allocated to provide a short-term rental subsidy program to low- and moderate-income households in response to the current Covid-19 declared state of emergency in Maryland. "On Friday [May 1] rent will be due for the 130,000 renter households here in Montgomery County. I have heard from renters all over the county who are hurting, struggling and have been hit hard by this pandemic. These rental assistance funds will help provide economic stability for thousands of individuals and families who are concerned about keeping a roof over their heads," Councilmember Evan Glass said. "This is one more step toward strengthening our social safety net and ensuring that all residents have a safe place to call home."
STATE PRODUCTION OF PPE: More than $1.6 million will be given to 20 Maryland companies for pivoting to or expanding production of Personal Protective Equipment (PPE). Companies are receiving grants of up to $100,000 to manufacture everything from face shields, gowns, N-95 masks and respirator parts to battery packs for ventilators. The program received more than 200 applications, and additional grants will be made available in the coming weeks.
"Ramping up our supply of PPE is a critical building block in our state's recovery plan, and we are taking an all-hands-on-deck approach to secure these resources for our front line workers," said Governor Hogan.
The $5 million program was created in response to a growing demand for items to protect health care and front line workers, including face shields, surgical masks and gowns and gloves, as well as items for hospitals, like thermometers, respirator and ventilators.
RIDE-ON BUS SAFETY: The county's Department of Transportation will outfit some buses with a limited supply of individually wrapped face coverings. MCDOT will evaluate the pilot program from the Silver Spring Depot, make adjustments, and hope to have all Ride On buses carrying face coverings by early May. "I strongly encourage Ride On passengers to provide their own face coverings whenever possible and so we can reserve these spare coverings for those who have no alternative. I also want to reinforce that bus service is being provided for essential travel only," according to MCDOT Director Chris Conklin.
Ride-On services continue to be temporarily free to all passengers. Passengers are now required to board at the rear door of the bus, unless there is a need to accommodate a disability or a stroller. The number of passengers per bus will be limited to ensure that social distancing on-board the vehicle is maintained. Details for each Ride On Essential Service Plan, which has limited routes operating during the health crisis, can be viewed at https://www.montgomerycountymd.gov/DOT-Transit/essential-plan.html.
A NEW COVID-19 testing site opened April 27 at the Upcounty Regional Services Center in Germantown. Testing is by appointment only. For more information, visit the County's website: https://buff.ly/2VrPm9q
The Maryland Department of Labor added a Virtual Waiting line system to its new One-Stop site. This will allow people to see how many are ahead of them and to get an estimated wait time promising improvements to the system for filing unemployment benefit claims, a process that's been very frustrating for many Marylanders, particularly since last Friday's launch of the "New Beacon One-Stop" shop application site. http://www.labor.maryland.gov/employment/